Talent and tech boost Ireland's global pharma credentials
As the life sciences industry goes from strength to strength in Ireland, giants Takeda and Novartis tell us why global players keep on betting on the country.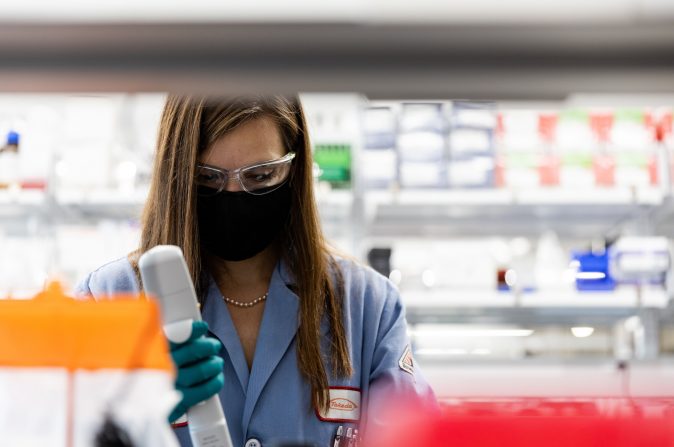 Nine out of 10 of the world's largest pharma players are present in Ireland, including Takeda.
With over 85 overseas companies operating in the country – including nine out of 10 of the world's largest players, Ireland is already one of the main hubs in the world for pharmaceutical manufacturing. The country is also the largest net exporter of pharmaceuticals in the EU and home to 50 U.S. Food and Drug Administration approved pharma and biopharma plants.
By establishing their manufacturing here, the industry has great geographical proximity to the markets in mainland Europe. Easy international shipping across the Atlantic is also beneficial for exports to North America.
Ireland boasts one of the youngest and most educated workforces in Europe, making for a strong talent pool for domestic and multinational companies alike.
Five of the world's eight top-selling drugs are produced in Ireland, adding to its standing as a top exporter and a globally recognized center of excellence in pharma.
Novartis nurtures significant presence in Ireland
Investments in the Irish pharmaceutical sector continue to flourish. Audrey Derveloy, Country President of Novartis Ireland, says while corporate tax is an incentive to pharmaceutical companies investing in Ireland, it is not the decisive factor. Its strategic location and excellent talent pool make Ireland the obvious choice for companies looking to establish a base in Europe.
"Ireland has a vibrant ecosystem with lots of MedTech companies, and that is very important for global companies," she adds. The Swiss pharmaceutical giant has a significant presence in Ireland with 1,500 associates across a number of divisions.
Their global drug development teams – with 80 clinical researchers and 20 data analysts – work towards making clinical trials successful. It was among the very first multinational pharmaceutical companies to locate in Ireland and, over the last sixty years, has made substantial investments and currently operates three locations in Cork and Dublin.
With employees based all over the country, Novartis is one of Ireland's leading employers in the life sciences industry. "Attracting and developing talent is key," Derveloy says, stressing that Novartis offers recruitment prospects to students and graduates, while also providing opportunities for growth to its employees. The company is keen to promote gender equality – there are currently three women in top positions in Novartis' Irish operation.
"Ireland has a vibrant ecosystem with lots of MedTech companies." – Audrey Derveloy, Country President of Novartis Ireland
The Irish government, in its National Development Plan – Project Ireland 2040 – has committed to funding research to further bolster the country's reputation as a growing hub for R&D and support Ireland's status in the life sciences industry. Derveloy says that "Irish stakeholders, such as technological universities and state agencies like Enterprise Ireland, play a fundamental role in the pharma industry.
It's important for us to see that the Irish government actively supports innovation, and that is why I'm very optimistic regarding the future."
The recent global pandemic increased awareness of the vital need for quality healthcare. "The impact of COVID-19 means that healthcare is no longer viewed by government or society as just a cost, but instead as a vital investment," Derveloy believes.
"It has been re-prioritized in society – for the first time, health and the economy have been inextricably linked. The most critical lesson we have learned is that a robust, functioning healthcare system underpins everything."
Among several exciting ventures, Novartis Ireland has formed a partnership with Irish MedTech company HealthBeacon to use its Green Labs to provide sustainability solutions.
"This new partnership with HealthBeacon gives us the opportunity to go a step further and work to provide a fully circular pharmaceutical supply chain for patients in Ireland, moving Novartis closer to its ambition to be carbon neutral across our supply chain by 2030," Derveloy concludes.
Investment in Ireland enhances Takeda's global base
Takeda is Asia's largest pharmaceutical company and one of the biggest Japanese companies in Ireland, following the acquisition of the Irish pharmaceutical company Shire in 2019. Shane Ryan, General Manager of Takeda Products Ireland, says the workforce in Ireland is one of the leading factors to the success of the pharmaceutical industry.
"When you talk about Ireland, our people are our strongest asset, both in terms of expertise, and the youth of the workforce. There is a large proportion of third level qualified employees, and almost a third of those are enrolled in STEM (science, technology, engineering, and mathematics)courses," Ryan explains.
"Many of the multinational organizations have been here for 25 years, including Takeda," he says. "We have really cemented that position as a leading destination for our sector and are seeing real differentiators from other parts of the globe which may also be attractive from an investment perspective.
The excellent local regulatory agencies help to ensure consistent compliance, and the country also offers a pro-enterprise policy environment and political stability. Ryan says the Irish 'can-do attitude and culture around working' combined with its 'robust regulatory and legal landscape' were deciding factors which enticed the Japanese firm to establish a presence there.
"We have ambitions to continue to grow our footprint in the country." – Shane Ryan, General Manager of Takeda Products Ireland
"Regulators are accustomed to inspecting and approving Irish operations, which helps in terms of our global reputation for high standards. Also, the excellent government support agencies provide the uppermost level of support and expertise, crucial to success. We have seen an increase in companies coming with new operations or expanding facilities."
With four sites in Ireland and a workforce of over 800 people, Takeda plays an important role in the local economy. The company announced a €36 million expansion plan to its Irish Grange Castle facility, increasing its cell therapy production capabilities and creating up to 100 jobs in the next three years. According to Ryan, the expanded facility will be the first of its kind in Ireland, and also among the first in Europe.
"Ireland's life sciences industry is in a robust situation – the last few years brought challenges that tested our strength, and the sector has proven very resilient," he says. "Takeda values Ireland as a hub for commercial services and manufacturing, and we have ambitions to continue to grow our footprint in the country."