China Daily has the widest print circulation of any English-language newspaper in China with 900,000 paid copies per issue and  the website is read by more than 56.4 million monthly unique visitors. China Daily is an authoritative provider of information, analysis, comment and entertainment to global readers with a special focus on China. It uses cutting-edge design with dynamic pictures and artwork; and encompasses in-depth reporting and analysis.
China Daily readers tend to be cosmopolitan, well-educated people, both in China and abroad. They include elites such as government decision-makers, politicians, ambassadors and other diplomatic personnel, senior executive of Chinese & international corporates, as well as experts and scholars.
China Daily's special reports are an extension of its news coverage and are read by its 900,000 subscribers and on-line readers. They feature in-depth reporting and broad coverage with a flexible design, which allows us to better meet our client's needs and satisfy readers demand for diverse and sophisticated content.
China Daily's web TV show is Global Talk that features communications with other countries and interviews with national and international politicians, industry executives and other major global players. It gives a powerfull video content to the broad audience.

The Khaleej Times is a reference English-language business newspaper in the Persian Gulf. It shapes the opinions of business readers, decisions makers and government agencies and establishments in the U.A.E and the GCC.
Reaching out to more than 450,000 readers, the Khaleej Times was the first English newspaper to be launched in the UAE in 1978.
With over 30 years of dedicated journalism, it has become a trusted source of business intelligence throughout the Gulf, distributed in Bahrain, Oman, Kuwait, Qatar, Saudi Arabia, along with Pakistan and India.
The Khaleej Times supplements are an integral part of UAE newspaper culture and are recognised for their high quality writing and research.
The publication is accessible on the website www.khaleejtimes.com. The online version reaches out to a targeted readership both at home and abroad; it has carved its own niche brand equity and is among the Middle East's most visited websites.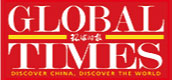 The debut of the English edition of Global Times in April 2009 establishes a new reliable channel for Chinese people and the rest of the world to understand one another. The paper is one of the most dynamic players among Chinese media, and has rapidly become a major English newspaper in the nation.
It is today China's newspaper with the largest in-flight circulation: 50,000 copies per day, covering over 300 routes of 10 domestic and foreign airlines. The Global Times English edition cooperates with luxury hotels in 20 cities across the country to issue 30.000 copies per day. The newspaper has proved a popular platform among our business readership.
The Global Times English edition is printed simultaneously in Beijing, Shanghai, Guangzhou, Wuhan and Xi'an, covering the regions of the entire country.
Our strength ensures our authoritative reports. There are more than 500 special correspondents and contributors working for Global Times throughout the world. Their front-line interviews and reports create the unique and comprehensive voice of the Global Times.
Foreign media view the Global Times as a trustworthy source. The Economist calls it a "remarkable innovation," which addresses "realms once thought taboo." The Wall Street Journal praises its "insightful stories."
The Global Times' readers, include Chinese Government officials, policy-makers, business executives, politicians, and intellectuals. China's top universities use the newspaper as a teaching tool for the nation's future elite.