Education & Research / Ireland
TU Dublin leads the way in nationwide academic overhaul
Ireland's first technological university raises the bar for industry-focused higher education.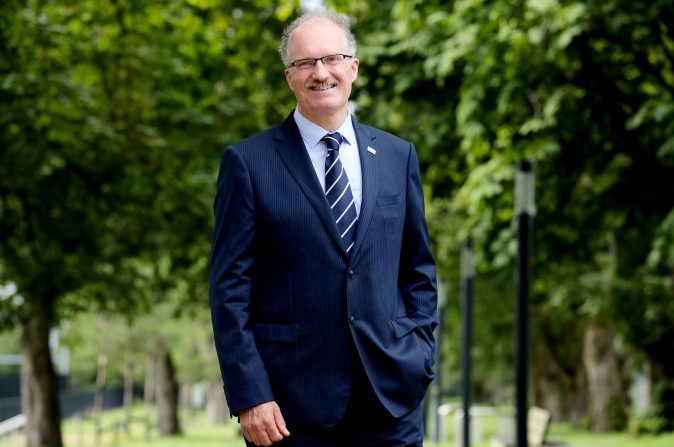 Professor David FitzPatrick, President of TU Dublin
Ireland is known for talented and adaptable human resources. Their availability will be a critical factor for the country's continued economic success, since staff shortages in an inflationary context could constrain growth.
The creation of Technological Universities (TUs) through mergers of former Institutes of Technology (ITs) is part of the Irish government's answer to this concern, while also boosting R&D capacity nationwide. The new institutions are to benefit from a region-centric, multi-campus approach with the opportunity to improve skills creation and research capacity, and drive access, excellence, and regional development, strengthening the links with enterprise and employers.
In past decades, regional technical colleges and then ITs provided generations of students with vocational, technical and professional skills and qualifications, forming strong links with local businesses and taking a practical approach to teaching, complemented by applied research.
TUs aim to build on these strengths, coupled with new aspects usually associated with traditional universities, such as more theoretical research, top-notch facilities, and international links.
Ireland's first technological university
Technological University Dublin or TU Dublin is Ireland's first technological university, established on 1 January 2019, with a history stretching back to 1887. It is the second-largest third-level institution in Ireland, with a significant student population of 30,000 and 3,500 staff, approximately.
The university was formed by the amalgamation of three existing ITs in the Dublin area – Dublin Institute of Technology, Institute of Technology, Blanchardstown, and Institute of Technology, Tallaght, taking over all functions and operations of these institutions. "We have scaled to what no one of the three institutes had on their own," explains Professor David FitzPatrick, TU Dublin's inaugural and current president.  
 The university asserts an entrepreneurial ethos and industry-focused approach, with extensive collaboration with industry for research and teaching. The flagship campus is located within Grangegorman, Dublin, with two other campuses, in Tallaght and Blanchardstown, and sites at Bolton Street and Aungier Street.
Focus on sustainability
"We've established our ten-year objective to 2030 around the sustainable development goals, focusing on people, planet and partnership," he continues. "Those three pillars reflect our commitment to how we engage with society, research with the potential for significant impact, and how we build on our founding institutes' historical engagement with society."
With industry, in particular, TU Dublin has developed its collaborations further.
"In the last few years, we have new 'earn-and-learn' programs in logistics, telecoms, data networks, computer-generated imagery – for the animation sector, for example," FitzPatrick says. "And because of our strategic focus, we're trying to embed sustainability as an outcome in all courses."
One example is 'Architectural design for climate change' – offered as a program in its own right, rather than being touched on in a traditional course.
Following on from this, TU Dublin plans "a new design and construct center" for the construction industry.
"It's about how we bring together both the digital and the physical, using all modern technologies," FitzPatrick explains, listing programs such as 'Sustainable timber technology', 'Digital design and prototyping,' and 'Digital manufacture for construction' to show how the institution is really going for a step change in how the industry can develop.
"With our background in transport, sustainable transport management would be another example. So, our ambition is to put in place programs that serve the sustainability agenda, but actually we're more interested in ensuring that all our programs have sustainability embedded."
There's a similar approach with digital and data, TU Dublin's fifth and newest faculty, which works across other faculties to boost all students' digital capability.
"It's an outwards-facing activity, but also cross-cutting within the university," says FitzPatrick. "One of our recognized strengths is that graduates have detailed academic knowledge and core practical skills. We want to maintain their practical attributes but support them with digital capabilities."
Longstanding global links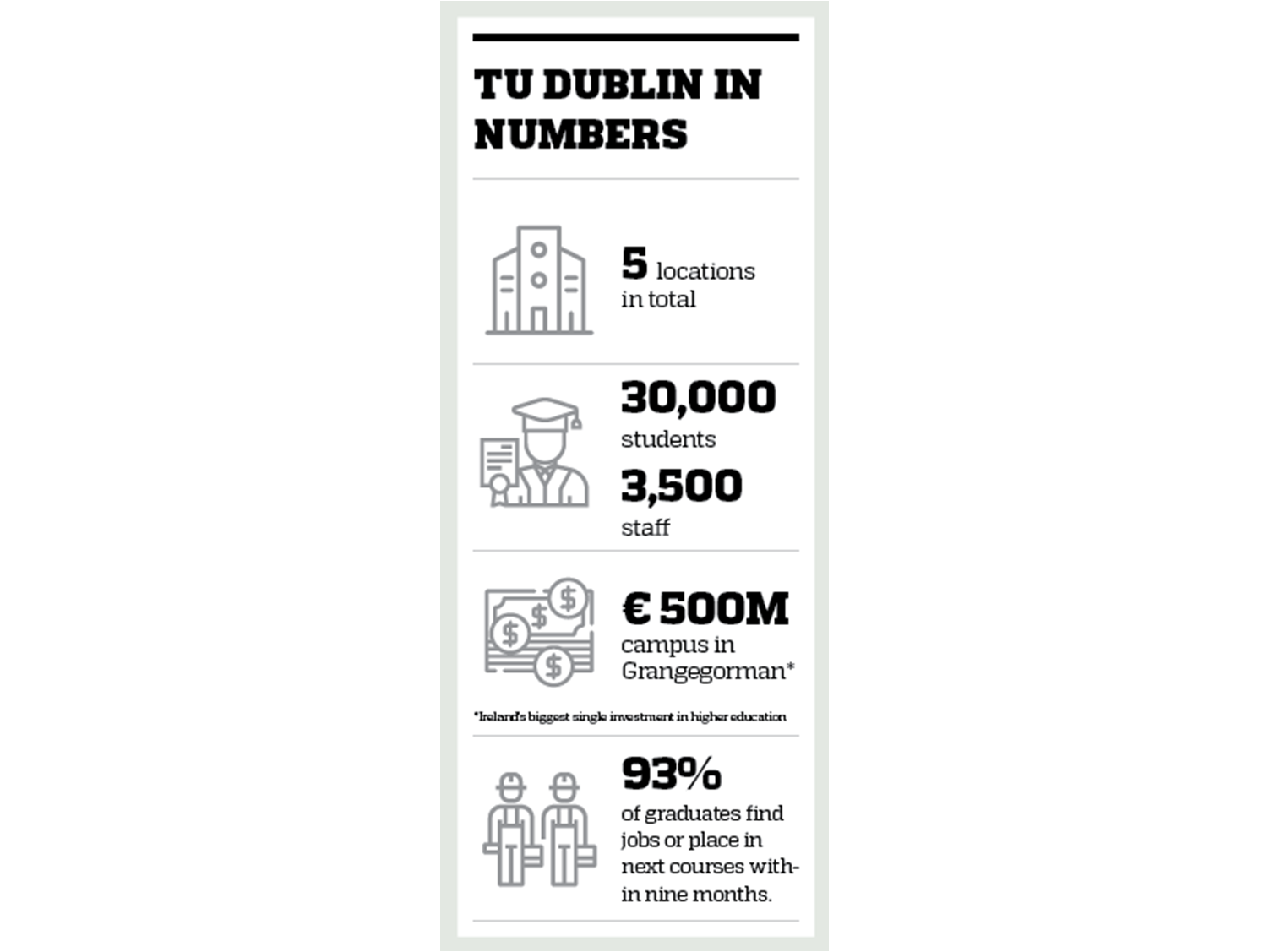 In terms of the global links that the government wants to see TUs reinforce, FitzPatrick sees "a lot of interest in what we're doing and how we're looking to deliver it" on sustainability.
TU Dublin is already in the European University of Technology (EUt+), an eight-member group stretching from Cartagena in Spain to Riga in Latvia whose declared mission is to "empower our students to become technologically literate professionals and responsible European citizens."
In the U.S., thanks to its legacy organizations, TU Dublin has longstanding links with several institutions, particularly for student exchanges. There is close collaboration with Purdue University in the field of engineering that FitzPatrick stresses "we want to continue and grow", and also links – including in the arts and humanities – with Columbia University, the University of Florida, and others.
"My role now is to cement those relationships and to show how TU Dublin can offer even more than the original partner they linked up with," he says. "For Irish students, the ability to travel and study in the U.S. is always attractive. And from a research point of view, U.S. collaborations are very positive – and rewarding for staff."
"We've established our ten-year objective to 2030 around the sustainable development goals, focusing on people, planet and partnership." – Professor David FitzPatrick, President of TU Dublin
Although Dublin was the first TU, it is a work in progress, its president acknowledges.
"My primary ambition is relatively simple: to bring together three institutions into a single, strongly functioning, coordinated university that really delivers in its engagement with industry, offering programs fit for purpose for students and employers, and also significantly increasing our research engagement and collaborations around the grand challenges and the needs of business," FitzPatrick declares.
But TU Dublin is also expanding, with two quads on its new Grangegorman campus completed last September and now serving 10,000 students.
"I would love for TU Dublin to be considered on par with technological universities in Continental Europe," the president says of his hopes for his ten-year term. "They might have a bit of a head start, but we hope to catch up."