Supply chain champion gears up for digital era
The trade, logistics and supply chain powerhouse is accelerating innovation to be a global leader in a digital-dominated world.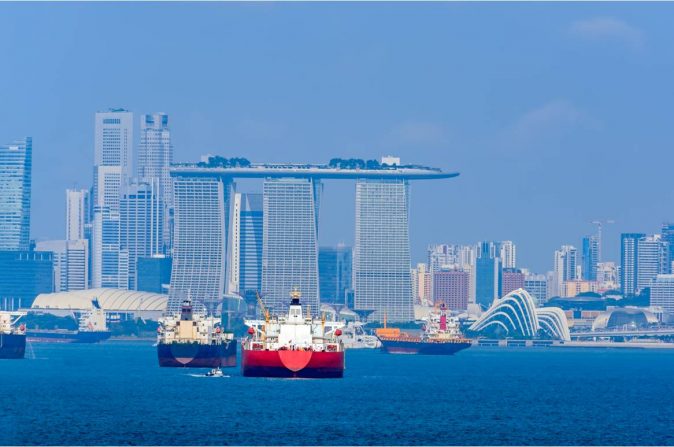 Singapore is ranked Asia's top logistics hub for 10 years in a row by the World Bank.
W     ith its strategic geography at the heart of the main shipping lane               between the South China Sea and Indian Ocean, it's no surprise that Singapore boasts the world's second busiest port in terms of container throughput handled and the busiest transshipment port in the world, which accounts for 20 percent of the globe's transshipment traffic, according to the World Shipping Council. Add to that one of the world's busiest air cargo hubs, and the country is clearly one of the world's major logistics players. Singapore's Changi Airport has been rated world's best airport for eight years in a row, according to Skytrax's 'World's Best Airport' award. 
"International connectivity is crucial for Singapore." Gan Kim Yong, Minister of Trade and Industry
Moving and trading of physical goods helped Singapore achieve the fourth highest per-capita GDP in the world. But the country doesn't simply rest on its success. Singapore is building the Tuas Mega Port which, once completed in 2040, will have a capacity of up to 65 million TEUs, making it the largest container terminal in the world. 
Aware of Singapore's strategic positioning, the government is betting on the digital economy as an important part of its growth strategy. "International connectivity is crucial for Singapore", says Minister for Trade and Industry Gan Kim Yong.
The path of building on past success from a port to a global trading and logistics hub and diversifying its economy lies in Digital Economy Agreements (DEAs). These are designed to promote the interoperability of standards and systems and support businesses and allow for secure and seamless international flows of data.
Creating a win-win situation
In times of the COVID-19 pandemic, this is more important than ever before. Companies are forced to rethink business models and direct relations with customers in favor of engaging partners electronically.
"The pandemic has been a headache in terms of cross-border international trade," notes A-Plus Automation Managing Director Rodney Ham. The company, which helps its clients automate production by designing, building and integrating custom-made automated material handling and parcel sortation machinery, has been forced to reassess its approach and make its supply chain more resilient.
"We will focus on the e-commerce business, which is attracting considerable investments in this region, as buying online is a necessity now." Rodney Ham, Managing Director of A-Plus Automation
A highly educated workforce in Singapore and access to low-cost production in Malaysia is a combination that allows A-Plus to manufacture at lower prices and sell across the region more economically than competing firms outside the country.
Furthermore, this advantage allows A-Plus to seek collaboration with firms in economies where costs are much higher, such as the U.S., Germany and Japan. Ham outlines the model as the partner firms bringing the best equipment they have and A-Plus producing locally what it can at lower cost.
This combination is a win-win situation because if the partners came "to sell on their own, their costs would be untenable, especially if they need implementation time," Ham notes.
Now, rather than commissioning machinery in person, A-Plus went back to the drawing board and designed equipment catering to remote access and commissioning. A local partner installs the machinery which is then commissioned remotely from Singapore. 
This approach was used in a pilot project with e-commerce platform Lazada, the regional flagship of the Alibaba Group, and "has been very successful," Ham confirms. A-Plus also counts DHL, Mondelez (Kraft), and SF Express among its customers and says that "these large companies trust us and thus we have received a lot of business from them."
And this is just the beginning. "Asia and Southeast Asia are a frontier and still at the growing stage. They are still underdeveloped but there's a lot of potential for increased development. We will focus on the e-commerce business, which is attracting considerable investments in this region, as buying online is a necessity now," Ham concludes.
Location, location, location
Integra Petrochemicals is a company that has grown along with Singapore, having moved its headquarters in 2003 from Europe. What started out in 1989 as a European olefins trader has grown into a global petrochemical trading and logistics supply solution company with a turnover in the billions of dollars.
With its global reach, Integra is able to offer smaller regional or local companies access to international sourcing or distribution.
"If we can give clients the product and logistical solution they need, and solve their issue, then that is a success for everybody." Gina Fyffe, CEO of Integra Petrochemicals
For larger multinational firms, it can fill a niche where they focus considerable time and resources on small supply chains or volumes which might only be used occasionally. "We can fill that role on a plug and play basis by taking the product or supplying it globally and managing the logistics and shipping that make it work," explains company CEO Gina Fyffe.
If we can give clients "the product and logistical solution they need, and solve their issue, then that is a success for everybody. It is about finding the needed solution and letting them focus on their business rather than on a supply problem," Fyffe adds.
Singapore's position as a vital geographical cog in the wheel of global commerce is one reason companies choose to locate there, along with "common sense, consistent business-oriented government policies."
A safe harbor in a storm
Being located in Asia, where the COVID-19 pandemic started, was a silver lining for Integra when the resulting disruption to the supply chain kicked in. Fyffe argues that it was predictable that the upheaval would move west even though Europe and the Americas initially viewed it as an Asian crisis.
This came as no surprise to Fyffe, not because she possesses a crystal ball, but rather because "this was very obvious since being close to our customers, we could tell." As a result, "that allowed us to advise clients and plan with them what the next weeks and months would bring before it happened."
"It's difficult to look at alternative versions of the past and say 'what if?', but I really believe we would not have been as open or well prepared for the market changes if we had not been sitting in Singapore, and almost certainly not in the fortunate position we are today," she says.
There is a bronze sculpture "The River Merchants" by sculptor Aw Tee Hong in downtown Singapore depicting two men loading a bullock cart which symbolizes and showcases the country's past. Perhaps in the future there will be a statue of a computer and cable symbolizing Singapore's embrace of digital commerce.