Human Capital / Singapore
Leading the way with brainpower
What Singapore lacks in natural resources, it more than makes up for in human capital.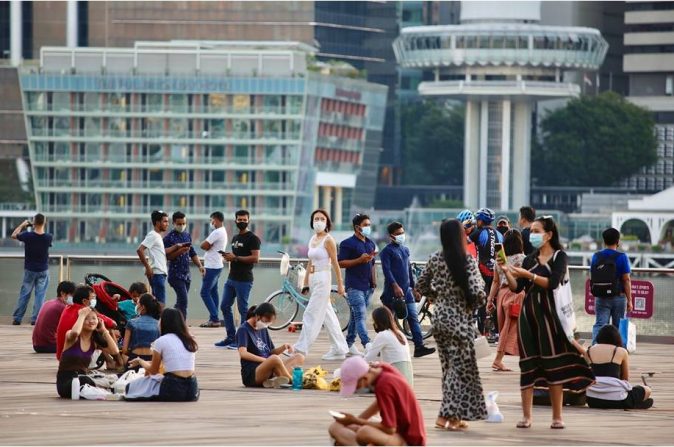 Human capital is considered to be Singapore's single most crucial resource.
G overment, academia and businesses work in unison to empower Singapore's talent pool to stay ahead in an ever-changing global economy.
Lee Kuan Yew, the founder of Singapore, had a favorite analogy for the nation's workforce: "We are the hard disk of a computer – the foreign talent are the megabytes you add to your storage capacity."
This powerful model propelled the tiny city-state devoid of natural resources into the ranks of the globe's richest nations. As with all development models, though, the one Lee championed during his 1959-1990 premiership only got Singapore so far. In recent years, the government moved beyond hardware to raising Singapore's software game. Not the kind that tells computers how to operate, but the skill sets of the workforce driving Singapore's journey toward the innovation powerhouse it's becoming in real-time. Singapore is betting more and more on human capital – on ideas, ingenuity and productivity.
"The only resource we have is our human capital." Tan See Leng, Minister for Manpower
"The only resource we have is our human capital," says Tan See Leng, Singapore's Minister for Manpower. "This remains the most important and single most crucial resource for us. We will continue to invest heavily in workforce development by equipping all our workers with relevant skills to meet the demands of the changing economy while providing additional holistic support to uplift more vulnerable workers."
Bottom line, Tan says, "we have obviously evolved a national strategy to develop a knowledge-based and innovation-driven economy and society, and again, strengthen our position globally as a digital hub. Singapore's enviable talent pool is the culmination of decades of work fine-tuning and adapting education, training and the regulatory environment to continue to transform the economy."
A breeding ground for tech unicorns
"Our DNA is the ability to learn, unlearn and relearn." Thiam Soon Tan, President of Singapore Institute of Technology
A vital part of the country's success in making world-leading human capital its brand is the Singapore Institute of Technology (SIT). Founded in 2009 and gazetted as a university in 2014, Singapore's youngest university is today, by intake, the third biggest. SIT is a microcosm of where Singapore finds itself today.
With the student population projected to reach 11,500 undergraduates by 2023, SIT is partnering with reputable overseas universities from the U.S. and Europe to deliver a global perspective on practice-oriented learning. Their new campus in Punggol will not only provide collaborative learning spaces and high-tech labs, but will also enable its students to work alongside industry partners, following SIT's philosophy of empowering students with a work-learn mindset for life. 
President Thiam Soon Tan explains that "SIT was set up during a period when the government was beginning to realize that we are entering a world where more ordinary jobs will disappear, but not ordinary people." He adds that the university's "DNA is the ability to learn, unlearn and relearn."
This is precisely the course Prime Minister Lee Hsien Loong has been setting nationally since 2004. SIT was a direct manifestation of Lee's determination to move the economy upmarket and, more recently, make it a breeding ground for tech "unicorns" that create new jobs, wealth and disruption.
Tan's institution often seems like the educational equivalent of the very start-ups it hopes graduates invent. SIT's aim is to transform its new campus into a "living lab," an environment where new ideas and strategies on working, studying and living can be test-bedded. The hope, Tan notes, is to inspire students, faculty and, by extension, industry to raise competitiveness.
"It's about helping young people and workers already in the system to find ways to continually adapt to an increasingly disruptive future," Tan clarifies. The bottom line is to "not be a traditional hall of learning."
Turning heads Singapore's way
There's nothing traditional about how biotech phenomenon MediSix Therapeutics is turning heads Singapore's way – and making great use of local talent. Founded in 2016, MediSix is an immune engineering company developing novel cellular therapies to address T-cell driven malignancies and autoimmune diseases that quickly became a global player in the hot T-cell research sector.
Its cutting-edge work in treating malignancies and autoimmune diseases holds great potential for patients with no alternatives currently. MediSix is the third company formed by Professor Dario Campana, the father of CAR-T therapy and recipient of the President's Technology Award 2020. 
"The ability of the government to carve out significant spending, to take talent and enable it, is phenomenal." Andrew Bruce, CEO of MediSix Therapeutics
To CEO Andrew Bruce, Singapore's approach to innovation, disruption and constantly upgrading human capital make it an ideal place to operate at a pivotal moment in the evolution of biotech in Singapore.
Speaking about MediSix's role as an early-stage biotech company, Bruce points out that Medisix investors, Lightstone Ventures (Singapore) Temasek, National University of Singapore and the global EDBI fund, are looking to invest a lot more in R&D that's conducted in Singapore. "Also, something that's fairly new for MediSix concerns our plans for investment in significant research collaborations both in Singapore and abroad," he adds. 
Bruce is fairly new to Singapore. In the leadup to taking the helm at MediSix, Bruce says "what I really enjoyed and found quite motivational was the way that the Singapore government has prioritized a number of different industries, obviously including the biotech industry and specifically cell-therapy, as it turns out it's a very important component of that investment."
As a private company, MediSix finds its coordination with the Agency for Science, Technology and Research invaluable. Known locally as A*STAR, the agency offers top researchers to support local small and medium enterprises in their R&D pursuits.
One of the secrets of MediSix' local success, Bruce says, is the ready access to the "brightest stars in various industries" fluent in the language of digital-age reinvention. "It's phenomenal – this ability of the government to carve out significant spending, to take talent and enable it," Bruce stresses. "I haven't heard of that model anywhere else in the world, and it's definitely key to creating significant value."
That's music to the ears of Frederick Chew, CEO of A*STAR, whose staff is brainstorming about where Singapore wants to be not just in 2022, but 20 to 30 years from now. This "discipline of thinking long-term," Chew says, is a hallmark of Singapore's success. The key, he adds, lies in "curating and collaboration" between the public and private sectors and academia.
"One of the key reasons a lot of companies locate themselves in Singapore is to tap into the innovation talent coming from the research institutes and universities and the highly trained, good-quality manpower in Singapore and from around the region," Chew says.
Though Lee Kuan Yew might not recognize the Singapore that SIT, MediSix and A*STAR are creating, he would surely revel in the economic software they are perfecting in real-time, raising Singapore's innovative capacity at every turn.