Ireland casts a spell on foreign investors
The right mix of pro-business policy, top talent, multinational legacy and emotional ties to the U.S. explain the irresistible appeal.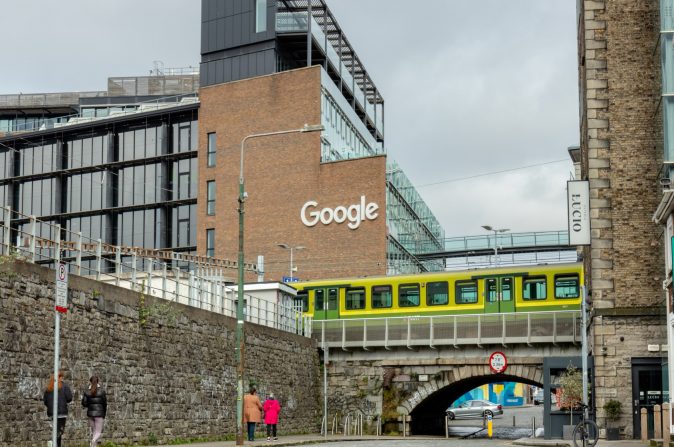 Ireland is a top destination in Europe for tech giants and other multinationals.
Relatively low tax rates aside, Ireland offers much to ensure it is an attractive investment destination for foreign companies, including a decades' long record of stable, pro-business policymaking, a common-law system, a highly qualified and diverse workforce, and the critical mass represented by a substantial multinational presence. It is a top destination in Europe for tech giants and other multinationals and for U.S. businesses in particular, the shared history and cultural affinities are also a factor.
"Culturally, Ireland and the U.S. are very aligned in relation to how we work, build relationships, and use deep thinking around our biggest challenges," says Frank O'Keeffe, Managing Partner in Ireland at professional services firm EY.
EY Ireland has experienced significant growth in recent years and the many macro factors impacting businesses and economies globally have created an increase in demand for services such as business transformation, technology, cyber, global tax planning, sustainability, and assurance. Its diverse team on the island of Ireland has over 3,500 employees, and EY is one of the largest graduate recruitment employers in the country. "We are an organization that is purpose led and focused on our clients, our people, and our planet," O'Keeffe adds.
"Global investors are considering nearshoring operations closer to customers, which plays to Ireland's geographic location." – Frank O'Keeffe, Managing Partner of EY Ireland
The fact that, after Brexit, Ireland is the only English-speaking country left in the European Union (EU) brings opportunities for firms such as EY, that work closely with foreign investors.
"The UK now being out of the EU puts an additional focus on Ireland," says O'Keeffe. Our own research has shown that most global investors are considering nearshoring operations closer to customers, which plays to Ireland's geographic location between the US and Europe."
With Ireland now committed to a corporate tax rate of 15% for companies with turnovers above €750 million, in line with OECD requirements, other factors are more to the fore for foreign direct investment.
"What's important for U.S. businesses is that they can see positive cash flow from investments over time," stresses O'Keeffe. "I don't foresee tax being the key driver in decisions. I see it being part of the certainty that companies build into their forecasting around investment decisions. Recent EY research has shown that beyond tax, our education system and talent pool, quality of life, and the ease of doing business, in addition to flight connectivity, are all key drivers of its attractiveness."
Those ever-expanding physical and global business networks mean that even sectors that had missed out on Ireland's remarkable growth are catching up, such as legal services. "After decades of stagnation, the Irish legal sector is changing significantly," Alan Connell, Managing Partner of Eversheds Sutherland, a multinational firm with headquarters in London that is Ireland's most established and leading full-service global law practice.
Last year, Eversheds Sutherland became part of the top 10 global law firms, and its global scale contributes to Ireland's internationalization. As internationally minded companies increasingly demand cross-border services rather than just Ireland-centric legal advice, Connell is bullish about the prospects of the offices he leads from Dublin.
"We are fortunate to be the largest and leading Irish global law firm by some distance. It will take new entrants a significant amount of time and money to come close to match our current offering. We have over 70 offices in more than 30 countries, including nine in the U.S." Connell explains.
"Last year, Eversheds Sutherland became part of the top 10 global law firms." – Alan Connell, Managing Partner of Eversheds Sutherland
Just as the global economy faces a level of uncertainty not seen for years, Connell points out how Eversheds Sutherland supported clients through recent challenges such as Brexit and COVID-19.
"One of the main areas of engagement are cross-border supply chains to ensure that they remain fit for purpose. Together with COVID-19, Brexit created many challenges and questions around such international structures. International supply chains can be quite complex and convoluted", says Connell.
"We advise many companies that choose Dublin as their post-Brexit EU base, and many others seeking advice around operating models and corporate structures, cross-border trading relationships, supply chain realignment, data protection, intellectual property, taxation, and related fields. We also provide important employment advice to clients for Brexit-related areas, including the implications of the free movement of workers", he concludes.
Looking towards Louth
Within Ireland, County Louth is a prime example of the virtuous circle of infrastructure and investment, with its pro-business government, east-coast location on the Dublin Belfast Economic Corridor, and existing foreign investor base.
"Louth is exactly midway between Dublin and Belfast," explains Joan Martin, Chief Executive of Louth County Council. "And the whole corridor, right along that line between them, is the key engine that drives Ireland's economy. Louth is at the epicenter."
The county is well served for ports and its two largest towns, Dundalk in the north and Drogheda in the south, are both on the Dublin–Belfast motorway, with easy access to both airports. And, of course, it boasts some beautiful landscapes.
"Louth is on the Dublin-Belfast motorway, with access to two airports and key ports." – Joan Martin, CEO of Louth County Council
And there is, she says, "another secret ingredient" in Ireland's – and Louth's – success.
Many Irish people went to the U.S., and so many of us have friends and family over there. FDI is very important in both directions, and it must be noted that there are more jobs in Irish companies in the U.S. than there are in Ireland at U.S. companies."
These emotional ties are set to remain important and are only made stronger by the growing number of academic exchanges, and tourism.
U.S. President Joe Biden, too, has a local connection.
"I met him when he was Vice President and visited his people near Carlingford in north Louth" she recalls. "We presented him with a wooden bull – a replica of the mythical 'brown bull of Cooley' that a warrior queen from the west coast brought her army across to steal. I was able to tell him that the wood it was made from was from a tree that stood in County Louth when his ancestors left Ireland."
Catchy anecdotes aside, these ties often translate into real business stories.
"Take, PayPal as an example, which has a big presence in Dundalk," says Martin. "I know that there were a number of factors involved when they came here, but one of their Vice Presidents had Dundalk roots. These are the little things that can swing it for you."