Forty shades of green
As global demand for sustainably sourced agri-food increases, Ireland's formula of adding value by embracing nature is proving successful.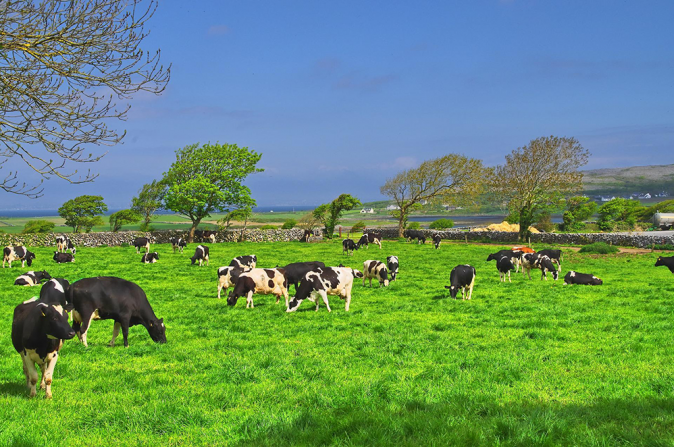 Irish cows graze outdoors majority of the year, producing the highest quality milk, rich in natural beta-carotene.
Johnny Cash had it right. The island of Ireland has more than 40 shades of green – each dazzling in their own right, but the Emerald Isle is gaining traction for being a different type of green nation – one concerned with the future of the planet.
The Irish food sector gained global reputation for quality and sustainable farming practices. Last year saw record breaking export figures, with the value of food and drink exports outperforming pre-pandemic levels in 2019. The agri-food sector is a key contributor to growth, with exports to 180 countries valued at €13.5 billion.
The dairy sector alone was worth more than €5 billion in 2021 and remains the most buoyant of Irish food and drink exports, followed by meat and livestock, which generated over €3.5 billion in export sales, and prepared consumer foods, which was worth over €2.5 billion.
Producing food in harmony with nature, Charlie McConalogue, Minister for Agriculture, Food, and the Marine, points out that sustainability doesn't have to come at the expense of productivity or vice versa. "The global population is growing rapidly, so we work hard to produce food, but it has to be done in a sustainable manner," McConalogue says, stressing plans to reduce the input of chemical fertilizers.
"Farmers are up for leading out in terms of producing food in sync with it. It is a feature of Irish agriculture and something we're going to put even more emphasis on over the next years," McConalogue adds.
Clean air, clean soil, and clean sea
Michael Murphy, Interim CEO of Bord Bia, the agency in charge of promoting Irish food, reinforces this view. "Nature, fundamentally, has to be nurtured," she says. "If there is an exploitative relationship, assets will run out, so we must invest in nature and allow it to flourish."
Pointing out that the growth of the sector can be attributed to a combination of strategic planning, a strong talent pool, and an excellent product, Murphy says that "clean air, clean soil, and clean sea are the magic ingredients for Irish food."
"Clean air, clean soil, and clean sea are the magic ingredients for Irish food." – Michael Murphy, Interim CEO of Bord Bia
"They are the foundation proof points from Ireland and a message that we have to continuously protect and reinforce. Clean soil implies that it's grass fed, it's family farmed, it's ethically produced. This provides food safety traceability which translates into sustainability," he says. "You're looking for taste and keeping a healthy, nutritious, traceable product, but sustainability is also increasingly important."
For Murphy, putting the environment high on the agenda is of the utmost importance. "It is really important to keep learning and evolving and to understand that there are balances to be made. For example, water is going to be a huge issue for different reasons in Ireland than in Australia, so solutions have to be customized to the natural circumstances of each country." According to him, a collaborative effort to 'work really aggressively' at carbon is needed, as farming represents one-third of the carbon count in Ireland.
This year Bord Bia published ambitious three-year targets to encourage further growth as part of its new ten-year Statement of Strategy. The plan aims for a significant growthin the value of Irish food and drinks exports, including a 14% increase in prepared consumer foodsand an 11% increase in the value of dairy, meat, and livestock.
"The best country in the world for milk production"
Ireland's solid record on sustainable food production is well known abroad as well. Íarlaith Smyth, president of Ornua Foods North America, which commercializes Irish dairy products in the U.S., says the market remains very strong, largely due to the sustainability of Irish farming methods.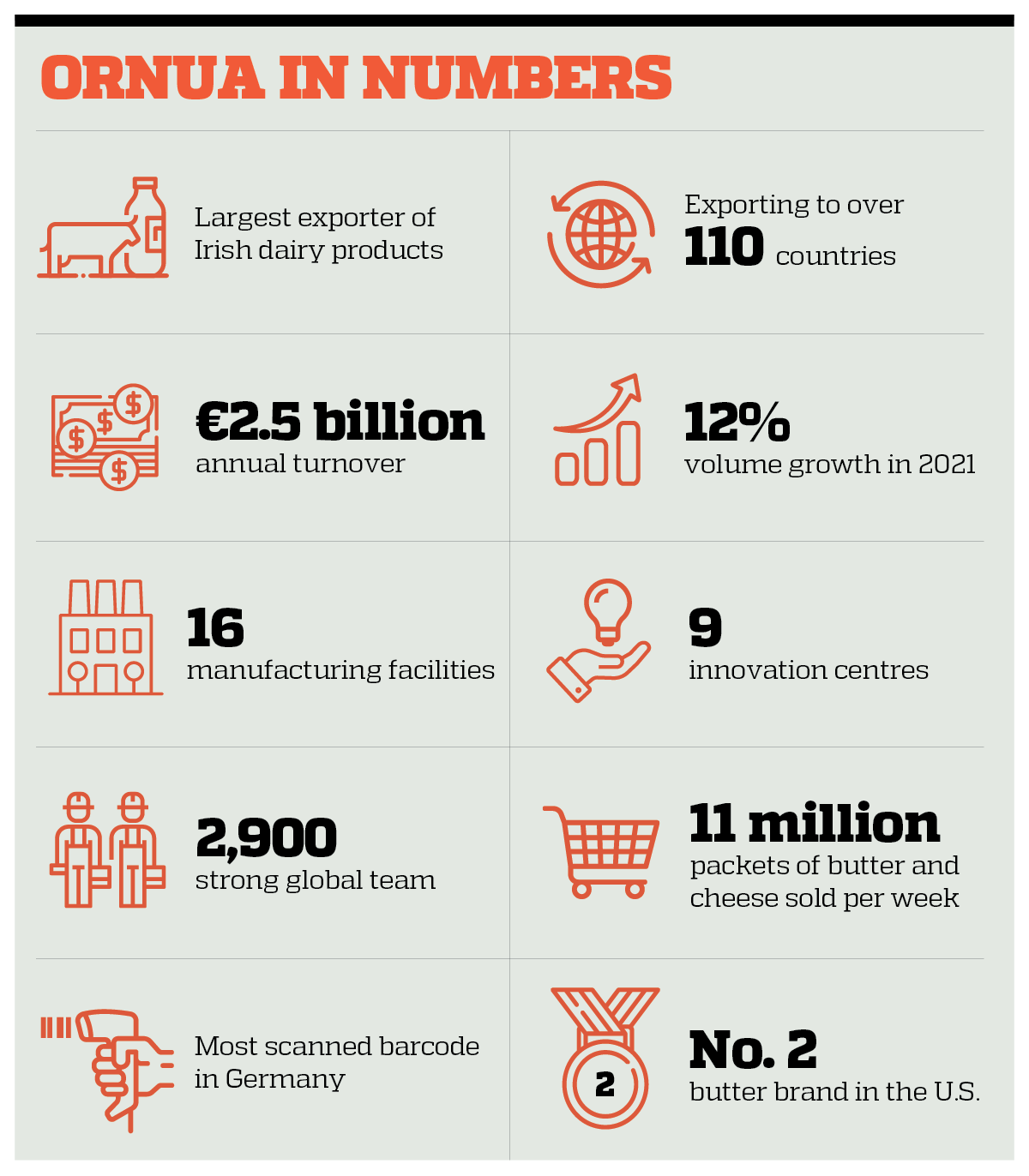 "Ireland only consumes about 15% of the dairy it produces, the remaining 85% are exported," Smyth points out. The EU is the largest destination for Irish food and drink, and despite Brexit, the UK remains an important market. Export value to the U.S. was up by 22%, while Southeast Asia and Africa saw increases of 20% and 12%, respectively.
Ornua is the proud owner of Irish butter brand Kerrygold. As far as relevant metrics go, Kerrygold is the most scanned barcode in Germany, the number two butter brand in the U.S., and the first Irish food brand to exceed €1 billion annual retail value in 2019. "We sold a million packets of Kerrygold butter and cheese each week last year and completed the acquisition of Whitehall Specialties Inc., which will double the size of Ornua's ingredients business in the U.S.," Smyth says.
"Our co-op farmers and grass-fed systems produce a unique quality of milk." – Íarlaith Smyth, President of Ornua Foods North America
As the business continues to grow, Ornua has secured planning permission for a €40 million expansion to Kerrygold Park in County Cork. "We achieved 12% growth year-on-year in 2021 – an amazing performance that we're very proud of," Smyth points out. "We've built state of the art facilities to produce quality products on for consumers all over the world."
According to Smyth, the reputation of Irish dairy is backed up by its superior quality. "Ireland is the best country in the world for milk production," he points out. "Our co-op farmers and grass fed systems produce a unique quality of milk unlike any other in the world. The fact that Kerrygold is Irish is important in the U.S., but so is the grass-fed element and knowing that products originate from family farms."
Smyth explains that Irish cows graze outdoors for majority of the year and grass-fed cow's milk is rich in natural beta-carotene. They may produce less milk than typical cows in the U.S., but this farming structure that follows the seasons and natural cycles allows the cows to produce the highest quality milk. Irish farms usually stay with one family for generations, only changing hands every 250 years, on average. "The world's population is growing, and so is the demand for natural and sustainable dairy products," Smyth concludes.