Disrupting the steel industry
Steelaris is set to disrupt the brick and mortar steel industry with a high dose of tech, providing feasible solutions to more than 1,400 customers globally.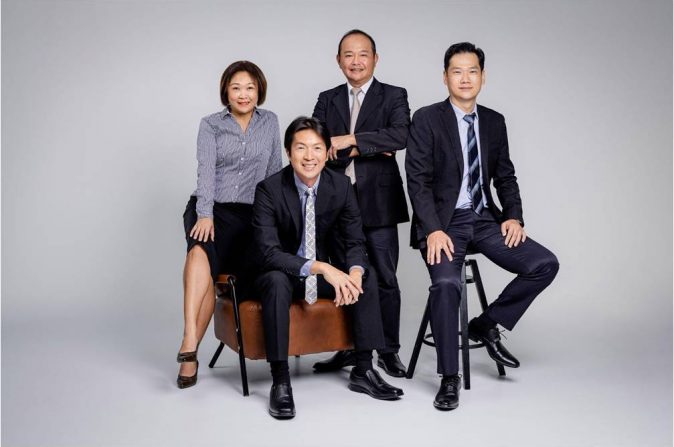 Tee Seng Ang, co-founder and Managing Director, together with the other co-founders of Steelaris, Handi Ho, Johnsen Yee, and Aileen Ang ©Steelaris

Experts in steel sourcing and project management services for offshore, construction and marine customers, Singapore-based Steelaris is dedicated to building long-term relationships with clients by providing comprehensive solutions and an unparalleled after-sales technical support. Established by four enthusiastic founders a decade ago, the company is creating an ecosystem that nurtures growth for all of its customers. Discussing the steel industry at large, Tee Seng Ang, co-founder and Managing Director tells us the secrets behind Steelaris' strong global network that continues to expand. 
What gives Singapore an edge compared to other high-growth nations?
The simple answer is governance. The system works here. Policies and the rule of law are predictable and stable. When we travel internationally, we are proud to say we are a Singaporean company. In addition, Singapore has people and human talent. With the remarkable improvement of the national economy over recent decades, standards in healthcare and education have improved to the point of being among the best in the world. Each generation is more educated than the last, and Singaporeans go abroad and come back with ideas and knowledge to help improve the country. Finally, infrastructure is critical to becoming an international trading hub, and Singapore has air connections, roads, and ports to make it competitive at a global level. Furthermore, Singapore is in an excellent position in terms of the pandemic, and I'm quite confident that the economy will recover and Singapore will do well in the next few years.
How do you evaluate the health of the steel industry at large?
Similarly to Europe, the steel industry is very traditional in Asia. Many people say that it is a "sunset industry", but if you're going to construct a building, build a bridge or a high-speed rail system, or offshore structures that must withstand extreme conditions, you will need steel. With oil price fluctuations, offshore construction demand has slowed down, which was challenging. But in the last two years, growth is starting to pick up as delayed construction projects are being restarted in Europe, the U.S., and parts of Asia. The market is starting to pick up after the slowdown of the past seven or eight years. Unfortunately, this perception of the industry being ultra-traditional means there isn't any natural pull factor for younger generations to enter the steel sector. At Steelaris, we feel that the steel industry is ripe for transformation.
How is Steelaris leading the transformation of the steel industry?
All four of the company's founders are young and we were certain that we would use technology to expand the company. We made bold decisions early on, for example investing in enterprise resource planning software like SAP from day one while everyone was sceptical of using SAP without having sold a single piece of steel. But if you don't have a solid information foundation, then you can't analyze data, and we knew that we needed to be able to analyze data if we want to be agile in the future. 
There are a lot of opportunities to make the industry more productive, to improve the supply chain, to deliver a better service to the customers or the market, and to act faster. We saw this early on. There are a lot of technology opportunities on the B2B level to innovate traditional industries. Steelaris will continue to invest in these capabilities and improve to grow with our customers and partners.
What characteristics make Steelaris recognizable?
Adaptability and agility. We are proud that we haven't gone back to the office since the COVID-19 "circuit-breaker" started. Our entire staff still work from home, which is incredible for any company, let alone a steel firm. As a young company, we believe this remote-working culture is the future and we will continue to embrace this model. We are also characterized by our international contacts and ability to sell to clients all over the world. We sell to Australia, Thailand, Vietnam, and of course, 70 percent to the home base in Singapore. Our brand name has become well-known at steel mills across Europe—in countries like Germany and the Netherlands. For a small, ten-year-old company from Singapore, we're quite happy to have built such a strong global network. 
What key markets are on your radar moving forward?
We have five-year, 10-year and 15-year plans. Initially we are focusing on the ten ASEAN countries, which is our home ground. Then there are Australia and New Zealand, where we have a lot of friends, customers, and suppliers. China and India are also options going forward, but it depends on the segment we are working in—we serve a very, very niche segment. Generally we are working on building a stronger relationship with our European customers, as well as U.S. companies. There is massive scope for global cooperation and Steelaris, together with AYS, is well placed to provide a new and fresh service to our international partners.