Large reserves to maintain energy leadership
To meet mounting domestic and external energy demand, Côte d'Ivoire plans to tap offshore hydrocarbon wealth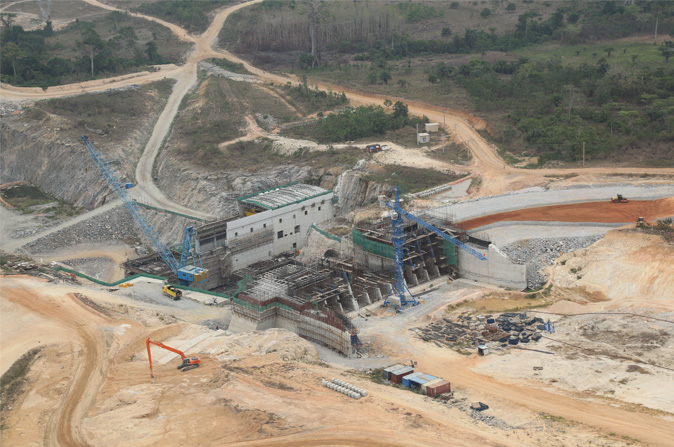 The Soubre dam is schedule to be completed in 2017, a year earlier than expected.
Côte d'Ivoire, Liberia and Sierra Leone may have all been immersed in bloody civil conflicts over the past two decades, but only one has fully emerged from the trenches. Separate from the economic and political morasses that define its neighbours, Côte d'Ivoire has become a regional beacon of power, quite literally. The country now plans to sell surplus electricity generated by its surging energy sector to seven power-starved nations in Western Africa.
Liberia and Sierra Leone, along with Guinea, are only the latest assembly to be invited to tap the Ivorian powerhouse, which already provides electricity to Ghana, Mali, Togo and Burkina Faso. This new extension of 83MW through the West African Power Pool, the sub-region's electricity community, is nonetheless bold considering Côte d'Ivoire's high rate of sustained economic growth, which the World Bank projects will exceed 8% over the coming years, promising to add mounting pressure from domestic demand.
But Ivorians are not short on ambition. "Côte d'Ivoire wants to guarantee self-sufficiency to meet growing needs, with excess production then continuing to be exported to neighbouring countries," says Ibrahima Diaby, Managing Director of state energy investment company Petroci. The country produced 1,400MW when the recent economic boom started, and at the top of 2016 power capacity reached 2,000MW. The government is now planning to double that supply to 4,000MW by 2020 to maintain electricity exportation in tandem with the anticipated needs of new business. Over the coming years, its expected that Ivorian industry will expand substantially, witnessing increased activity in manufacturing and food processing sectors, which will hunger for more electricity. The challenge is then to adequately increase generation across diversified sources to meet both local and external needs.
By 2020 Petroci aims to quadruple oil production from 50,000 barrels a day to 200,000, and double natural gas."
About 67% of Côte d'Ivoire's power supply is fed by three thermal power plants, suggesting room for growth in hydrocarbons. Luckily for Côte d'Ivoire, there are ample reserves to work with. Up to one billion barrels of oil and 1.2 trillion cubic feet of natural gas are believed to belong to Côte d'Ivoire, according to Petroci, mostly located in large offshore basins in the Gulf of Guinea.
"Tapping these reserves, by 2020 Petroci aims to quadruple oil production from 50,000 barrels a day to 200,000, and double natural gas production from 250 million cubic feet a day to 500 million," Diaby says. This uptick in production will engender more downstream industries in the process. "We have the ambition to create an oil products hub, a sort of African Rotterdam," adds Diaby.
To realize this ambition, Petroci has draw up big-ticket projects, including the extension the Abidjan-Bouaké pipeline and the installation of a floating storage and re-gasification unit, which would allow for the regasification of up to 46 million cubic meters per day. "These projects are expensive, so we have created a data room to showcase them to potential investors," says Diaby.
Exploitation of the country's rushing rivers also has a future in Côte d'Ivoire. Hydro-generated electricity already accounts for over one-third of the energy mix, and provides a cheap source of electricity. Today, Soubré dam is the poster child of Côte d'Ivoire's hydro ambitions. The project lay dormant for four decades, but when it comes on stream in 2017, a year earlier than expected, it will become the country's largest hydropower facility, providing 250MW of electricity.
"Given projected demand, the dam will help us reach our target of 10% annual growth in electricity production," said Amidou Traore, Director General of CI-Energies, a state-run company in charge of production and transportation of electricity, and the key local player in the Soubré dam.
Yet, while the dam is dwarfed by larger hydropower facilities in the region, namely in Ghana, it sets a precedent for future engagement with the dam's main contractor, China's Sinohydro, the world's largest hydropower construction company. Beijing-based Exim Bank is financially backing 85% of the project, valued at RMB4.3bn (USD 529m).
"The Soubré dam is largely thanks to President Ouattara having actively encouraged a strong relationship with China," says Adama Toungara, the Minister for Oil and Energy. "The success of this project has led to discussions with Sinohydro regarding three other dams downstream from Soubré," he noted. These proposed hydropower plants would generate a further 500MW. Talks have also included plans for investing in gas turbines, coal-fired facilities, solar plants and biomass.
Côte d'Ivoire is an unlikely energy broker. Only 26% of Ivoirians have access to electricity, compared to 74% of Ghanaians, according to USAID data. But most of the unpowered Ivoirians reside deep in the rainforest, and the government is now working to connect them to the country's grid. "Through the 'Electricity for All' program, we hope to supply electricity to every village with 500 people or more by 2017," says Toungara. Again, Chinese finance is involved, and has been since 2011 when the program began, providing almost all of the allotted RMB6.83bn (USD 840m) investment.
It's the kind of support that'll ensure Cote d'Ivoire remains a dependable supplier of electricity.