Zimbabwe tourism on the rebound
As foreign airlines, tourists return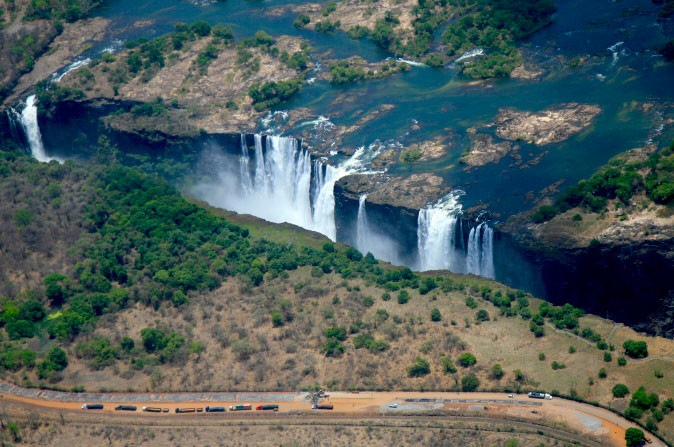 After years of turmoil, the tourism sector in Zimbabwe is still facing challenges, including the lack of funding to support marketing the destination. However the introduction of new airlines will facilitate tourism growth ahead of the United Nations World Tourism Organisation
general assembly.
In 2010, Zimbabwe was ranked as the best climate in the world after it was adjudged to have scored 100 out of 100 by International Living, an organisation that compiles annual rankings of the world's best countries to live in. With its fours distinct seasons – winter, summer, autumn and spring of the year, Zimbabwe offers a pleasant retreat from the extreme heats in the Middle East.
Zimbabwe boasts several unique tourist attractions. There are a series of stunning mountains in the Eastern Highlands, Mount Nyangani at 2593 metres and Vumba mountains. Experts have described the country as an unusual tourism destination due to the large number of ancient ruined cities built in a unique dry stone style. The most famous being the Great Zimbabwe ruins in Masvingo , Khami Ruins, Dhlo-Dhlo and Naletale.
Tourist arrivals in Zimbabwe increased by 18% in the first quarter of this year reflecting the stable economic and political environment, as the country turns into a safe and competitive destination in the region. According to the Zimbabwe Tourism Authority (ZTA) tourist arrivals in the first four months rose to 346 299, up from 294 198 recorded in the same period in 2011. The ZTA said the increase in arrivals was 13% above the projected average growth in arrivals in sub-Saharan Africa this year of 5%. Mainland Africa remains a major source market, rising by 19% since last year, and the United States, Australia, South Africa and Europe are steadily growing.
Tourism which has been identified as one of the vital pillars for the country's development, is expected to grow by 3,9% in 2012 and by about 4% next year, underpinned by the hotels and restaurants sector. Led by the award winning, young and dynamic tourism minister Walter Mzembi, the country's tourism is expected to exceed 5 million by 2015 and represent 15% of the GDP. The United Nations World Tourism Organisation general assembly to be hosted in Victoria Falls next year is one of Mzembi's successes.
Looking ahead the Zimbabwe government plans to engage friendly countries with a possible view of realigning its visa methods and agreement on flexible visa regimes so as to attract visitors into Zimbabwe.