PBI Aqaba Industrial Estate in full swing to reach $1b of investment
The Aqaba International Industrial Estate, managed by PBI Aqaba, is eyeing $1b of investment by 2019 on the back of large hi-tech manufacturing deals.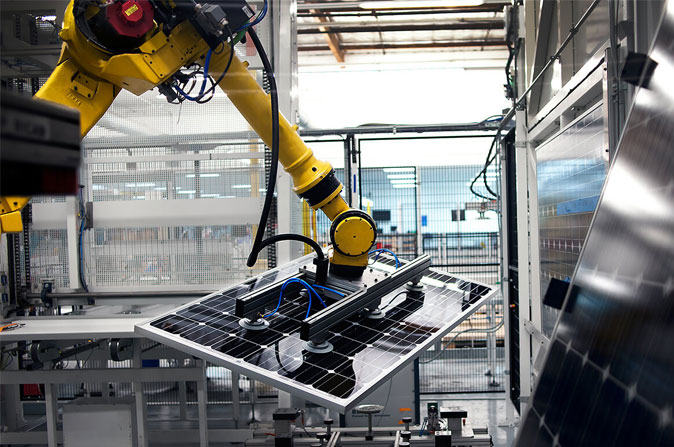 Solar panel makers are turning PBI Aqaba Industrial Estate into a hive of hi-tech manufacturing.
Traditionally the domain of logistics and tourism, the Red Sea-city of Aqaba is now taking on industry with gusto, having amassed an investment cache for the sector approaching $1 billion. The Aqaba International Industrial Estate (AIIE), located 15 kilometers from Jordan's only seaport, has become the heartland for this industrial drive, where large deals over the past three years have been witnessed from high-tech investors, including solar-panel and LED-lighting manufacturers. 
"Until now, big projects here were up to $50 million," remembers Sheldon Fink, the American CEO and Chairman of PBI Aqaba Industrial Estate, the 50% Turkish, 50% US-owned company that develops, markets and manages AIIE. 
"But now we have $200- or $300-million projects in the pipeline. Based on total signed contracts and projects under construction, we will have over $1 billion of investment under management by 2019," he says. "We're also hoping to complete a $100-million financing deal with the support of USAID by end-2018," Fink adds.
PBI Aqaba's investment surge began in 2016 following an agreement with the Shenzhen Chamber of Investment (SZCI) to develop the Shenzhen-Aqaba Industrial Estate, a 1.8-million-square-meter add-on to PBI Aqaba that will facilitate investments of over $1 billion. "Since the estate's opening, a Shenzhen-based company has launched a series of LED streetlights locally, and now they've installed LED lights in a model greenhouse for the Sahara Forest Project," Fink adds, referring to the desert vegetation project in Aqaba supported by the royal families of Norway and Jordan. 
Until now, big projects here were up
to $50 million, but now we have $200- or $300- million projects in the pipeline. Sheldon Fink – Chairman & CEO of PBI Aqaba Industrial Estate
It its early stages, the park housed mostly metals, plastics and food industries, but today it is actively developing niches with high-tech manufacturing and garment fashion companies. Impact from hi-tech producers will be particularly transformative: The park's current 2,500 jobs will be tripled, with PBI Aqaba expecting to have created  7,500 jobs by 2022.
"When current construction for PBI Aqaba is completed in about four year's time, we will have 200 to 250 companies, generating employment for 7,500 people," Fink observes. Companies have been drawn to the AIIE through benefits offered by the Aqaba Special Economic Zone, including a 5% flat income tax on profits and duty-free imports.
When asked how PBI Aqaba has succeeded in attracting such a volume of new contracts, Fink said: "The best approach is to get investors to come here; it will be much better than they expect. The reality is better than the story."