Mystical romance of Mosi-oa-Tunya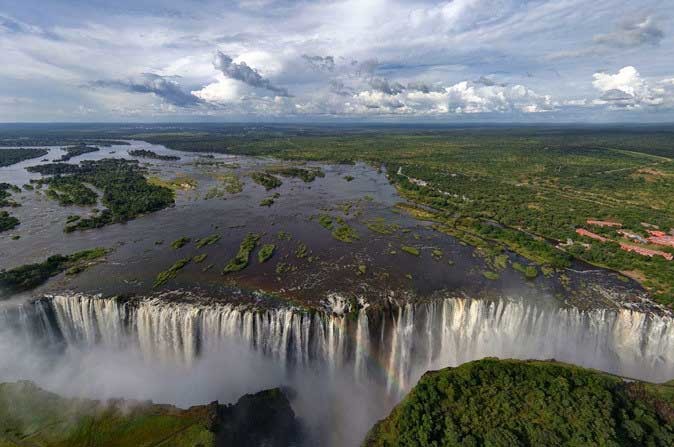 Although history claims the falls were a discovery of Scottish missionary doctor and explorer David Livingstone in November 1855, this "myth" is a laughing matter to local Kololo people who, since time immemorial, have gazed upon this haunting beauty.
Known as Mosi-oa-Tunya, translated as "the smoke that thunders", the name refers to the sound of the cascading water and the smoke-like showers. They were re-named Victoria Falls by Livingstone in honour of Queen Victoria.
At this magnificent waterfall, the Zambezi River, which is more than 2km wide at that point, plunges noisily down a series of gorges and raises an iridescent mist. Declared a World Heritage site in 1989, the falls have a mist-soaked rain forest in which visitors can enjoy the cool sprays of water on their skin.
The waterfall stands at an altitude of about 915 m above sea level and spans to about 1708 m width with an average depth of 100 m; the deepest point being 108 meters. Sprays from this giant waterfall can be seen from a distance of 30 km from the Lusaka road, Zambia and 50 km from Bulawayo road, Zimbabwe. Overlooking the natural beauty is the Victoria Falls Hotel, revered as "the grand old lady of the Falls".
Victoria Falls Hotel
Built in 1904, the Edwardian-style five-star hotel is an institution, which has accommodated royal visitors on several occasions.
This gracious colonial style 5 star hotel set on a World Heritage site, is dramatically situated with a view on the Victoria Falls gorges, epitomizing the romance of grand travel. With lush tropical gardens, lily ponds, palm trees and semi-tropical shrubs, the hotel provides a tranquil sanctuary which makes you travel back in time. Warthogs walk around the gardens area as in their natural habitat.
The hotel has 161 rooms. Its ambience has a historical hue, with all suites decorated in the gracious Edwardian style of Zimbabwe's colonial era. It caters for small executive meetings and private dining for those wishing to taste little business with large servings of pleasure in a discreet environment. A large swimming pool, two tennis courts, a library, reading rooms and chapel are part of the estate.
Elephant Camp
In a very different style, The Elephant Camp is the latest modern safari style accommodation in the Victoria Falls National Park. Completed in 2010, spacious and luxurious private tents, each with its own private pool, are pitched in such a way that one has a spectacular view of the Zambezi gorges. This 5 star luxury lodge accommodates 18 guests in tastefully designed suites for those desiring a peaceful retreat close to the falls. There is also a golden opportunity here to interact with elephants with Wild Horizons, Victoria Falls leading adventure safari tourism operator, which offers a full range of exciting activities such as white water rafting, bungie jumping, zip line and elephant rides.