Healthcare advances continue unyielded amid population surge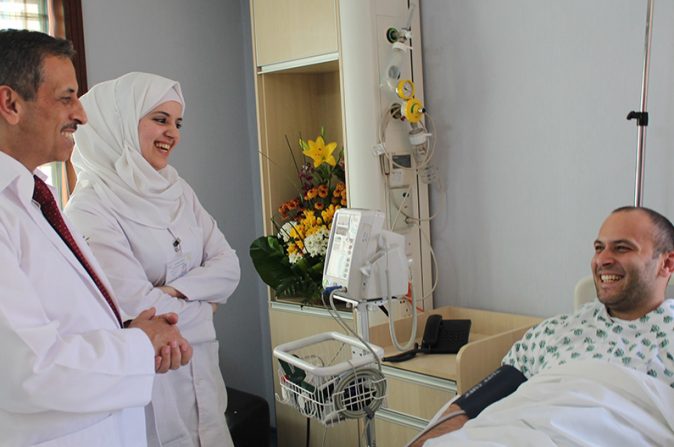 Jordanian healthcare facilities have succeeded in simultaneously treating the arrival of 1.4 million Syrian refugees while ensuring that the country's overall quality of healthcare continues to improve. From the beginning of the Syrian conflict in 2011, Jordan's child mortality rate – considered a strong barometer for healthcare quality – has continued to drop, from 20.5 deaths per 1,000 live births to 16.7 today, UNICEF data shows. 
Jordan's treatment of refugees has been to "ensure equitable access for all," starting from the first days of the crisis, says Minister of Health Dr. Mahmoud Sheyab. This has played out by offering services free of charge where applicable, or by providing very subsidized rates. According to the Ministry of Health, the response plan created alongside UN agencies allowed the nation to "meet the immediate and short-term health needs of refugees whilst also strengthening the national health system." 
However, Jordan's healthcare system remains stressed from handling such a rapid increase of patients, and more aid will be needed to maintain healthcare quality. "We are requesting direct support from the international community for this plan and for unmet needs due to this unprecedented crisis," says Minister Sheyab. 
"Jordan has met the immediate and short-term health needs of refugees whilst strengthening the national health system." Dr. Mahmoud Sheyab – Minister of Health
As part of Jordan's Economic Growth Plan 2022, the government is aiming to increase national universal healthcare coverage to 95%, up from the 68% of the population that benefited from health insurance in 2016. The plan also outlines motives to "encourage investment in medical tourism to attract a larger number of medical-seeking tourists from more countries, especially those in Africa," Minister Sheyab says. 
In 2017, the Kingdom received about 160,000 to 170,000 foreign patients, a considerable drop from 2015 levels due to stricter visa regulations that harmed an industry dependent on receiving most of its customers from Gulf states. However, the adoption of a medical responsibility law, Minister Sheyad says, "will encourage the arrival of more medical tourists by no less than 20%." With visa restrictions being eased, the medical tourism industry could be set on the fast track towards recovery.