Harare, the sunshine city
Charming and peaceful, despite misconceptions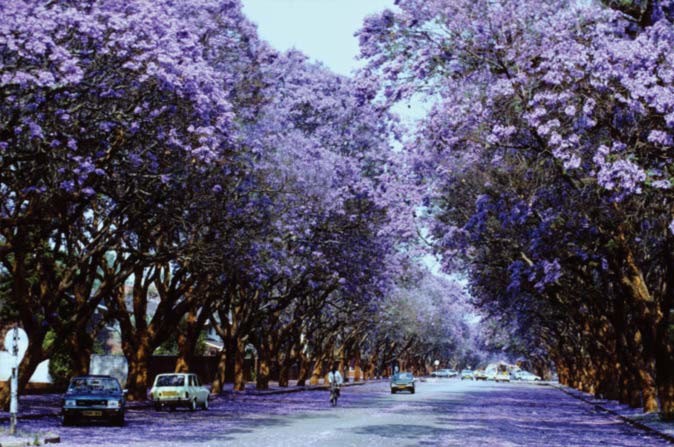 Harare street with jacarandas

Portrayal of Zimbabwe by the international media over the 10 past years has been harsh, with Western nations warning their citizens against travelling to the country. The political turmoil and the record breaking hyperflation often put Zimbabwe in the limelight. Even the The Economist Intelligence Unit rated Harare as the world's least livable city in 2011.
We believe this rating needs revision, as a visit to Harare often stuns visitors.  Harare is a peaceful and safe city, with a small but bustling central business district whose streets are lined with irresistible purple Jacaranda bloom. Harare was established as early as the 1890s, which gives it a unique colonial touch.
The infrastructure is second to none in the region. Johannesburg and Harare are equally shining beacons in terms of planning.   The city offers well-developed housing estates with exemplary amenities, especially in the northern and eastern posh suburbs.  A number of sports clubs offer a variety of entertainment, with over 10 golf clubs around Harare alone.  Harare is a desirable destination for people who want to live and work in the city.  No wonder the city of Harare is taking on the challenge of becoming a world-class city by 2025. Solving the electricity shortages and initiate further cooperation for investment in the city's infrastructure, will pave the way towards this achievement.
Amanzi Lodge, a business boutique of choice in Harare
When on business or leisure in Harare, Amanzi Lodge is the place to stay. Amanzi Lodge is a divine boutique hotel which offers 5-Star facilities just a 15 minutes drive from the central business district.
Andrew Mama, the proprietor of the lodge and one of the best restaurants in town, Amanzi Restaurant, among other properties in the posh suburb of Highlands, promises clients great service, marked by excellent food. "Instead of staying in a generic 5-star hotel, why not come to a traditional lodge with  character? That is what we were trying to create when we thought of the designs." said Andrew Mama.
"Businessmen can enjoy a more personalized service. Because the property is small and only has 16 rooms, we try to get our managers to customize and find out what the guests like. We deploy our best waiters." Indeed the refined and elegant service provided by the highly trained staff provides the final touch to an exquisite experience. The property provides world-class facilities including tennis court, pool, gym and Wifi and boasts of beautiful gardens designed to provide tranquility and privacy to customers. The lodge gives what Andrew calls "the whole Amanzi feel" courtesy of its water-inspired features and landscaping. "Amanzi" is Ndebele for "flowing water".
Each room has a theme based on the arts and cultures of a particular African country. A stay at Amanzi Lodge, with its stunning waterfalls and spectacular landscaped gardens, is a memorable African experience. Patrick Mavros, Zimbawe's most renowned artist with shops in London and Mauritius, regularly exhibits his work at Amanzi Lodge.