Getting there and around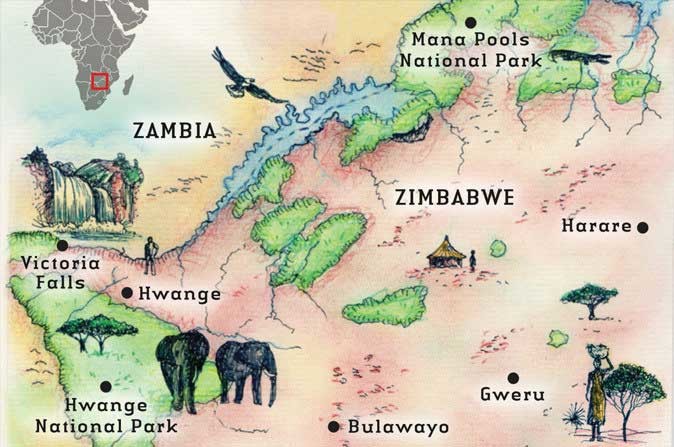 Before the dip in the country's fortune, more than 40 airlines flew to Harare. The Government is now focused on facilitating foreign airlines return and regaining its position as regional hub. Zimbabwe has adopted an "open skies policy" for airlines. Emirates Airlines was among the first international airline to take a gamble when it returned in February this year. It now operates a daily service between Dubai and Harare, while Royal Dutch Airlines-KLM, Air Namibia, Air Botswana and Mozambique have also returned. With Emirates now flying from Dubai daily, tourism between the two countries is expected to increase significantly.
The country's national airline Air Zimbabwe flies only three times a week between Harare and Victoria Falls making it difficult to move around. The other alternatives to discover the country are either by Cessna, which caters to a niche market or by road, which requires time. Zimbabwe is no destination for mass tourism but a truly exclusive experience. Zimbabwe's tourism attractions are scattered throughout the whole country, Eastern Highlands in the south, Victoria Falls at the other end of the country. By far the easiest and most enjoyable way to move around is by private air charter.
Altair
Started by Giles Raynor in 2003, Altair flies all over the country with air charters and transfers to all remote areas using a Cessna 206s and a Piper Navajo. With over 30 years of experience, and son of a World War 2 pilot, Giles is the kind of pilot you want to fly with to feel in complete safety. "Maintenance is paramount, as well as experience that only comes with age," says Giles. The most common planes are the 6 seater Cessnas operated by AltAir. Within a 24 hours notice, visitors can fly anywhere in Zimbabwe in the most enjoyable conditions. The airlines' philosophy is to provide the best possible service and "provide everyone with the best possible service."
Safari Logisitics
Safari Logistics is a new Air Taxi initiative started by African Bush Camps to provide cost effective air access to some of Zimbabwe's top safari and wildlife areas. It began operating in April 2012. The service is designed to link hotels, lodges, camps and safaris in Victoria Falls, Hwange, Bumi Hills, Kariba and Mana Pools with a 4-passenger Cessna 206 aircraft. They fly on Tuesdays and Thursdays.