Doing business at the corner of 3 continents
Back from the brink, a fully recovered Cyprus has emerged as a significant business node at the crossroads of Europe, Asia and Africa.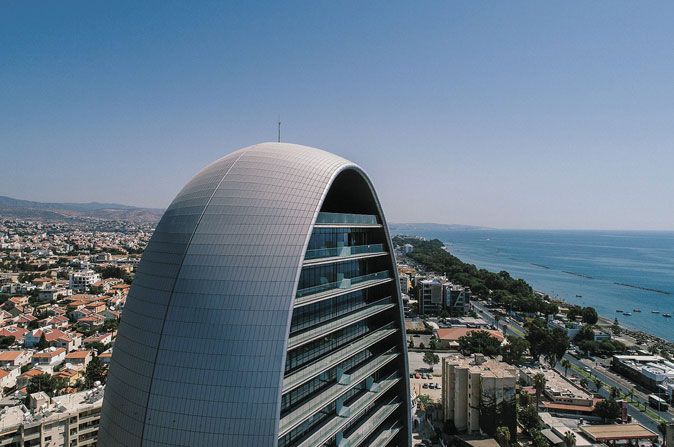 The Oval building in Limassol, Cyprus' emerging business hub.
In battling its financial crisis, Cyprus' small size was its greatest asset. The €18 billion economy proved to be nimble, quickly enacting IMF-prescribed reforms that jump-started an early recovery. Within 16 months, Cyprus re-entered international finance markets. The government has issued debt three times since. And positive growth returned in 2015, much earlier than expected.
As the EU's easternmost outpost, the Mediterranean island nation is now setting the stage to become a logistics, energy, shipping and tourism node at the nook of three continents – Europe, Asia and Africa. Few nations can boast such a strategic location, and fewer still geopolitically transformative natural gas reserves. "The energy sector is going to be a massive opportunity, one that will then merge with the shipping sector," says Natasa Pilides, Director General of the Cyprus Investment Promotion Agency. "We're a small island and haven't had massive infrastructure projects yet," she adds. This fact presents myriad greenfield opportunities, all within the EU, especially for Chinese energy and shipping infrastructure companies. "China has global know-how with infrastructure projects, and we are now looking East for the next major investment," says Pilides. "Once we are ready for an [electricity] interconnector," she says, "Chinese investment will have a huge role to play." Indeed, the Beijing-led €755-billion Belt and Road Initiative would find an ideal geostrategic link in Cyprus.
The energy sector is going to be a massive opportunity. Natasa Pilides – Director General, Cyprus Investment Promotion Agency
As both nations prepare to celebrate national holidays on October 1st, the financial crisis that brought Cyprus to the brink is already being viewed as a closed chapter in history. "Having emerged from such a severe crisis in such a short time is something to take note of," Pilides observes. "If we can go through that and come out without much collateral damage, then we are on the right path and it's time for Cyprus to show it," she declares.