Chinese expertise set to boost FDI
Egypt's national infrastructure expansion offers market to foreign contractors, paving the way for direct investment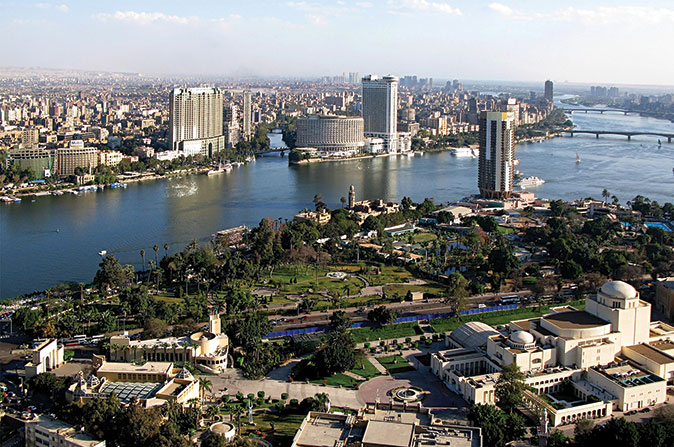 View of Cairo, the capital of Egypt and largest metropolitan area in the Middle East and the Arab world.
With more than two thirds of its population set to live in a city by 2050 – a doubling of the current rate to 70 million – and with 60 per cent of its 87 million citizens under the age of 35, the Arab world's big power has reached an economic crossroads. Rapid urbanization and demographic pressures have left it facing a long list of problems: a lack of housing, poor sanitation, out-dated transport links, and a sluggish energy sector. With a large-scale investment strategy to ignite growth, however, Egypt's president is tackling these head on.
President Sisi's five year plan aims to cater for his citizens' day-to-day needs by attracting between $200 and $300 billion of investment. The project got off to a good start last year at Sharm el-Sheikh's investment conference, as it ended with $60 billion of investment agreed upon, including $18.6 billion of funded projects.
Egypt's energy sector is looking for investments of up to $40 billion by 2025. Thanks to its technological expertise and financing power, China is already a key partner in this project. Plans to build a new hydropower plant in Mount Ataka, with the same capacity as the Aswan High Dam, has been contracted to Sinohydro in a deal financed by Chinese banks. United Holding Company's President, Aly Moussa said, "As the biggest contractor of hydro-electricity in China, and with the project valued at $2.3 billion, it can be a showcase venture for Sinohydro pumped storage technology." The project will stabilize Egypt's fragile electricity grid in between peak hours and low in peak hours.
"Egypt's current financial relationship with China is mostly based on contractor work and technological transfers."
Chinese financing of such infrastructure projects has already begun. According to the Minister of Transport, Dr. Geyoushi, "Egypt's current financial relationship with China is mostly based on contractor work and technological transfers." Such projects rely on the widely used contracting agreements of Engineering, Procurement, Construction, plus Finance model (EPC) or the Build, Operate and Transfer (BOT) model. In Egypt, many Chinese contractors have already been selected for key mega-projects, simultaneously bringing finance from Chinese banks with them. An example can be seen in Egypt's transportation network. A new monorail line with 17 stations is set to be partly built by China Railway with a loan from the Export-Import Bank of China.
A new administrative and business capital east of Cairo will also be built. This project will include China State Construction Engineering Corporation and cost $45 billion, creating 1.5 million new jobs and 15,000 homes.
Greater financial involvement in Egypt is set to give China many advantages in return. Mr. Moussa said, "China has a lot of know-how and their expertise will be very visible across the Arab and Mediterranean world." With a large consumer market and middle-class laying in wait, and Chinese engagement increasing, it is hoped that EPCs and BOTs will soon expand to take the form of Chinese direct investment; a point Geyoushi underlined, "Our economy will benefit from substantial foreign investment.".