Economic ties boosted as President Xi visits Egypt
President Xi's first state visit to cairo opens an auspicious chapter in sino-egyptian relations as record loans and finance deals are signed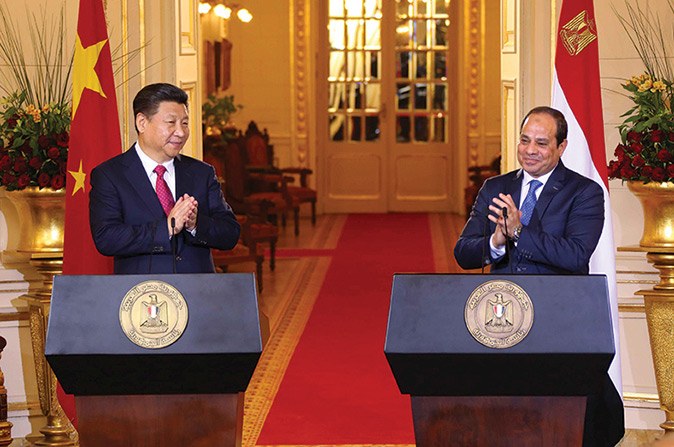 Egyptian President al-Sisi and Chinese President Xi deliver a joint statement at the Presidential Palace in Cairo on January 21st, 2016.
President Xi's state visit to Egypt last month cemented Egypt's place in the "Silk Belt and Road" at the occasion of the 60th year anniversary of diplomatic ties. It is also the third time in just over two years that Xi met his counterpart, President Sisi. While in Cairo, Xi suggested that China and Egypt work together to make Egypt a "pivot" for belt and road initiative.
As in other countries, that will largely involve Chinese cooperation on infrastructure projects, with investment in industrialization in the host country. The visit's outcome – $1 billion in Chinese financing, and a $700 million Chinese loan to the National Bank of Egypt – will help both countries grow together.
When President Xi in 2013 announced plans for a Silk Road Economic Belt and a 21st Century Maritime Silk Road, interest in the Suez Canal spiked. With a new, shorter lane capable of doubling annual traffic revenues to $13 billion, 32 Chinese companies investing $400 million now work in the canal's Special Economic Zone – an investment figure set to increase to $2.5 billion with the help of up to 100 firms.
With the canal linking the Indian Ocean to the Mediterranean Sea, Egypt is a key pivot on a trade network that will soon link three continents together. Stretching from Quanzhou in Fujian province, it will pass through Kuala Lumpur, Kolkata and across the Indian Ocean to Nairobi. Cargo will then sail through Egypt, finally meeting the land-based Silk Road in Venice.
Xi told reporters: "The sides have agreed to cooperate in over 15 projects, "adding,: "It is expected investment will reach $15 billion". Projects have already begun with China wanting to help build a new business capital.