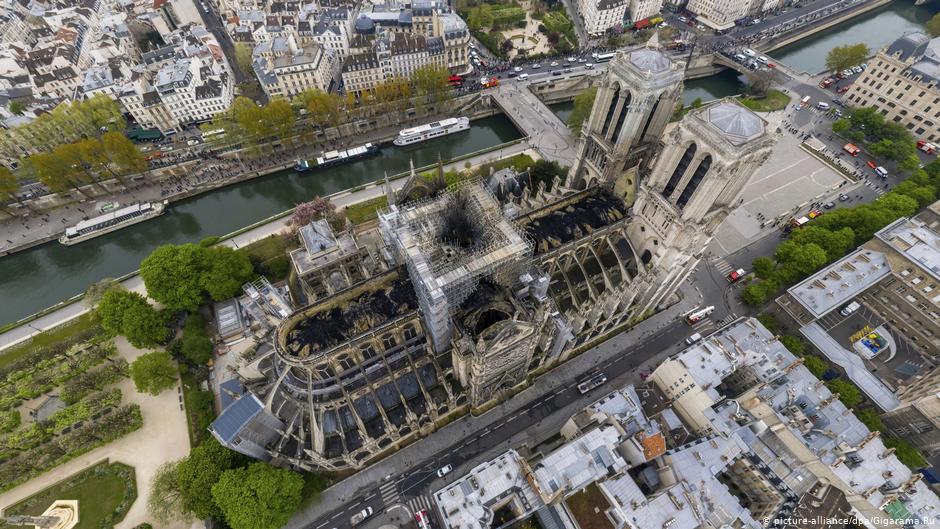 Europe News
French Parliament approves Notre Dame restoration bill
Deutsche Welle17.07.2019Read original
President Emmanuel Macron succeeded in obtaining a blueprint for Notre Dame's restoration, which could pave the way for his controversial plan to replace the spire with a "modern" design.
France's Parliament voted on Tuesday in favor of a law to restore the damaged roof of Notre Dame Cathedral, after a fire destroyed its spire in April.
At issue for lawmakers was the decision on the appearance of the new spire. The destroyed spire was designed by 19th-century restorer Eugene Viollet le Duc, after the medieval original was demolished in the 18th century.
Tuesday's vote was not without controversy, as politicians had squabbled for months over the details of the restoration project.
French President Emmanuel Macron's and his centrist Party, En Marche, supported the construction of a modern spire, to make a "contemporary architectural statement."
His political opponents, however, favored an exact replica and as a result, the opposition-controlled Senate, the parliament's upper house, rejected the law.
The National Assembly, the country's lower house, controlled by En Marche, overruled the Senate to ultimately pass the bill. But the final text did not directly address the architectural form of the reconstruction and left the spire design undetermined.
The "aim is to give Notre-Dame a restoration appropriate for the place it has in the hearts of the French people and in the entire world," Culture Minister Franck Riester said.
In an opinion poll published in April, most respondents said they wanted the cathedral rebuilt as it was before the fire.