Women ride rising tide of gender equity
More female leaders are in positions of power than ever before, challenging traditional views of the role of women in the Muslim Indian Ocean nation.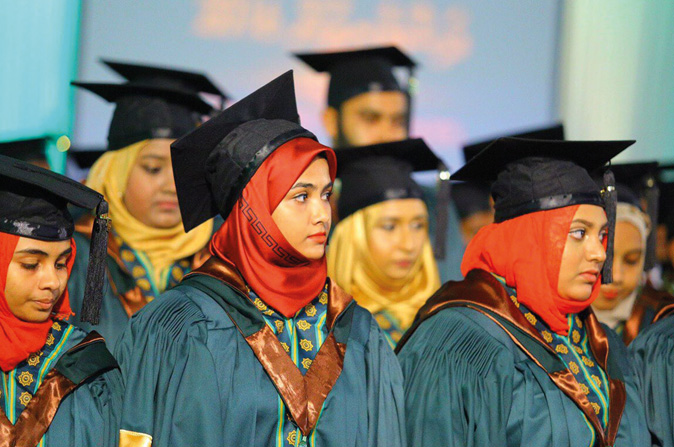 The Maldivian government has created more schemes to empower women. | Photo: Abdhullah Shafeeu/Islamic University of the Maldives
On May 6th, a former lawyer at Maldives Islamic Bank secured herself a new job. As the new Managing Director of Hazana Maldives, an Islamic finance firm, Sharahath would now be charged with growing the embryonic industry, an important linchpin in the Maldives' blueprint to becoming a finance hub in the heart of the Indian Ocean. Her triumph, though, is no isolated celebration, but rather another in a line of recent breakthroughs for women in the moderate Muslim nation. With Sharahath's appointment, the 31 year old had become the first woman in the Maldives to helm one of the country's influential state-run enterprises, Mohamed Nizar, President of the Privatization and Corporatization Board announced on Twitter in May. She would be joining many other women who already hold leadership roles, a raft of which were recently appointed.
Women in the Maldives have been increasing assuming positions of power, enabled by a progressive government that has begun appointing more women to leadership roles than ever before. This transformation is most visible in the government itself. The 15-member cabinet of President Abdulla Yameen, who took office in 2012, notably had three women ministers, more than any previous administration. The Maldives Monetary Authority head, the prosecutor general and the government's registrar of companies are all women; so are several state ministers and deputy ministers.
Seeing women in prominent positions will change conventional mindsets, observers believe, and open eyes to start addressing gender inequity. "The women of this country have made great progress; they have moved forward in terms of gender equity," says Dunya Maumoon, the Maldives' first female Minister of Foreign Affairs, who served from 2013 to 2016. "However, areas such as economic empowerment need to be strengthened and President Yameen's government is looking at different solutions for women employment, such as granting special loan schemes and longer maternity leave, which was recently extended to one year," Maumoon added.
"Once empowered to display the full extent of our capabilities, our [women's] contributions will become even greater. " Aishath Shiham, Minister of Education
Another historical goalpost is around the corner later this year. "We're planning to legislate a one-third quota for women serving on the boards of government companies," announces Aishath Rafiyya, the first woman to be deputy leader of a politcal party in the Maldives. "The benefits are clear: companies with greater representation of women as board members have a significantly higher financial performance," Rafiyya points out, referencing a survey by Catalyst, a women's rights NGO.
"We're planning to legislate a one-third quota for women serving on the boards of government companies. The benefits are clear." Aishath Rafiyya, Deputy Leader, Maldives Development Alliance
Installing appreciation of women's rights across the aiseles will require more "gender mainstreaming," public policies that address equity of women, already central to the government's agenda, says Minister of Education Aishath Shiham. "In the Maldives, working at a job and raising a family go hand in hand," Shiham says. "There have been strong, female leaders before and, once empowered to display the full extent of our capabilities, our contributions will become even greater."