Tsipras and Macron lead a new Europe
Alexis Tsipras and Emmanuel Macron agree on the need for a renewed European Union. Together they propose to revive the European renewal project with more democratic mechanisms and they call for more European investments in Greece.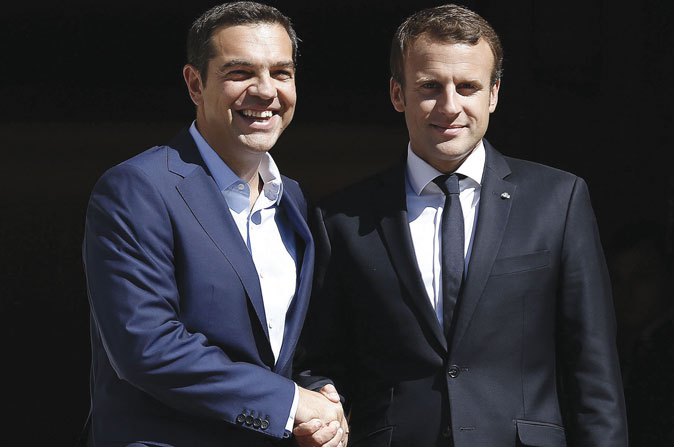 "Sovereignty, democracy and trust are in danger in today's Europe," declared French President Emmanuel Macron early September on the Pnyx hill, the very same place where, more than 2,000 years ago, a popular assembly voted in the world's first democratic system by making a show of hands for the city's decisions.
On a two-day state visit to Athens, President Macron and Greek Prime Minister Alexis Tsipras jointly called for a reshaping of Europe, for more democracy and for a common budget to avert future crises. President Macron reiterated the need for a Greek debt relief after the third financial assistance plan, which is expected to end mid-2018. According to the Élysée, "A new chapter is being written for the Greek economy", as shown by the first signs of a slight increase in growth (+0.8% in the second quarter of 2017).
"During the crisis, Greece was pushed into choosing non-European investments because the Europeans were not there anymore, and this worries me. I now call upon Europe and the rest of the world to invest in Greece and give the Greek economy and the Greek citizens the opportunity to make a choice. Europe will answer the call, France will answer the call," declared Macron in an encouragement to invest in Greece.
The delegation accompanying the French president to Athens included 40 executives from companies, such as Total, and even start-ups like Kiss Kiss Bank Bank, a funding platform for creative industries.
French investments makes up for 10% of FDI into Greece, and with ongoing privatisations in the country new opportunities will arise for French entrepreneurs.
The main French investment project discussed during the state visit concerned the Thessaloniki Port, a deal which a French-German consortium won the tender for in June 2017. According to the Elysée, discussions also covered "potential investments in the Athens tram and underground network, as well as in the air transport sector".