Transformative mega projects fuel Maldives' future
Five flagship projects serve as pillars for economic transformation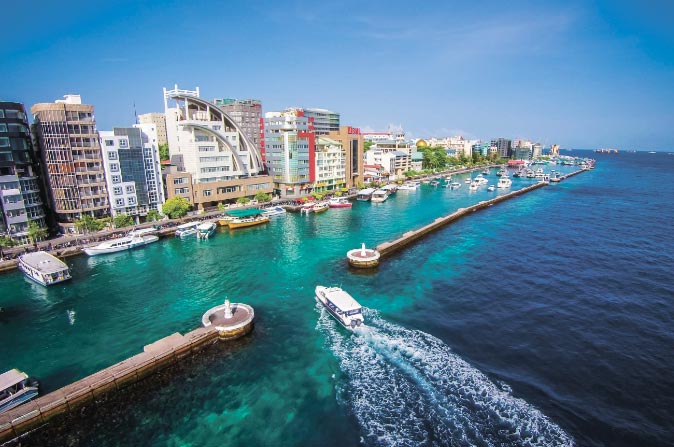 The Maldives' tiny and beautiful capital, Malé City
In 2014, the Maldives tendered five "mega projects" to the international investment community. Designed to stimulate economic diversification, each project targeted the Maldives' major constraints on growth like transport, housing, and youth unemployment, expanding on existing strengths. We offer this snapshot of their progress and needs for foreign investment.
Ihavan: Northern Ihavandhippolhu atoll offers strategic access to trade routes, major cities and India's booming markets. Feasibility studies of a transshipment port, airport, marina and other services are underway. As a designated Special Economic Zone (SEZ) it offers investors tax holidays, duty-free benefits, long-term land lease options and a relaxed regulatory environment. A $150 million minimum investment is required.
Youth City: Suburban island Hulhumalé is being developed to relieve the congested capital by providing affordable housing and stimulating the professional and creative interests of the young. Maldivian youth suffer South Asia's highest rate of youth unemployment (32 percent). Investments will include sports facilities, commercial housing, a cruise terminal and robust IT services.
Ibrahim Nasir International Airport (INIA): Terminal, runway and seaplane operations are being expanded in anticipation of tripled tourist arrivals by 2017, primarily from China. With an estimated cost of $845 million, revenue is expected to reach $410 million. Japan's Taisei Corporation is undertaking terminal expansion with financing from Japans' Bank for International Cooperation; Singapore's Changi Group is overseeing INIA's transformation.
China-Maldives Friendship Bridge: China is drilling preliminary boreholes to support a six-lane bridge between Malé and airport island Hulhulé, with a connection to Hulhumalé. Given positive results from the preliminary studies, the $100 million-150 million project is estimated to take two years.
Central Port: The Maldives' main international port on Malé is being redeveloped on nearby Thilafushi. Dubai Ports World (DP) is building the deepwater port on the so-called "Garbage Island," which invites waste separation services and green energy projects. The $300 million project has a two-year timeframe, in which the government intends to establish the area as a SEZ.