Chinese dominated tourism sector evolves to offer more choice
New island multi-ownership regulation enables diverse scales of investment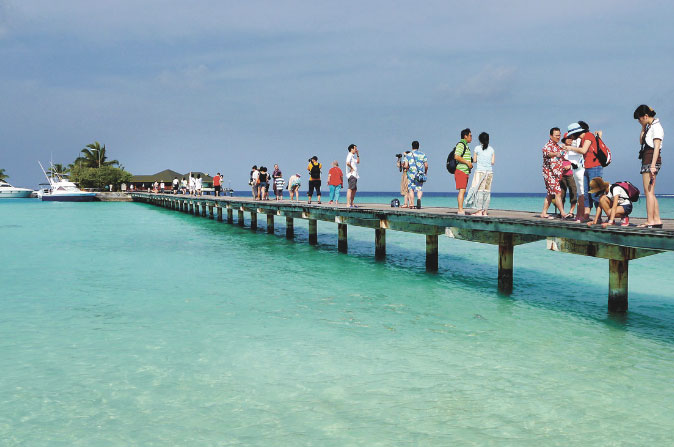 Chinese tourists soak up the holiday sun in the Maldives.
The Maldives' tourism sector accounts for 27 percent of its gross domestic product (GDP). Chinese tourists in 2014 accounted for 30 percent of tourist arrivals. This sector has supported the rapid economic growth experienced by the country. Its contribution to national GDP rose at an average annual rate of 5 percent from 2009 to  2013.
And the impressive figures don't stop there. The collection of idyllic islands in the Indian Ocean welcomed 1.2 million tourists in 2014 – a 7 percent increase from the previous year.
Historically, Europeans have dominated the sector, however following the global economic crisis, the European market share dropped from 70.5 percent to 46.9 percent between 2009 to 2013. While the figure dropped, both tourism revenues and arrival figures continued to rise. Why? The explosive growth of the Chinese market. As European arrivals fell, Chinese arrivals rose. By 2010, China was the Maldives' number one market. It has maintained this position ever since.
As the market continues to expand, the Maldives government has announced plans to diversify its tourism package and attract more foreign direct invesment. The introduction of the "guesthouse islands" concept has been added to the "one island, one resort"  policy, leaving investors free from the obligation of developing an entire island from scratch. These previously high costs, resulted in an expensive product – hence the dominance of ultra luxury tourism.
Now, however, as the government opens islands for multiple ownership, investors can be more selective. With the goverment assuming the basic service and infrastructure costs, an investor is free to invest in only one project – be it a resort, or restaurant, or water sports center. This focus on affordable tourism is currently witnessing the market offer a multitude of investment opportunities for small and medium-sized enterprises.
Since the Maldives consists of 1,192 islands and only 200 are inhabited, there are countless development opportunities in every area of the tourism market – from affordable to ultra-luxurious. Currently, the biggest demand for uninhabited islands is in the "seaplane zone," an area within easy reach by seaplane of Malé, and as domestic airport infrastructure develops in the north and south, further opportunities will soon open.
With a six to eight year return on investment (ROI) on tourist accommodation, the Maldives offers fast returns. Newly updated foreign investment laws guarantee the security of foreign investments and foreign investors now have the rights to: 100 percent ownership, long-term land leases for large-scale projects, and the freedom to repatriate profits and capital proceeds.
The government's "Look East" strategy aims to make China a larger investor: high-profile visits, the Maritime Silk Road, the call for tenders for mega projects, along with new foreign investor incentives, all aim to encourage China to invest further.