Aiming for the world's top 20
Tourism stands to become the country's primary industry, with 20 million visitors by 2020 if things go according to plan.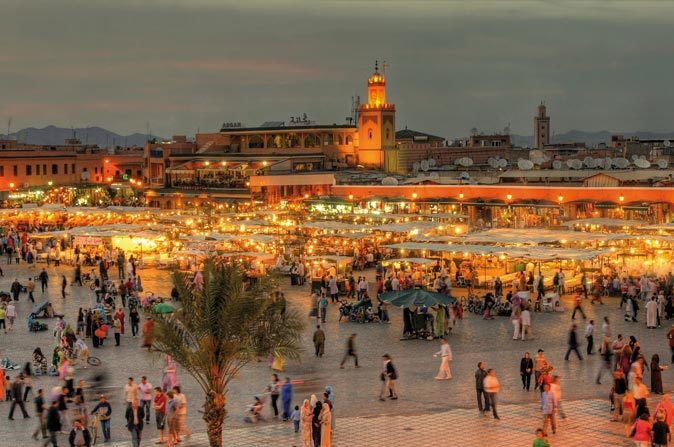 Dating back to the fourteenth century, Jemaa el-Fnaa Square is on UNESCO's Intangible Cultural Heritage of Humanity list
An ambitious vision
«One job in 12 in the world is created in the tourism sector. Two out of every three trips are booked through the Web». These are recent statistics supplied by the International Labour Organisation (ILO). The Kingdom is placing a large bet on the take-off of this sector. The government aims to make it the country's number one industry. First goal: reach 20 million tourists a year by 2020, versus just over 10 million today. In terms of revenue, the projected figure is 16 billion  by 2020. Morocco's other ambition is to rank among the world's top 20 destinations and establish itself as a leading player in sustainable development. The Vision 2020 plan is based on the lessons drawn from worldwide trends. A diversified offering is encouraged: spas, business, desert, mountain, culture, sustainable development… «Every city has its own appeal. Marrakech offers tourism and animation, Casablanca is a business and financial city. Rabat is a thriving capital. Tangier is Morocco's gateway to Europe», explains Lahcen Haddad, Minister of Tourism. This year, the aim is essentially to speed up the execution of the planned spa projects. This will lead to job creation, new income generation and a sustained economic stimulus. Ultimately, Vision 2020 aims to create 1 million jobs in the country.
Setting Morocco apart
In the current context, the main thing is to avoid being associated with the troubles in the Maghreb region by stressing the country's economic and political stability. Morocco needs to be set apart from the countries affected by the Arab Spring, which are suffering from a slump in tourist arrivals (particularly Egypt and Tunisia). Moreover, Morocco is positioning itself as a premium destination, a far cry from mass tourism. The average spending per tourist is a clear illustration of this: $800 per stay in Morocco on average, which compares with $400 for Tunisia and Egypt. Morocco is already a favourite destination among Europeans. Travellers from France, Spain, Italy and Germany never seem to tire of its ever-changing charms, and keep coming back year after year. Marrakech offers a trendy and fun weekend break, Essaouira attracts sport lovers keen on kite surf and board sailing, while history and culture enthusiasts can indulge their passion virtually anywhere they go. In addition to the European countries regarded as its traditional markets, Morocco is focusing on newly emerging ones, which are becoming increasingly important. A case in point is tourism from the Middle East, with a 20% rise in arrivals last year. Scandinavian countries, Russia and Poland also show promise. For the time being, the challenge is to put in place the greatest possible number of beds, hotels, resorts and spas. It is all a matter of reaching the critical mass needed to interest tours operators and airlines.
Attracting investors
A further challenge is to attract investors in the doubly unfavourable context of the European crisis and the wake of the Arab Spring. To counter their effects, Morocco is staging the maximum possible number of international events and roadshows. Such events are also an opportunity to stay in touch with the major players in the tourism industry, including international hotel brands as well as silent partners.
Gulf countries are contributing substantially to the financing of projects. A sovereign fund for tourism was created in 2011 between Morocco, the United Arab Emirates, Qatar and Kuwait. Wessal Capital, equally owned by its stakeholders, will channel investments amounting to some $3 billion in Moroccan tourism. Lahcen Haddad explains: «The common aim is to have profitable investments and political stability. In Morocco political stability is achieved by creating wealth and jobs". In his own words, focusing on Moroccan tourism is "a safe bet", and he adds: "we, at the government level, are here to accompany investors and make sure that they get a consistent return on investment".