Sailing towards a 7.5 million tourism horizon
Expansion of the Ibrahim Nasir International Airport is "top priority," a project necessary to boost arrivals by 6 million in two years.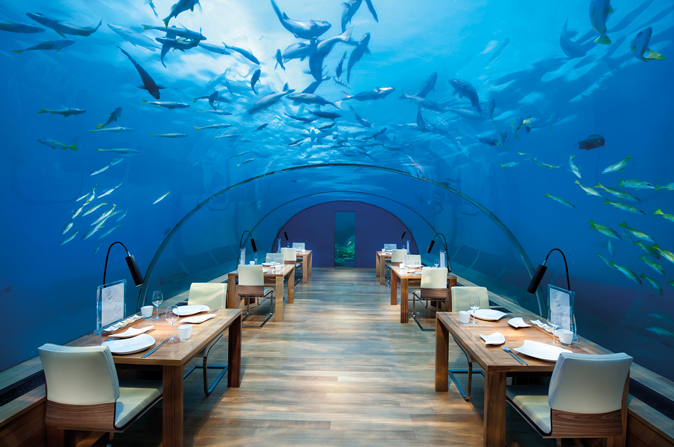 Ithaa Undersea Restaurant at the Conrad Maldives Rangali Island | PHOTO: Crown Company
When international aid agencies assessed the Maldives' tourism potential in the 1970s, their answer was unequivocal: There was none. The nation was too undeveloped, too remote. But this was before modern aviation finally brought the world to the Maldives, which today has come to embody the definition of "paradise" with its uncompromisingly crystalline lagoons and idyllic castaway isles.
To further corner upmarket tourism, the Maldives is embarking upon massive expansion projects to develop 100 new islands, upgrade the international airport and step up marketing campaigns. After all is said and done, the country hopes to sustainably accommodate a jaw-dropping 7.5 million yearly visitors by 2018, up from 1.5 million in 2016, a volume already quadruple the nation's population. Top names in hospitality will break ground across new islands to prepare for these millions of new visitors. "There are about 120 properties that will be developed over the coming years by major international brands, such as the Four Seasons. These developments will have about eight to 10 small hotels per lagoon," says Minister of Tourism Moosa Zameer. "To fill our tourism targets, we will need 100 new islands with 100 to 200 rooms each," he adds.
"There are about 120 properties that will be developed over the coming years by major international brands." Moose Zameer, Minister of Tourism 
Tourism is vital to the Maldives' economy, which the World Bank says expanded 6.5 per cent in 2014. At least 25 per cent of the archipelago's total productivity comes from tourism, according to the National Bureau of Statistics, and the country heavily depends on the sector for employment. The expansion of the Ibrahim Nasir International Airport has thus always been a logical "top priority" of the administration. "We have secured all funding, including an historically large $373 million loan from China for a new runaway, as well as financing from the Saudi Fund for Development for a new terminal," says Minister Zameer. Furthermore, "immigration policies have been revised to cater to the ever increasing volume of travellers," adds Mohamed Anwar, Controller General of Maldives Immigration.