Economy / Brunei Darussalam
Oil nation charts a new course
Ancient Sino-Bruneian trade routes have been revived, marking 25 years in
diplomatic relations.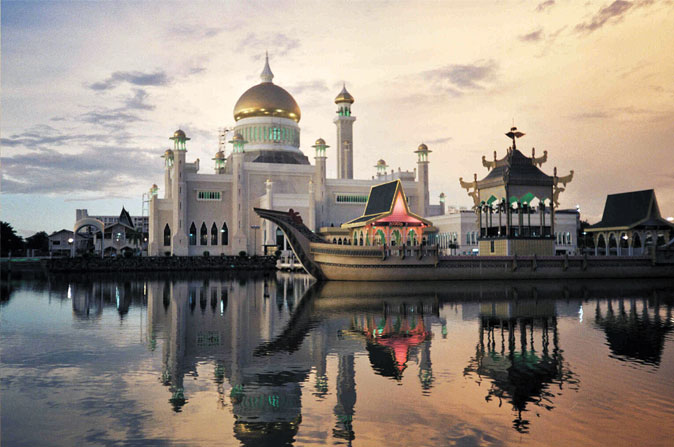 This year's National Day celebrates Brunei's 32nd year of independence.
Since the 1920s, Brunei has benefited from bountiful oil reserves that have, according to the World Bank, helped generate an average income of $41,000, on par with France. The country has the second highest private car ownership ratio in Asia next to Japan. Citizens enjoy government-funded services the envy of many in the region. Yet, the blessing of oil has also nurtured a dangerous dependence.
Today, the energy sector represents about 60 percent of GDP and 90 percent of government revenue, making Brunei among the world's most exposed to oil price volatility. After contracting for two years in a row, the IMF predicts that, once again, Brunei shrank a further 0.5 percent in 2015.
To right the ship, ancient trade routes with China that date back to the 14th Century are being revived. By tapping into the 21st Maritime Silk Road, Brunei ultimately aims to leverage its geostrategic location, free trade agreements and political neutrality to transform into an export hub. It is perhaps Brunei's best hope for a quick catalyzer of economic diversification.
$500 million – Total committed investment for industry development between the Guangxi Autonomous Region and Brunei, including bio-innovation, agriculture and aquaculture.
Bilateral plans are already rolling out. The Brunei-Guangxi Economic Corridor (BGEC), signed into effect in late 2014, has established over $500 million in joint-investment commitments to develop strategic industries, specifically in bio-innovation, agriculture and aquaculture. In Brunei, the Bio-Innovation Corridor was launched as the core special economic zone to nurture the BGEC's value-added strategy. "The two together become a type of developmental package," says Gary Ho, managing director of SQW China and committee member on the BGEC. "Mitsubishi has already set up a three-hectare complex for anti-oxidant products and there are more to come," he adds.
The corridor would position Brunei as a China gateway. "Through the BGEC, third-party countries can utilize Brunei as a launching pad to access the China market," Minister of Primary Resources and Tourism Dato Ali Apong expounds. Additionally, according to Dr. Colin Ong, a leading Bruneian legal advisor, possible commerical arbitration dispute mechanisms could further smooth international business relations in the region.
Blossoming Sino-Bruniean relations come at a significant time. The two nations will mark the 25th anniversary of diplomatic bilateral relations this year. Yet it is the nations' centuries-long trade relations that may have greater impact.