Luxury resorts turn fantasy into reality amid sector swell
An underwater villa, sea-side ice rink and overwater salsa floor: Island-resorts are delivering on the wildest of dreams as tourist and resort numbers spike.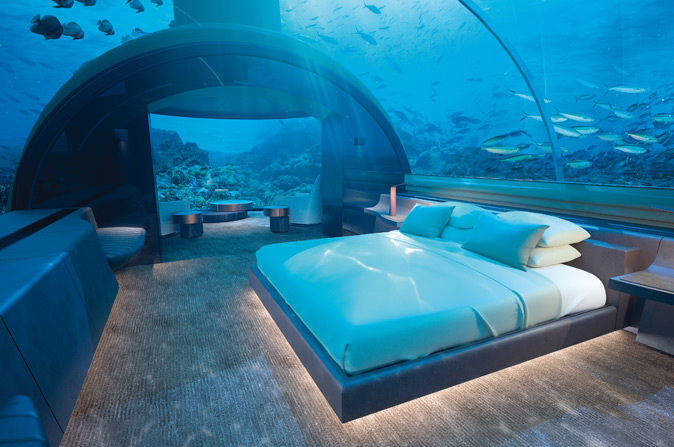 An engineering triumph, The Muraka undersea residence debuts at Conrad Maldives Rangali Island November, 2018

Flip through the portfolio of any global luxury hotelier, and their Maldives property will most always stick out. That's because it has to. Over the past few years, top names in global luxury have descended upon the world's lowest country, creating red-hot competition that shows no sign of cooling off.
There are currently at least 23 new resort-islands under construction in the Maldives, including the Waldorf Astoria, Movenpick, Pullman and the Hard Rock Café Hotel, each of which are entering a market that has 130 island-resorts already in operation. This range of high-caliber competition forces brands to constantly try to outdo each other, engendering a tourism industry that is getting wild with innovation.
This November, the Conrad Maldives Rangali Island will open up a new category never before seen in the country, becoming "the first resort in the Maldives to have an undersea villa," says General Manager Stefano Ruzza. Just last March, Jumeirah Vittaveli, a Dubai-based luxury brand, inaugurated the Maldives's first ice-skating rink. Carpe Diem, a new resort, is going a step further, with plans to construct an overwater salsa dance floor. Just a stone's throw south of Malé, Thailand's Singha Estate is developing Crossroads, the country's largest-ever tourism project, valued at $311.5 million, which will include the Hard Rock Café. All of these high-budget plays in luxury tourism will be made financially viable through a $1 billion upgrade at the main airport, which will quintuple arrival capacity, improve VIP lounges and deliver a seaplane operation the envy of the world.
"Tropical winter wonderland"
For Amit Majumder, Jumeirah Vittaveli's General Manager, the moment of inspiration that would lead to creating the Maldives' first ice-skating rink came from a little girl. The idea "came about, following a conversation with a family that had visited Jumeirah Vittaveli four times," Majumder remembers. "One of the older daughters said she wanted to go on a ski holiday the following year, while the parents and the rest of the family wanted to come back to the Maldives. The whole family was a bit split. Incidentally, another guest of ours was involved in making ice rinks and we started talking and that made us think of creating a bit of a tropical winter wonderland here in Maldives," he explains.
It wasn't long before Jumeirah Vittaveli was opening the historic ice rink, even inviting an Olympian gold medalist figure skater to inaugurate it. "There is no where else in the world where you can come out of the sea and start ice skating, or vice versa," Majumder said of the ice rink, which was made with imported synthetic ice by Swiss manufacturer Glice®. "We took some design cues from Glice®, but we also wanted to keep the rink very Maldivian. That's why we used a lot of wood and a thatched roof. We also wanted to give it an open-air feeling, so we installed skylights in the roof to let in the natural sunlight." Jumeirah Vittaveli not only features the world's first beachside ice rink, but also boasts a 3,500 square meter Royal Residence. "Apart from five bedrooms, there's a wine cellar, two swimming pools, and a Jacuzzi with a retractable TV. It's truly fit for a king," says Majumder.
$1b of airport upgrades
None of the Maldives' newest entries would be considered a sound investment without the extensive upgrades being completed at the country's main gateway, the Velana International Airport, widely considered the most critical project in history.
A total of $1 billion in upgrades at the international airport will allow for 7.5 million annual visitors by 2019 or 2020.
"The airport upgrade is the largest investment project that has ever been undertaken in the Maldives," says Adil Moosa, Managing Director of the Maldives Airports Company Limited (MACL). "The $1 billion is comprised of a lot of different projects, including a new Code F runway that can cater to A380 aircraft, a new passenger terminal that will boost capacity to 7.5 million passengers, a new fuel farm and a new cargo terminal complex, which is three times the size of the existing facilities," says Moosa. "Apart from that, we are developing other facilities, such as a new power complex that is three times bigger than what we currently have; and a new seaplane terminal, which is two times larger than what we currently have. In addition to that, we are also constructing a new VIP complex that will be six to seven times larger," he adds.
Already home to the world's largest seaplane fleet, upgrades at the seaplane terminal would greatly improve traveling experiences for luxury tourists, who are more likely to travel by seaplane to reach the country's isolated islands. "The new seaplane terminal is in progress, and we've recently started doing work for the VIP complex. We are hoping part of the project will be completed during this year," Moosa announces. "The rest of the projects will be completed in 2019 or early 2020, including the passenger terminal, which will greatly expand the Maldives' capacity to cater to a growing tourism industry."