Gulhifalhu: The Maldives' rising industrial hub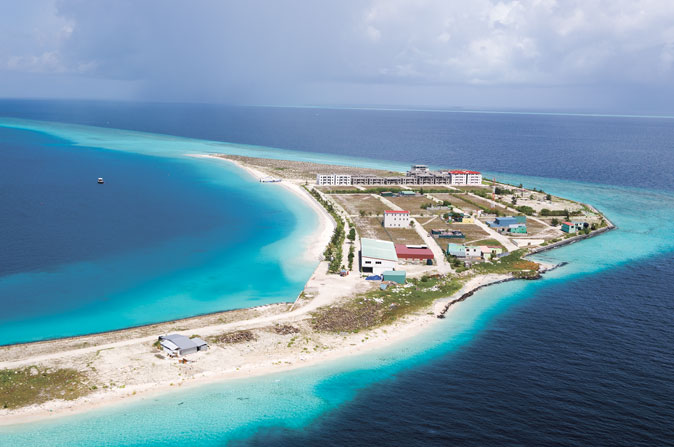 Gulhifalhu is located just 6 km from Malé
Located just 6 kilometers from Malé, the crescent-moon shaped atoll of Gulhifalhu isn't just a strategic spot for business development; it's a logical one. As the burgeoning capital encounters land limitations triggered by persistent expansion, developers must carry over the continued economic momentum elsewhere, and Gulhifalhu is ideally positioned to capture it. Likewise, the immediate future for development bodes well: the Maldives, which boasts the highest per capita income in South Asia, will experience high-octane growth this year, with the World Bank forecasting a boost of 7.4%.
These are exciting times for the Maldives. New investor-friendly laws have provided greater confidence, allowing investors to benefit from 100 percent foreign ownership, overseas arbitration support, long-term land leases and no restriction on the repatriation of earnings or profits. Top global brands, ranging from Hilton Worldwide to HSBC to Ernst & Young, have already established themselves in the Maldives. Given the many on-going mega-infrastructure projects – including the development of new ports and domestic airports – more investment from such world-class companies will doubtless follow.
The island atoll has been slated for industrial development to directly support the economic expansion of the capital.
Gulhifalhu, thus, represents the next stage of the Maldives' industrial expansion. Managed by Gulhifalhu Investment Limited (GIL), a leasing company, the island atoll has been slated for industrial development to directly support the economic expansion of the capital. With the country's main port and international airport also in the vicinity, Gulhifalhu is being promoted as a strategic location for manufacturing, warehousing and distribution facilities. Furthermore, the island already has key infrastructure installed, including water and sewage systems, telecommunications networks, high-load capacity roads, electricity grids and an industrial wharf. Easy access to Malé is provided by a frequent ferry service, making the management of labour quarters on the island a viable option.
Besides benefiting from the Maldives' decades-long reputation for providing stable returns for investors, developers that participate in the industrial future of Gulhifalhu will also have other services and incentives to consider. GIL offers 1) business services that cater to a wide array of industries; 2) lease terms up to 25 years; 3) competitive incentives and concessions; and 4) leasing consultancy services.
With plans to reclaim 115 hectares of land, the future of Gulhifalhu appears to be linked to the Maldives' soaring economy.
"Rapid economic growth in the Maldives has created skyrocketing land prices in Malé, which has prompted industries to eye adjacent atolls for development. Gulhifalhu is seen as a natural choice, especially since the atoll is two feet higher than Malé, making land easier to reclaim."   Abdullah Fazeel, Managing Director of Gulhifalhu Investment Limited