Greater Malé Industrial Zone spawns new construction and logistics backbone
Consisting of the two islands of Gulhifalhu and Thilafushi, the Greater Malé Industrial Zone will be the site of the country's largest industrial projects.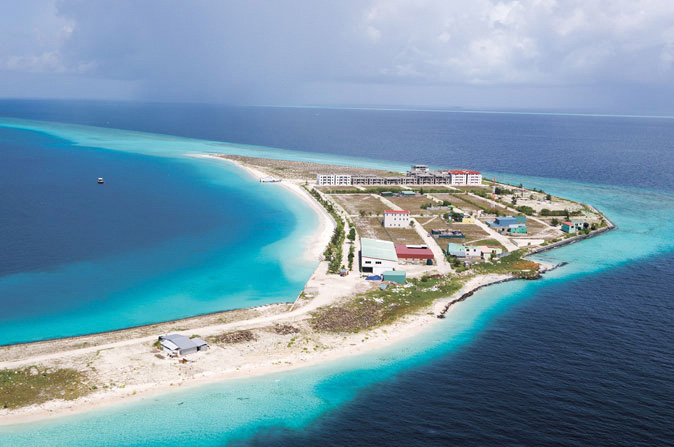 Gulhifalhu will be the capital's warehouse hub.


Like a hermit crab forced to change shells, Maldivian construction and logistics companies have outgrown themselves. An economy that approached 7% growth in 2017 has spurred firms to expand, with the industrial islands of Gulhifalhu and Thilafushi, both of which continue to add more land as reclamation is completed, now offering companies new homes to maintain momentum. Located a mere six kilometers from Malé, the two industrial islands formerly managed separately as Gulhifalu Investment and Thilafushi Corporation merged into one company, the Greater Malé Industrial Zone Ltd. (GMIZL), on March 28, 2018, which is now aiming to develop a new port to further support economic growth.
Ahmed Nasif, the new Managing Director of GMIZL, isn't wasting any time. "Construction at the new port on Thilafushi will most probably kick off this year," Nasif tells us. The Maldives, which is projected to expand 6% in 2018 by the Maldives Monetary Authority, "is achieving rapid development and we need this new port if we want to continue at this pace," he adds. The shortlist for GMIZL's new assets has steadily grown since its inception, and today includes a 50,000-person labor park, special economic zone, a 50-ton incinerator and, though only in its feasibility stage, an LNG terminal. "Either Gulhifalhu or Thilafushi will be home to a labor park for between 40,000 to 50,000 workers, further easing population pressures on Malé," says Nasif, adding that "there has been a collaborative effort including the President's Office to develop a special economic zone," which he says will most likely be developed across both islands.
Clean start
Once scorned as the Maldives's "garbage island," Thilafushi has today cleaned up its act, having mostly replaced landfilling methods with land dredging and by installing incinerators to more efficiently serve the capital region's waste management. "We recently oversaw the installation of five new incinerators, focusing on a more modern means of waste management," announces Nasif. "The environment ministry is on the verge of putting up a 50-ton incineration facility, which will be established over the next two years," he continues.
Construction at the new port on Thilafushi will most probably kick off this year. Ahmed Nasif – Former Managing Director of Greater Malé Industrial Zone Limited
Nasif declares that the reduction of landfilling at Thilafushi was preceded by a more instilled "understanding for environmental care," which started in earnest with the re-launch of the Waste Management Cooperation in 2016 to service Malé's garbage. This new image for Thilafushi's has helped to lure in a number of construction materials businesses, as well as speedboat producers, such as Gulf Craft, a UAE-based luxury yacht maker that producers boats up to 47 meters in length.
When current sand-dredging work is completed, Thilafushi will add another 100 hectares, and Gulhifalhu another 30. "We are also looking at another segment of the Greater Male Region with other lagoons," Nasif says. "In the coming years, GMIZL will be charged with generating synergy between the central Male region and populous zones where there will be a definite need for industrial development. For example, Gan Atoll has an international airport at Addu City and more resorts are being built there, so more industrial capacity building will be required," Nasif says. "I see GMIZL being used as a brand towards these populous areas and providing them with infrastructure, industrial and reinforced services," he declares.