Artificial islands will make Copenhagen the European Silicon Valley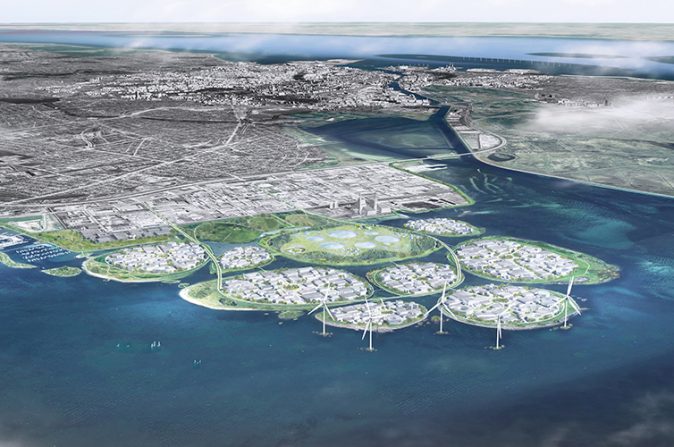 Home to numerous startups that went global, Denmark's capital Copenhagen is becoming a high-tech startup mecca. On the other hand, Danish multinationals are willing to pay that million extra for the startup that will solve their some of their internal growth issues. Maersk, the Danish conglomerate that moves cargo, for example, is heavily reliant on corporate innovation to have it process digitalized and is not saving money in this regard.
In an attempt to attract business amid a housing and office space shortage, Denmark announced a visionary project that has been dubbed as "the European Silicon Valley". Namely, the Danish government has announced plans to build nine artificial islands south of the capital, with hopes to attract hundreds of companies.
Called the Holmene (Islets), this colossal project was officially launched in January 2019, covering an area of 3 million sq meters. The construction is scheduled to begin in 2022, with plans to start selling the plots in 2028, and the project should be completed by 2040. According to the developers, the project is the largest land reclamation project in Scandinavia in the years to come. It combines several needs in the region: A growing demand for sites for knowledge intensive industry, fossil-free energy production and flood barrier to secure both the existing and future areas. Furthermore it adds an enormous public accessible natural area.
Danish industry and business minister Rasmus Jarlov confirmed that the project will create a sustainable high-tech hub, geared towards attracting hi-tech companies, but that it will also be open to all other interested companies. The aim is to attract about 380 companies to the area, which is located near Copenhagen airport. Target companies are from the pharmaceutical and life sciences sectors, with a vision of creating nearly 12,000 new jobs.
The islands are also intended to help protect Copenhagen's southern coastline against rising sea levels. For example, some of the earth will be used to build a dyke around Avedøre, the city's lowest-lying area.