An ocean of economic opportunity
Mauritius is tapping the economic power of its maritime territory to assist in busting through the middle-income trap.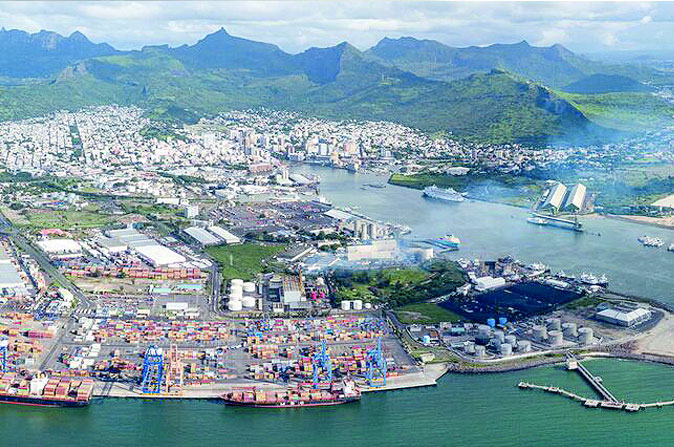 Aerial view over Port Louis with the Mauritius Container Terminal in the foreground

Lookout over an expansive ocean, and you can be forgiven for not spotting the hidden yet enormous economic power it possesses. The world's oceans, which cover 70% of earth's surface, generate 5% of global GDP – an estimated $3 trillion per year – providing livelihoods for 3 billion people, UN studies show. In 2015, Mauritius looked outwards to its own waters and acted to capture this hidden power, creating an ocean economy ministry dedicated to tapping 2.3 million kilometers of contested and jointly managed Exclusive Economic Zones (see map) to develop fisheries and aquaculture, shipping and logistics, and renewable wave energy. 
One of the cornerstones of Mauritius' ocean economy is a new terminal for its main port, which will upgrade cargo capacity from 1 million TEUs (twenty-foot equivalent units) to 2.5 million TEUs by 2025, a volume equal to Abu Dhabi's Khalifa Port. The construction of the new $734 million terminal, which will take place on an island off the coast of Port Louis, is a preemptive strategy to meet future shipping demand.
"The growing interest by shipping lines to increase transshipment traffic at Port Louis may result in a capacity shortfall by 2020," says Ramalingum Maistry, Chairman of the Mauritius Ports Authority (MPA). "Therefore, we are determined to build additional container handling capacity to meet increasing demands of the global shipping lines. Construction of the new island terminal will become the centerpiece of Port Louis's bid for regional container status." Bids for construction of the project will be open until end-2019.
Improving fisheries operations is also in the plan for MPA. "We have proposed to create a dedicated fishing port at Fort Williams," says Maistry, referring to the fort on the coast of Port Louis. "Fort Williams would provide fish landing quays with a sheltered basin to ensure a safe mooring place for about 120 ocean-going fishing vessels."
Africa-Asia trade corridor
As an upper-middle income country, Mauritius' time to explore an economy beyond the shore has become necessary. Graduating out of low-end manufacturing demands greater diversification into new industries to achieve high-income status. The ocean economy offers impetus to assist in this difficult shift. "Productivity in the manufacturing sector has declined," says Paul Baker, CEO of International Economics Consulting, a global trade specialist. "The erosion of the country's manufacturing competitiveness has occurred in spite of Mauritius adopting a stronger service-based economy, with tourism and finance providing an important stimulus." Moving into more complex levels of the value chain that emerging textile powerhouses such as Bangladesh cannot compete with can revitalize Mauritian manufactures. Here, the nation's location between Africa and Asia and its transport and logistics capabilities will be paramount. 
"Mauritius has a great advantage to become the trade corridor between the two fastest-growing regions in the world — Africa and Asia." Paul Baker, CEO of International Economics Consulting Limited
"Mauritius has a great advantage to become the trade corridor between the two fastest-growing regions in the world — Africa and Asia," says Baker. Yet he warns that more technology needs to be introduced to achieve scalability, and that the country shouldn't rest on its laurels regarding access to free trade agreements. "Mauritius must move away from unilateral preferential treatment to secured market access in order to foster investment and economic growth," asserts Baker. 
Awash in wave power
The island of Rodrigues, the second largest in the Republic of Mauritius, is an autonomous outer island that is earmarked for ocean economy projects. In 2015, when the ocean economy scheme began, the island was selected for a microgrid and wave power facilities. Wave energy, a renewable resource generated from surface waves, is being assessed across Mauritius' EEZs, and Rodrigues' microgrid will be a hub for channeling that newly fostered energy. While wave-power generation is not a widely employed commercial technology today, Mauritius has great plans for the renewable resource. As part of its ocean economy, Mauritius is aiming to leverage the ocean to assist in generating 35% of its electricity from renewable energy by 2025. 
How Mauritius improves its technology, scalability and expertise will determine if it can ever break the middle-income gap, and the ocean economy may just play an important role. "The ocean economy promises to be significant for employment, science and technology, R&D and sustainable long-term growth," says Baker. "Mauritius is a policy-open country with a forward-looking policy framework and has been very strategic in determining its own development path so far."