Mauritius: Access point to Africa
A forthcoming free trade agreement could energize an ancient commercial route between China and Mauritius, forging a cross-continential gateway centuries in the making.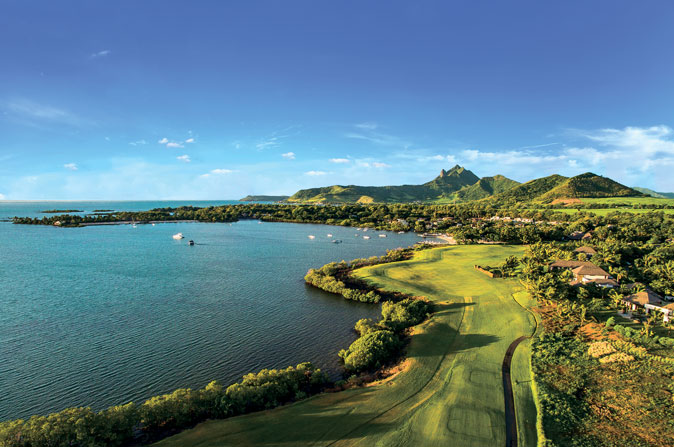 The 18-hole golf course designed by Ernie Els for Anahita in east Mauritius. PhotoCredit: www.anahitaproperty.com
For China, there could hardly be a more welcoming entryway to Africa than Mauritius. It's believed that the famous explorer Zheng He received China's first greeting to the continent here during his 15th Century voyage, beginning the original Asia-Africa maritime trade route. This commercial legacy exists to present day, and is observable through the island's influential Sino-Mauritian minority, which has flourished under a politically stable and fair system that has become the talk of Africa.
It's reasonable to say that the Indian Ocean island nation has a reputation for punching above its weight. Mauritius is consistently ranked the number one place on the continent for the ease of doing business by the World Bank's eponymous index, is among the three least corrupt nations in Sub-Saharan Africa according to Amnesty International (only ranked below Botswana and Cape Verde), and is Africa's second richest nation, with a per capita GDP of nearly $19,000, World Bank data shows.
Far from its days as a stopover for spice trade, Mauritius is now defined by its affordable luxury tourism and rising role as a cross-continental financial center, industries that will be spurred by a new air corridor and a bilateral free trade agreement currently in discussions. "The realization of a free trade agreement between Mauritius and China will open up vast opportunities for more commercial and cross-border investment," said Mauritian Prime Minister Pravind Jugnauth during an April ceremony celebrating 45 years of bilateral relations between the nations. "The relationship between Africa and China has developed into a lasting partnership," he added, "with fundamental principles of solidarity, friendship and mutual benefit."
"The realization of a free trade agreement between Mauritius and China will open up vast opportunities for more commercial and cross-border investment." – Pravind Jugnauth, Prime Minister of Mauritius
Mauritius is hoping to double its arrivals of tourists from China in the coming years, and with better air connectivity between the two countries, hotels are increasingly employing more Chinese-speaking staff. Among the companies leading the welcoming party is Club Med Mauritius. "It's very important to welcome our Chinese guests with people from their own culture and language," says Lionel Benzoni, director of Club Med Mauritius, operator of three resorts on the island – Club la Pointe aux Canonniers, Club Med La Plantation d'Albion and The Albion Villas – which are proving popular with Chinese. "In Club Med d'Albion, about 30% of our guests are Chinese, which makes us the resort with the highest proportion of Chinese visitors," Benzoni announces.
For new investors in Africa, Mauritius' centuries-long reputation for trade is only the beginning. The island's rising stake in global finance and upcoming smart cities will prove to further attract capital, with new visa-on-arrival regulations for Chinese that'll make working and playing in Mauritius easier than ever.