Shannon Airport: Bringing Europe and the US closer
Foreign investment has quickly transformed Ireland's rugged Atlantic coast, but there are still bucolic charms aplenty.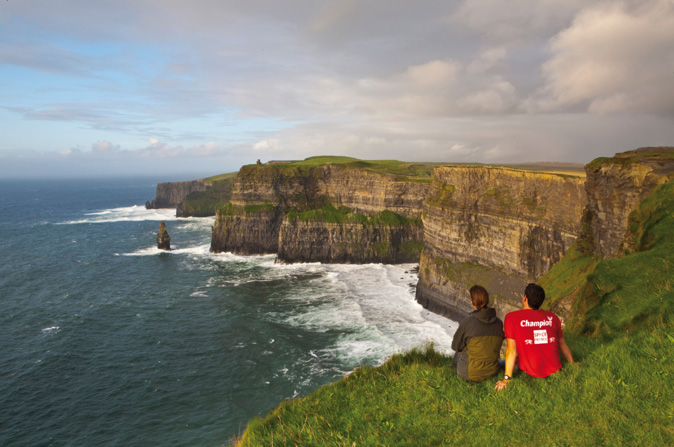 The Cliffs of Moher are just a one-hour drive from Shannon Airport.
The Wild Atlantic Way streches a breathtaking 1,600 miles across western Ireland, a region of verdant beauty, windswept hamlets and effortless charm. Whether for tourism or business, Shannon Airport has become the main artery to this rugged region, and County Clare, an upstart investment and hospitality destination, the west's welcoming party.
Transatlantic gateway
Just six hours by direct flight from New York and Boston, Shannon Airport brings Ireland and the EU closer to the US, and has become a popular stop-over for travelers transiting from the Middle East and Africa. Passengers flying through here save time before and after landing because Irish airports enjoy pre-clearance for US immigration and customs, and due to the compact design of the terminals.
An Irish/EU business hub
Foreign investment has transformed the economy of western Ireland, largely a credit to the region's educated, English-speaking locals, which remain deeply committed members of the EU. It also helps that Shannon is close to thriving business and university towns in the west and south, including Limerick (30 minutes drive), Galway (75 minutes), and Cork (100 minutes). Today, over one hundred businesses operate in the Shannon Free Zone, with the airport generating business for a further 50 aviation and logistics companies.
Nature, history, culture
The striking natural beauty and affable demeanor of the people of the Atlantic coast are the soul of the Irish countryside. Indeed, this attractive lush environment is dotted with vibrant towns that allow travelers to make easy daytrips across the region to explore timeless castles, churches and other historic monuments.