QAIA's on-time expansion leads to top regional accolade
Queen Alia International Airport named Best Airport by Size and Region in the Middle East after raising its passenger capacity to up to 12 million. Credit: Airport International Group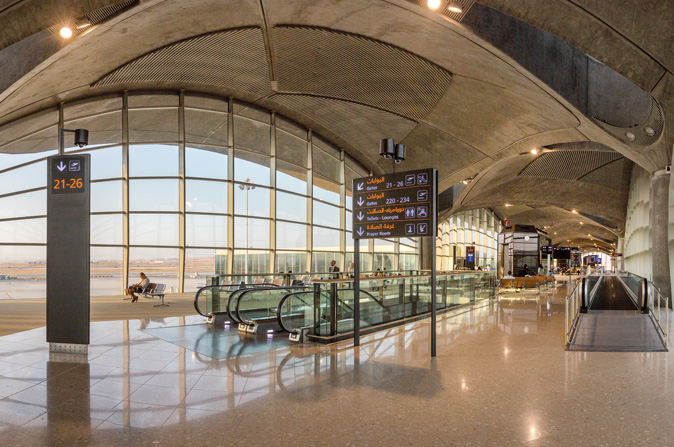 The QAIA New Terminal Project boosted passenger capacity to 12m.
When Queen Alia International Airport (QAIA), Jordan's prime gateway to the world, completed an extensive $214-million expansion project last year, it was widely lauded as a success, having finished under budget and ahead of schedule.
Officially launched in September 2016, the second phase of QAIA's New Terminal Project introduced 12 new gates, an expansion that raised the airport's passenger capacity from 7 million to up to 12 million a year. Now measuring 160,000 square meters, QAIA is further proof that foreign investors that take a stake in large-scale public-private partnership (PPP) projects are getting the support they need in Jordan.
"The recent completion of the second phase of QAIA's New Terminal Project is the result of a truly successful PPP, which has been celebrated as one of the top 40 PPPs worldwide," says Kjeld Binger, CEO of Airport International Group. "This expansion project was an achievement because we share many common goals with the Government of Jordan, as we both strive to stimulate the local tourism sector and support Jordan as it realizes its full potential," he adds.
Airport International Group, a consortium comprising of Invest AD, Noor Financial Investments Co., Edgo Group, J&P (Overseas) Ltd, J&P-Avax SA, and Aeroports de Paris Management, has also recently achieved other accolades worthy of celebration. "We were thrilled to see that QAIA received first place in the category 'Best Airport by Size and Region: Middle East,' which comprises airports serving five to 15 million passengers annually within the region," says Binger. "On the global level, QAIA tied for third place in our category. Clearly, our efforts have not been in vain," he says.