Livable Limerick
Limerick's economic planners have developed an ambitious growth strategy.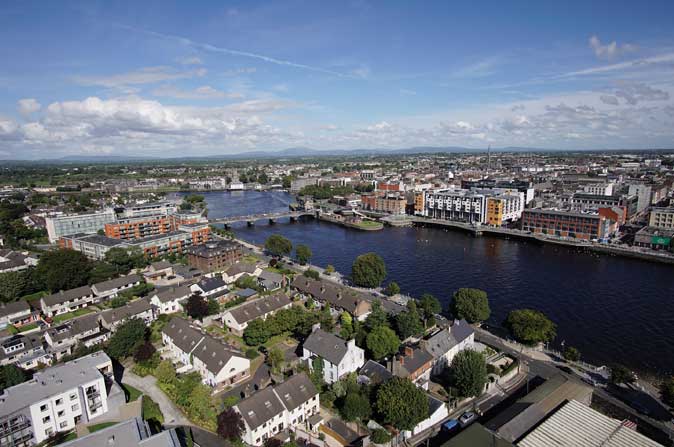 A view of the historic core of Limerick over the River Shannon. Source: Limerick City & County Council
Set along the River Shannon, Limerick has long been celebrated for its affable, welcoming locals. Notwithstanding its more recent transformation into a foreign investment hotspot, Limerick has retained its singularities, including its famed sporting tradition, abundance of cultural offerings, friendly pubs and fine dining. It's easy-going pace of life, good housing, high educational standards and employment opportunities make it ideal for both families and young professionals.
Easing the Transition
With Dublin's high-quality office space nearing saturation point, companies are looking for alternatives. In the past four years, Limerick's economic planners have developed an ambitious growth strategy. In terms of FDI growth outside of Dublin, Limerick is the fastest growing with the largest scope. Limerick's investment strategy prioritizes assisting new investors throughout their activities.
Limerick's City and County Council has made a priority of helping multinationals comfortably set up shop. Since launching a '2030 Strategy' three years ago, Limerick has created over 9,000 new jobs; over the next five years, economic planners expect another 5,000 jobs to emerge. Limerick aspires to become one of Europe's top post-Brexit investment locations.
Success stories
General Motors, one of Limerick's biggest international companies, is also among the city's best success stories. The local authority devoted itself to GM's needs, proactively assisting the local and planning perspective, while also connecting the company to the labor force and third-levels. Another example of business success is Troy Studios, now Ireland's largest television and film studio. Launched in a disused factory, Troy became not just a company, but a whole new industry. Now, Limerick's Digital Skills Academy is creating a new generation of skilled workers.