Re-opened Jameson Distillery part of plan to triple whiskey tourists
Visitors to the newly remodeled Jameson Distillery are getting a taste of a proud Irish tradition.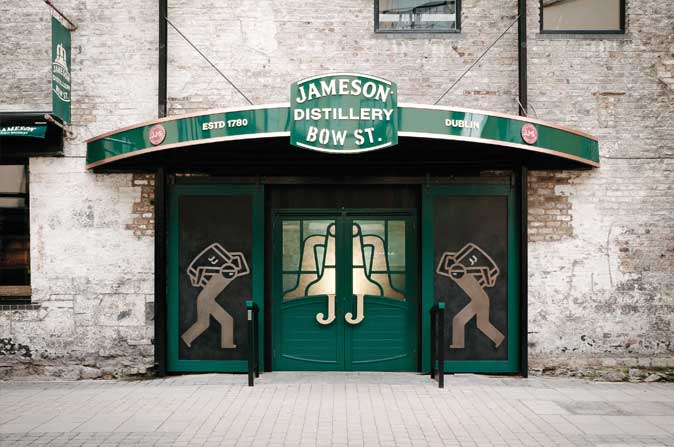 Source: Irish Distillers
As the well-known Irish folk song would have you conclude, when it comes to Ireland, you can be sure that "There's whiskey in the jar." It is this particular unique cultural flavor of Ireland that is now inspiring a global Irish whiskey renaissance, as growing waves of travelers arrive in search for a taste of that famed jar, with Ireland welcoming over 600,000 whiskey tourists annually – more than double 2010 figures.
This fervent thirst for Ireland's famous spirit has given birth to new ambition in the industry. There are now plans to triple whiskey tourist visitors to 1.9 million through a dedicated tourism strategy that aims at piquing the interest of this new class of global connoisseurs. One of the main levers of the Irish Whiskey Tourism Strategy was the refurbishment of Dublin's iconic Jameson Distillery Bow Street, a $12.6 million project that recently concluded in March, bestowing a renewed vitality to one of the city's oldest industries.
"Jameson's success lies in its authenticity; it's a brand with a lot of depth and history dating back to 1780." – Jean- Christophe Coutures, CEO of Irish Distillers
Learning the deep-seated roots of Irish whiskey, both in relationship to the island's culture and the drink's production, is a major appeal for whiskey tourists, and the Jameson Distillery allows visitors a rare opportunity to glide back in time through hundreds of years of the Irish whiskey trade. "Jameson's success lies in its authenticity; it's a brand with a lot of depth and history dating back to 1780," says Jean-Christophe Coutures, CEO of Irish Distillers, the world's largest distiller of Irish whiskey and owner of the Jameson brand. "We showcase this history, our know-how, and the way whiskey is produced for our visitors at Dublin's Jameson Distillery on Bow Street, as well as the Jameson Experience Midleton in Cork."
As worldwide sales continue to rise, up 131 per cent by volume globally in the past decade, according to a recent Wall Street Journal report, the Irish Whiskey Association's strategy to make Ireland the world's whiskey tourism leader by 2030 seems ambitious, but achievable. Ireland's whiskey exports have increased by over 300 per cent in the past decade, making whiskey the world's fastest growing premium spirit. Like the similarly ubiquitous Guinness, whiskey has become an undeniable Irish brand ambassador, with the famous spirit now found in over 130 countries. Irish Distillers' new tour operations aims to give visitors a sample of what makes the spirit so distinct. "The Jameson Distillery is among Dublin's top attractions, so it's important for us that the experience is up to visitor expectations and we have worked hard to combine cutting-edge technology with the historic surroundings of this iconic distillery and deliver an unforgettable storytelling experience," says Coutures. "The new opening," he continues, "will allow taste comparisons enabling visitors to experience the difference between a bourbon, a scotch, and an Irish whiskey, and to learn about the ingredients that comprise them."
Irish whiskey making peaked in 1840, when Ireland boasted 86 distilleries, but the island's tradition dates back to the 6th Century when monks distilled the first whiskey. However, the degradations of famine and war decimated the trade, and today's strong comeback is seen as a sort of Irish modern-day miracle, reflective of the efforts of the distilleries to produce discerning brands of whiskey while investing to spread brand awareness of why Ireland does it better than anywhere else. All this, Couture says, starts with a visit to a distillery. "Visiting a distillery is an immersion in Irish whiskey," he says, "and helps visitors to further their understanding of this much-loved spirit."