Real Estate & Construction / Zimbabwe
Chinese mega-deals to expand infrastructure
Chinese investments are funding vital improvements of key infrastructure throughout Zimbabwe.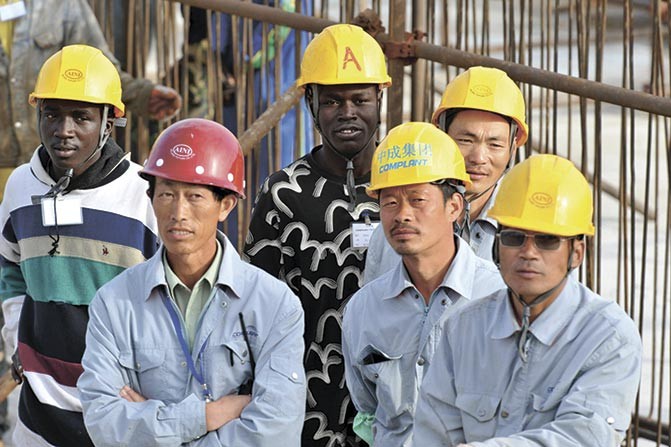 Chinese and Zimbabwean workers stand together in the middle of the day on a construction site.
Deprived of access to Western institutions' financing, Zimbabwe has had to look East to fuel its economy. Since China began to focus more of its investments across the continent it has become, for Zimbabwe, the country's alternative and major source of funding. According to the American Enterprise Institute, Chinese financing in Zimbabwe has sharply grown over the last five years. In 2010, the number stood at $100 million. In 2015 that number reached $5.79 billion, after passing the one billion mark in 2012.
Many mega-deals between the two countries have already received financing. The expansion of Victoria Falls Airport, which recently opened, was the recipient of a $150 million Chinese loan, as was Harare's $144 million rehabilitation of its municipal water supply and sewage treatment, along with the $319.5 million expansion of Kariba's hydropower plant. The state-owned fixed line telecommunications firm TelOne also recently received a loan of $98 million to improve its fibre optic network.
There are many more deals waiting for financing. In 2012 the government announced that China Railway would invest $1.2 billion to develop a high-speed train route between Harare and Bulawayo. The National Matabeleland Zambezi Water Supply Project requires a $1.2 billion loan and along with the $1.3 billion expansion of the Beitbridge-Chirundu Highway is also waiting for confirmation of financing. Additionally, China Africa Sunlight Energy Limited has said that it plans to invest $2.1 billion developing coal mines and building two 100-megawatt coal fired plants, although work is yet to begin.
The expansion of Victoria Falls Airport, which recently opened, was the recipient of a $150 million Chinese loan.
Several feasibility studies have been started between China and Zimbabwe, including studies into coal exploration and a 600MW thermal station in Sibugwe, as well as the dualization of the Beitbridge-Harare, Harare-Nyamapanda, Harare-Chirundu and Mutare-Harare highways.
China is sharing its business expertise with Zimbabwe. A recent $4.5 million package was signed to facilitate the exchange of business practices between many different sectors.
These loans come at a time when China's investment habits in Africa are changing. A slowdown in China's growth rates as well as scepticism over whether Zimbabwe can repay previous loans has crept into these financial arrangements. Many new loan agreements now come with requests for guarantees of mineral export earnings, as part of any future deals. However, an economic slowdown of the world's second biggest economy will not necessarily reduce further investment, as China looks ready to begin drawing on some of its $3.6 trillion of foreign currency reserves, the largest of any in the world.
With the 6th ministerial conference of the Forum on China-Africa Cooperation today, the first to be attended by Chinese President Xi, China is set to unveil what its policy of investment in Africa, as well as Zimbabwe, for the next few years.