From Apple to Pepsi, Cork is a host of global ambition
Ireland's second city boasts office rentals half the price of Dublin, yet workers still earn on average only 10% less than the capital.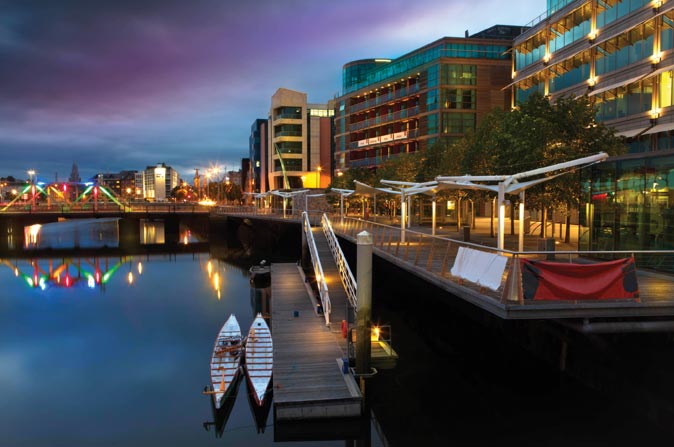 The urban docklands are revitalizing Cork City with high-end design. Source: Cork City Council
When it comes to attracting giants of global industry, the south-western Irish city of Cork has assembled an impressive marquee. Today, though small in population, with 300,000 people in the metro area, Cork showcases big names: Apple, Dell EMC, Johnson Controls, Pfizer, Johnson & Johnson, GSK, Boston Scientific, Amazon, Intel Security, Citco and PepsiCo all have offices in Cork. In total, the metropolitan area has become home to 148 multinationals that employ almost 32,000 people across a wide range of industries, which are undoubtedly allured to the competitive talent pool, value for money and quality of life available in Ireland's second city.
Cork Airport, Ireland's best connected airport after Dublin, will inaugurate direct flights to the US in 2017.
Underpinning Cork's success is its favourable cost base: Office rentals here are less than half of Dublin, while salaries are only 10 percent lower, maintaining the city's attraction for educated workers looking to get ahead while remaining closer to rural roots. Meanwhile, University College Cork and Cork Institute of Technology, recognized as among the most distinguished academic institutions in the country, assure a stream of graduates with broad-based skills thanks to an emphasis on industry demand and STEM and ICT programs. This academic reputation is widely viewed as an inseperable part of Cork's success, and a major reason why ambitious international firms choose the city for their operations. Multinational firms have indeed arrived, and they plan to stay. Cork's transatlantic connectivity and refreshing lifestyle has sustained many multinational companies in Cork over the years. Apple CEO Tim Cook recently reaffirmed the company's commitment to Cork, which is home to its only manufacturing plant outside the US. Currently, 5,500 people work at its Cork facility, with 1,000 more jobs to come by end-2017. "Apple has been in Ireland in good times and challenging times," Cook said. "We don't just see ourselves as located in Ireland, we see ourselves as rooted here."
Apple CEO Tim Cook recently reaffirmed his commitment to Cork, home to Apple's only manufacturing plant outside of the US.
Dell echoes this sentiment. "Cork is vibrant and ever-changing, with a rich business and social culture," says Bob Savage, General Manager, EMEA Centres of Excellence for Dell EMC."Home to some of the largest companies in the world, the finest educational institutions in Ireland and with an exciting cultural offering, Cork is a great place to live and work," he says. "There is also a healthy pro-business attitude allied to a strong work ethic and ambition visible in every aspect of life." In 2017, Cork will become yet more connected. Its airport, Ireland's second largest, serving 2.2 million people, will inaugurate direct flights to Boston and New York in 2017, along with a further 9 US destinations via Reykjavik. All those new visitors can expect a glimpse of a city with business ambitions much bigger than its borders.
Contact: IDA Ireland Southwest +353 21 4800 210