Green Economy / Singapore
The "little red dot" is getting greener
Singapore is riding the green wave and taking up the challenge to make businesses, itself and the world cleaner and greener by embracing renewable energy and the circular economy.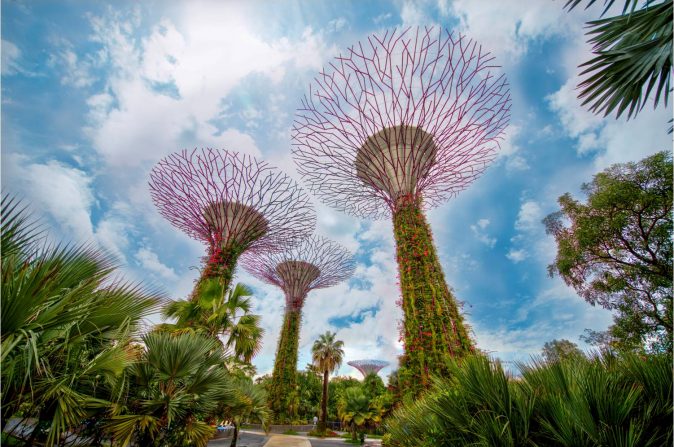 Solar-powered 'supertrees' bring life into Singapore's urban oasis.
Described as the "little red dot" in 1998 by Indonesia's then-president Bacharuddin Jusuf Habibie, Singapore initially took umbrage to that sobriquet, but has since adopted it as a badge of honor.
In 2003, Lee Hsien Loong, now Prime Minister of Singapore, said "This was a vivid and valuable reminder that we are indeed very small and very vulnerable. The little red dot has entered the psyche of every Singaporean, and become a permanent part of our vocabulary, for which we are grateful."
Unlike its neighbors Malaysia and Indonesia, Singapore lacks natural resources, so it has to find other ways to support economic growth. One of those ways is through renewable energy technologies.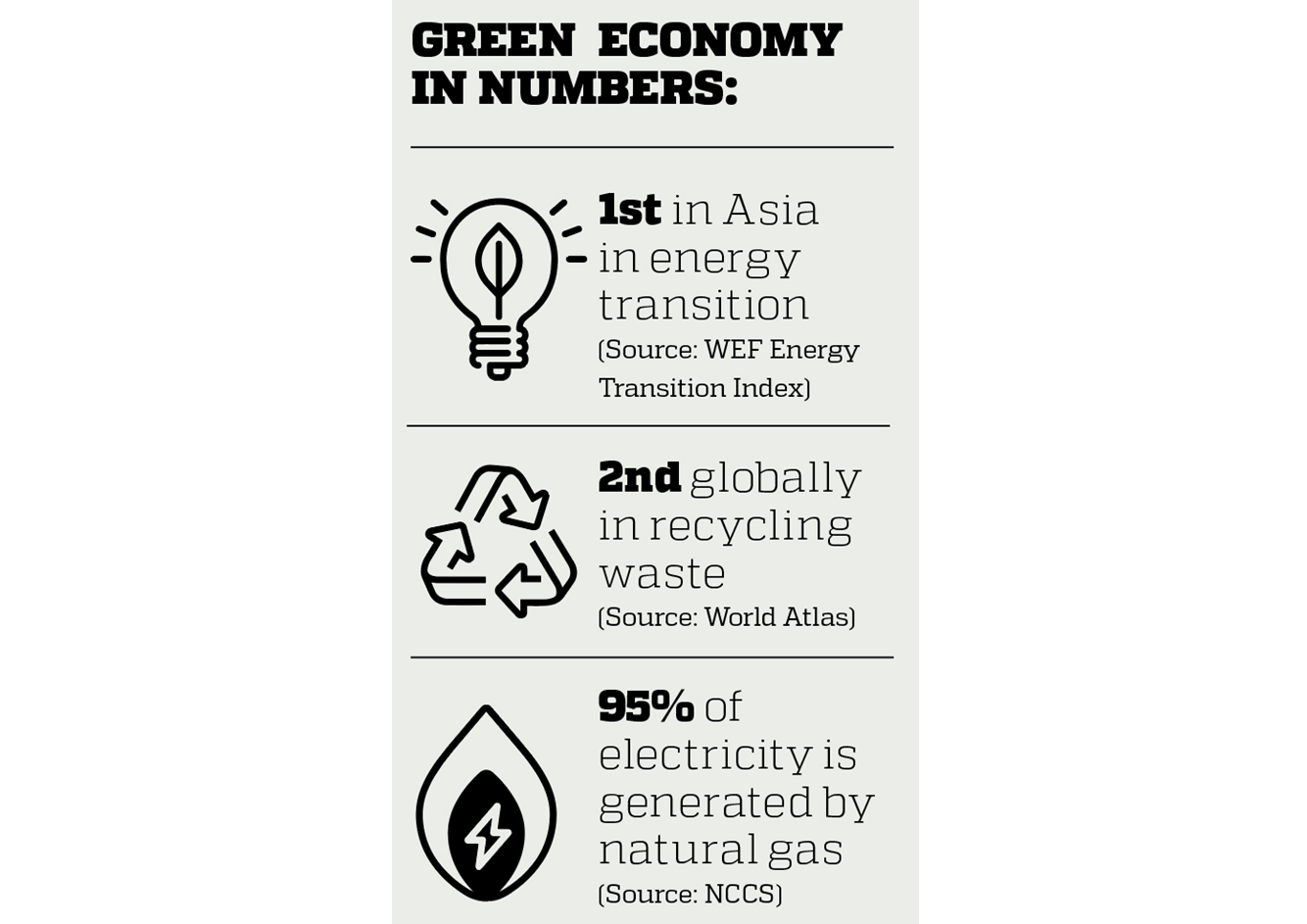 "This sector is a huge opportunity for Singapore," says Ngiam Shih Chun, CEO of the Energy Market Authority (EMA). If anything, "there's been an underestimate in terms of potential for renewable energy," and Singapore is a natural place for companies to set up businesses in the renewables space. Such opportunities and supportive government policies make the country an ideal place for business.
"The government decided to support the financial sectors, high-tech innovation and R&D industries", says Terence Ng, Executive Chairman of TES. Moreover, a zero-tolerance corruption policy and political stability make it an environment very conducive for industries to set up in Singapore.
Waste not, want not
TES was initially focused on recycling electronic waste, extracting various metals and later expanding into other areas, including reusing components, bringing the company further into closed-loop recycling. This allows companies to say they are recycling or reusing 70 to 80 percent of what they've manufactured. 

"We have local expertise while remaining a global company, serving over 100 countries." Terence Ng, Founder and Executive Chairman of TES


Trash from other countries is a treasure for TES. It's the only company in Singapore with a government permit to bring in waste from China, India and Japan to be treated. The government was "confident in our ability to treat waste properly and environmentally. It was very important for all stakeholders that it didn't result in any pollution," Ng stresses.

Converting plastic waste into carbon nanotubes is another new technology TES is pursuing, which has electronics, military, medical and pharmaceutical applications. An additional benefit of this technology is that one of the by-products is hydrogen which in turn can produce green power, one of the foundations of Singapore's "Four Switches" plan to reduce its carbon footprint. 

Because TES's customers are increasingly moving towards green projects, sustainability and closed-loop recycling, the company is doing R&D as well as pursuing new partnerships to continue to support them.

One such partnership is with Genplus, which engages in a wide array of renewable energy initiatives. The company's target clients have strong sustainability initiatives, are utilizing renewable energy systems and looking for a provider of boutique battery pack manufacturing and energy storage solutions. With this in mind, it was natural for the company to welcome TES last year as a strategic investor. 

"The Singaporean government is being supportive of technology firms, allowing them to thrive with pro-business and entrepreneurship policies." Lim Ming Chiat, Managing Director of Genplus


Teaming up with regional partners, Genplus' goals are bringing renewable energy solutions to urban, rural and remote areas and reducing carbon intensive energy sources. While currently focused on South-East Asia and the Asia-Pacific region, the company is actively looking to expand globally.

Expanding partnerships internationally to developers and system integrators of renewable energy solutions and microgrid systems is one of the goals of Genplus Managing Director Lim Ming Chiat. Others include marine vessel builders pursuing electrification and EV manufacturers interested in repurposing batteries.

"Today, renewable energy and environmental sustainability are topics that are becoming increasingly relevant. The conundrum in the energy crisis in the world now is that our ever-growing energy needs are fueling the worsening of the climate crisis. Most solutions point towards electrification, which only becomes sustainable if the electricity is clean," he says. 

Genplus has taken the pandemic as an opportunity to restructure the way of conducting business, capitalizing on digital technologies to build and maintain relationships beyond South-East Asia. With their technological capabilities and brand agnostic nature, they were able to help customers solve certain supply chain problems brought on by the pandemic. Furthermore, in 2020 Genplus opened a boutique manufacturing line and sorting facility for repurposing batteries. In 2021, the company was awarded an EMA grant for development of new efficient ways for second life battery sorting processes. 

With the world's second busiest container port, transportation leaves a large carbon footprint in Singapore and Genplus is working to develop technologies for the electrification of the transport sector by enabling marine engine hybridization and energy storage.

Like others, Genplus sees the Singaporean government as being supportive of technology firms and allowing them to thrive with pro-business and entrepreneurship policies. While clearly pro-business, these policies are being developed within the sustainability framework of the Four Switches and the Singapore Green Plan 2030.

One element of the plan calls for setting aside more land for nature parks and planting a million trees with the aim of allowing every household to be within a 10-minute walk of a park. The program also sees climate change as a competitive advantage and opportunity for growth and jobs, and looks to help enterprises "ride this green wave."

Beyond tech and manufacturing, other companies are embracing the opportunities to benefit from the paradigm shift from a carbon intensive to a green and sustainable economy.

"We are in the process of scaling up our impact as we expand globally. It's beyond just scaling up, it's about innovating further." Gabriel Tan, Director of GUAVA Amenities

GUAVA Amenities, founded in 2004, helps leading hospitality chains increase their profits by embracing sustainability efforts. 

By turning the prevailing business model of a centralized manufacturing location on its head and focusing instead on decentralizing its own production and distribution directly to customers, GUAVA was able to offer solutions beyond only products. It turns out that GUAVA customers, while wanting to reduce costs, also wanted to explore the idea of creating a positive environmental impact. "Our structure allows us to do things differently. This means that, with disintermediation, we can distribute directly without any distributors or middlemen in between," Director Gabriel Tan explains.

The result was success on both counts. By eliminating intermediaries, "we were able to put in place a program that not only helped them to reduce waste, but also helped them reduce their costs by more than 20 percent," Tan points out. "Sustainability is integrated into all aspects of our business. For us, it's really beyond the business; it's about value-adding to the customers, to the communities, to the environment. It's really about having a holistic ecosystem and seeing that ecosystem flourish," he adds.

Another positive outcome was that GUAVA's client changed its procurement model for amenities. Tan points out that previously, the client would send out product tenders every two to three years. Instead, GUAVA's "proposal was so compelling that they went straight ahead to directly award the contract to us," and in the process also won a sustainability award.

Focusing on being locally competitive turns out to be scalable on a regional and global level. "We are in the process of scaling up our impact as we expand globally, and I think that beyond just scaling up, it's about innovating further," says Tan. "We would like to continue growing our ecosystem and collaborate with more like-minded partners towards 'Creating Scalable Sustainable Impact, Together'."