Revive Greece, restore Europe
Signs of recovery make a compelling case for easing the Greek debt.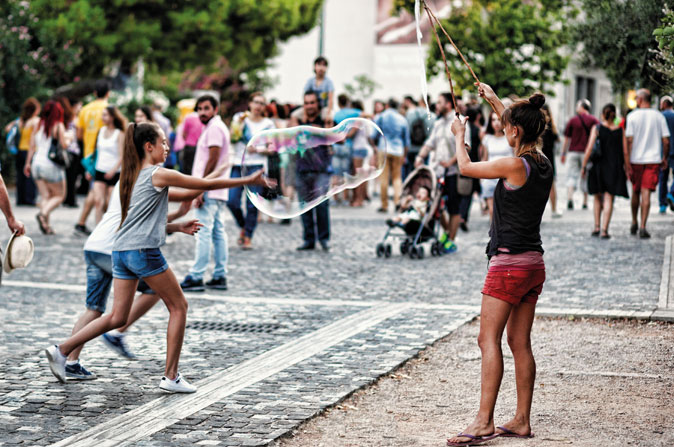 Children playing in a street of Athens

All economic indicators seem to confirm it. Greece is slowly emerging from the crisis after seven years of recession and now has all the assets to attract investors in various sectors, ranging from tourism to energy and telecommunications.
"It is still a long way, but we can finally be more optimistic", said Greek Prime Minister Alexis Tsipras at the end of July.
In July, after three years of absence, Greece made a noticeable comeback to capital markets by issuing €3 billion five-year bonds at a 4.625%. "The recent comeback on bond markets is based on the forecasts of a gradual economic recovery. It was a vote of confidence showing that the country is on the right track", said Athanasios Chrysafidis, Managing director of NBG Securities, one of the largest brokerage firms in Greece, in an interview with The Business Report in November 2017.
For Chrysafidis, all signs of economic recovery are there, and "the conclusion of the second evaluation of Greek reforms gave the feeling that the Greek economy is returning to stability and credibility". In 2017, growth returned with a forecast at 1.8%.
"We have a workforce of nearly 50% of university graduates, who are experienced." Dimitri Papadimitriou – Minister of Economy and Development
For 2018, the Greek government expects a growth rate of 2.4%. Tourism continues to break records, with 26 million visitors recorded in 2017. Even unemployment has receded to around 20% after having reached a peak of nearly 28% in 2013.
Dimitri Papadimitriou, Minister of Economy and Development, said that "250,000 jobs have been created since my government has been in power." Athanasios Chrysafidis believes that "macroeconomic indicators are improving" and "we need initiatives to support growth now".
The Managing Director of NBG securities underlined that the NBG has injected 300 million euros in the SME sector. "There are great investment opportunities. The tourism sector is traditionally one of the pillars of the Greek economy and presents many opportunities. But the banking sector also presents opportunities with the non-performing loans secondary market. Lastly, the real estate market is not to be neglected", added Chrysafidis.
Through privatizations, managed by the Hellenic Corporation of Assets and Participations, many opportunities are open to foreign investors. Greece hopes to draw 5.5 billion euros from the sale of public companies by the end of 2018. The country has already sold the management of the Port of Piraeus to the Chinese company Cosco, and has also sold 14 regional airports to the German company Fraport, and many other assets.
Soon, 65% of the DESFA natural gas distribution network will be privatized. The tender was set for February 2018 and according to Sotirios Nikas, President of DESFA, Greece has significant assets in the energy sector: "Greece is becoming a gateway for gas into Europe."
"Between the gas reserve discoveries in Egypt, Israel and Cyprus, Greece's strategic position on major gas pipeline routes offers the energy sector a significant growth potential." Sotirios Nikas is optimistic: "The country and its economy are turning a new page and it is the best time to participate in this rebirth".
According to Rania Ekaterinari, Director of the Hellenic Corporation of Assets and Participations, set up in May 2016 to sell Greek state property, "the challenge facing Greece today is to attract long-term investors. A stable and business-friendly environment needs to be created, as well as a relationship of trust and common interests".
One of Ekaterinari's priorities is to restore Greece's image in order to attract investors: "It is a shame to focus on the mistakes of the past when so much effort and progress have been made in the years after the crisis. We must gain more and more credible and focus on the assets we already have".
When Dimitri Papadimitriou, Minister of the Economy and Development, goes on roadshows around the world to meet investors, he also highlights the advantages in investing in Greece: "We have a workforce of nearly 50 % of university graduates, who are experienced and talented, active in the sectors of health, technology and telecommunications, biotechnology, the pharmaceutical industry and of course, in tourism".
In August 2018, Greece will have to stand on its own and no longer benefit from European financial assistance. Everything seems to come together for the country to see the light at the end of the tunnel. But the debt issue persists, (179% of GDP). French President Emmanuel Macron and the IMF consider it is time for a relief of the Greek debt, and Alexis Tsipras is keeping his hopes up… Will 2018 get rid of this burden ?