Prize-winning Portugal wins fans with historic sights and contemporary flair
Only a tiny fraction of 97 million trips abroad by Chinese tourists last year were to Europe. But Portugal has what it takes to charm them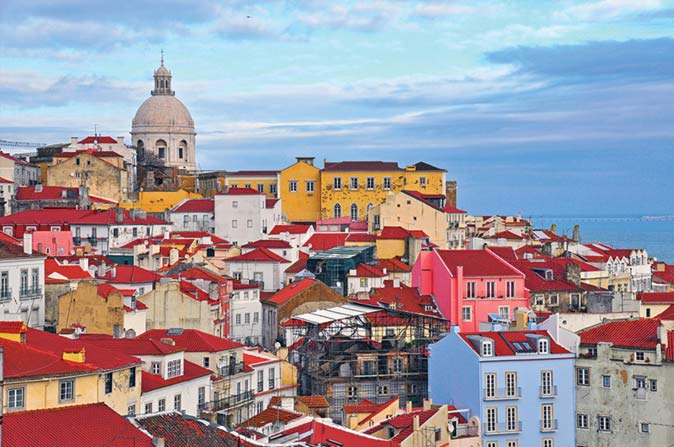 Alfama hill in Lisbon
If there were any doubt about the quality and variety of what Portugal offers, this year's World Travel Awards cleared it up. The country's 16 first prizes in Europe included best river-cruise company (Porto's Douro Azul), best port and cruise destination (Lisbon), and best hotel residences (Pine Cliffs).
João Cotrim de Figueiredo, president of Portugal's Tourism Institute, says a tight budget means it has to innovate. "When recalling their travels through Europe, Portugal was one of the countries that Chinese liked most," he told journalists in Lisbon recently. "The quality of life surprises them, but mostly the very warm reception." This impression is passed on by word of mouth, but marketeers use social networks to make it go faster and further.
Last year 3.5 million Chinese tourists came to Europe, up 11% from 2012. For Portugal, the figure was just 74,000 – but that should rise as ever more Chinese travellers venture beyond Asia. "When they do it's natural they visit first the most famous places," admits Figueiredo, citing Paris as an obvious example. "But Portugal will be sooner or later within their scope."
To attract them, experts advise, Portugal must showcase its history and culture. They also stress the need to welcome tourists with menus and signs in their language. Lisbon's Amoreiras shopping centre, where Chinese visitors last year spent €6.5 million – mainly on luxury fashion and watches – has leaflets in Mandarin and interpreters to accompany shoppers. "Customers from China are increasing very fast," explains Fernando Oliveira, executive manager of owner Mundicenter. "Per transaction and in absolute terms they are by far in first place." As well as great shopping, Lisbon is becoming known for its well-priced gourmet restaurants and vibrant bars.
Porto has a similar buzz, especially the trendy Clérigos area, while the city's most famous product – port wine – remains a big draw. Upriver, the Douro is among wine regions whose vineyards are receiving ever more visitors. It is part of a wider trend in tourism towards valuing local flavour – often literally. "We've got our own olive trees, our own olive oil, our own honey," enthuses Carlos Leal of United Investments Portugal about its new project, inland from Pine Cliffs.
In the Algarve, the southern region of Portugal, as elsewhere in the country, many landcapes remain pristine. "We avoided destroying the coastline as in the south of Spain," says Nuno Durão of Fine & Country. "Look at Cascais: we have preserved it almost as it was."
The Chinese appreciate such charms but, with no direct flights, prospective visitors must travel via Portugal's competitors. For visas, as Mundicenter's Oliveira notes, Portugal only has one consulate, in Beijing. "We need to make things easier," he says. "Because the Chinese really enjoy Portugal."