Old friends, new ties
As they renew their historic friendship, the Maldives and China are cooperating on a host of projects, paving the way for large investments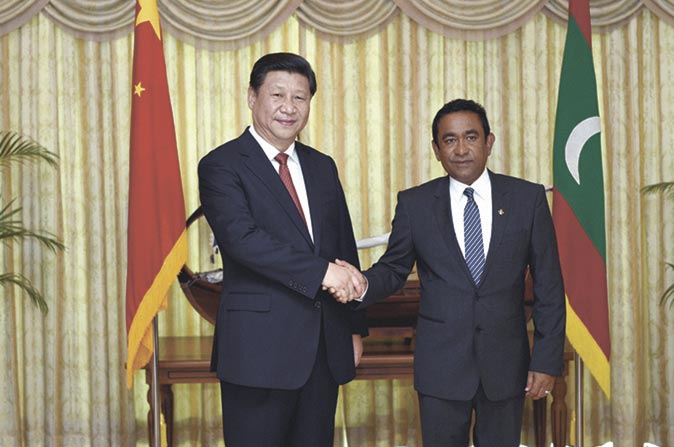 Visiting President Xi Jinping meets with President Abdulla Yameen.
President Xi Jinping's 2014 visit to the Maldives was the first ever made by a Chinese leader. While official visits have been rare, a long-lasting, historic friendship underwrites China's revived interest in the Indian Ocean nation. This interest was reaffirmed not only by the Chinese president bringing a delegation of 100 businessmen, but by making the Maldives his first stop on his South Asian tour.
In 2014, President Abdulla Yameen visited Beijing three times, returning home with a $16 million grant for major projects and the establishment of the Joint Committee on Trade and Economic Cooperation. Soon after, discussions for a bilateral free trade agreement started.
Commenting on the progress made, Maldives Minister of Economic Development Mohamed Saeed said, "Economic cooperation was the key point on the agenda. Since in 2014, trade between the two countries reached $104 million – up 6.7 percent from 2013. Both President Xi Jinping and President Abdulla Yameen expressed the need for further trade and investments."
China has been financing projects in the Maldives for a while now. The country's National Museum and the new Maldives Ministry of Foreign Affairs, also a $61.7 million project of 1,000 new flats in Hulhumalé were financed and built by the Chinese.
Following talks in 2014, political commitments were made for further projects, including the upgrade of the international airport, the construction of the China-Maldives Friendship Bridge, and the establishment of the Joint Economic Committee on Trade. The Maldives Investment Forum will also be held in Beijing in September 2015, aimed at attracting further investment.
The Maritime Silk Road, a major Chinese international investment plan, will connect China, the Middle East and Europe through key infrastructure sites. The northernmost atoll of the Maldives is conveniently placed on this route. Building on this ancient maritime passage, China could invest in the Ihavandhippolhu (iHavan) Integrated Development Project, gaining a strategic foothold in the Indian Ocean and influence over a critical global shipping route.
Historical evidence suggests China and the Maldives enjoyed close ties since the 7th Century. Chinese documents record the King of the Maldives sending gifts to the Chinese Emperor in 658 and 662 AD. Chinese porcelain, ancient coins and other artifacts from the 17th Century were found across the Maldives. Sino-Maldives relations were suspended under Colonial rule, but bilateral ties were officially established in 1972.
President Xi Jinping and Maldives President Abdulla Yameen expressed the need for further trade and investments on both sides.

In 2015, China is the Maldives' number one tourism market. These old friends are currently renewing their historic ties. With arrivals predicted to grow and the ancient Maritime Silk Road soon back in service, so too is more economic collaboration.