Multi-billion euro plan paves way for logistics and mobility future
With infrastructure that is already among the most advanced in the world, Luxembourg is now planning to invest €3.8 billion more to take the top spot in global logistics rankings.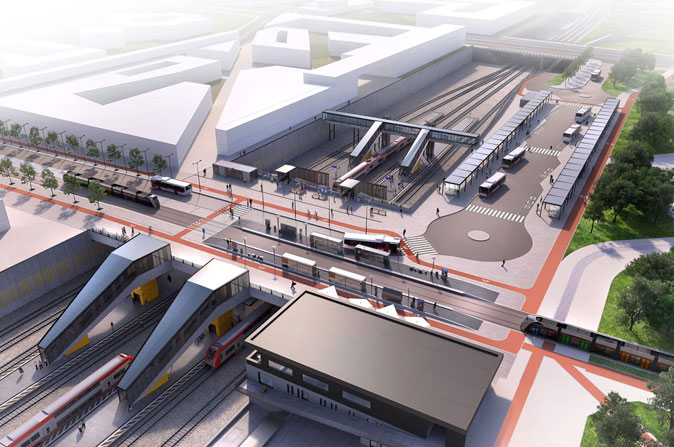 A future transportation hub connecting a new tram, upgraded rails, electric-vehicle charging stations and more.x
Luxembourg is embarking upon a €3.8 billion decade-long infrastructure-spending spree to upgrade its railway system and establish modernized transportation terminals that will enable the nation to plug-in to the future of mobility, including autonomous-driving vehicles and electric vehicle charging stations. The campaign is further proof, government officials' attest, that the Grand Duchy can muster the political willpower to continue modernizing infrastructure for the logistics industry while simultaneously nurturing breakthroughs in mobility.
Luxembourg already has infrastructure that is considered among the most advanced in the world, supported by one of the EU's largest infrastructure budgets by percentage of GDP, worth €2.3 billion in 2016, and takes the number two spot after Germany in the World Bank's global logistics capability index. This new investment commitment can then be seen as more of a sign that Luxembourg refuses to stand complacent at the top, and would rather ratchet-up spending to further entrench the competitiveness of the logistics sector, the nation's third largest industry.
"Luxembourg has a large natural advantage being at the heart of Europe," says François Bausch, Minister of Infrastructure and Sustainable Development, when asked about the Grand Duchy's strengths in logistics. "And we don't suffer from congestion or strikes like some of our neighbors," he asserts.
Seeking to further specialize, the administration of Prime Minister Xavier Bettel has been particularly keen to apply budgetary focus on developing logistics-related infrastructure compared to past governments, especially for the railway system and airport cargo. "In the last few years, we have enrolled into a dual strategy with the airport on one side and the national railway company, the Société Nationale des Chemins de Fer Luxembourgeois (CFL), on the other side," says Bausch. "Last July, CFL inaugurated the Bettembourg multi-modal terminal, which became one of the most modern railway hubs in Europe, capable of transferring huge shipments from trucks to railway and vise versa," he adds.
"Luxembourg will be like a laboratory. We will invite anybody that wants to test and explore innovation in transport to carry out experiments here in the Grand Duchy." François Bausch – Minister of Infrastructure and Sustainable Development
In the ambition to hyper-integrate all components of the industry, the Bettembourg hub would then be connected to the landlocked nation's only port, which serves some of Europe's largest coastal logistics centers. "Although we have no sea in Luxembourg, with the Port of Mertert we are highly linked to the North Sea of the Atlantic and big harbors, such as Rotterdam and Antwerp," says Bausch.
Originally built as the shipping hub for the country's steel industry, the Port of Mertert has handled the shipment of massive metal materials used to build skyscrapers, (see Fast Facts), among other structures, and now manages a diverse range of commercial goods, such as containers and heavy concrete elements for the construction of windmills, having also been the subject of increased budgetary assistance in recent years. "The Port of Mertert had about €20 million invested in its infrastructure over the past decade," says Jeannot Poeker, the port's president, "including €9.5 million for the railway tracks and about €5.5 million for the North quay. Additionally, the turning basin will be upgraded in order to be able to handle larger ships measuring up to 135 meters in length," he adds. If all goes as planned, the upgraded port and new Bettembourg terminal could become part of a joint national logistics node, connecting Luxembourg's business world to Asia. "The Port of Mertert will combine with the Bettembourg terminal, and then CFL has plans to link Bettembourg with a train route to China, giving the industry yet more possibilities," Poeker announces.
"The Port of Mertert will combine with the Bettembourg terminal, and then CFL has plans to link Bettembourg with a train route to China, giving the industry yet more possibilities." Jeannot Poeker – President of Port of Mertert
About €250 million of the infrastructure investment cache has already been allocated for the construction of new transportation hubs (see photo). These transportation hubs will be built with the intention of being compatible with modern models of buses, trains and cars, as well as emerging developments in transport, namely electric and autonomous-driving vehicles. The so-called exchange centers will also be connected through an electric tram system – which will receive a separate budget of €700 million – to position Luxembourg City, which generates 70% of the country's GDP, as one of the most ambitious urban projects in the future of mobility.
"We want to be a frontrunner for new mobility services, while maximizing digitalization in both the transportation and logistics sector," says Bausch, citing an agreement signed between the governments of Luxembourg, Germany and France to launch a test site for autonomous-driving vehicles in Luxembourg in 2018 to study how developments in mobility and digitization can interact.
"This site will be not only for autonomous-driving cars, but also for shuttles," he says. "Digitalization will bring lots of changes in the mobility sector, and we'll have much more possibilities to better organize transportation than in the past," he adds.
"Luxembourg will be like a laboratory. We will invite anybody that wants to test and explore innovation in transport to carry out experiments here in the Grand Duchy."