Real Estate & Construction / Portugal
Lisbon's trendy buzz sets new tourism records
The capital's varied charms are attracting ever more tourists – which also happens to be good for the property market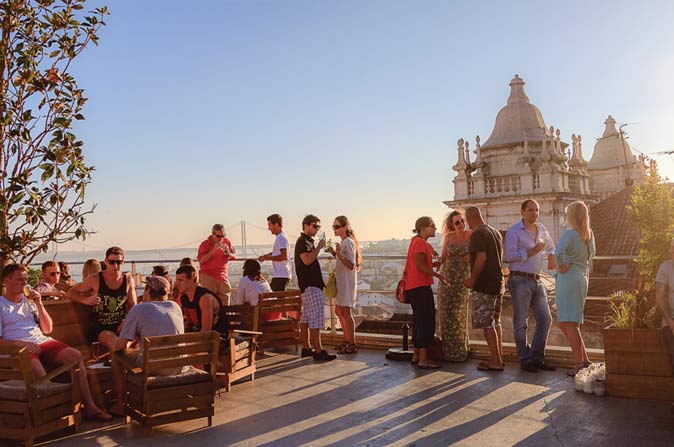 The Park Bar attracts a hype crowd on the rooftop of a car park in Lisbon.
© Nelson Carvalheiro

Lisbon is in fashion. The secret is about the mix of historical monuments and luxury shops, safe streets, friendly locals and authentic cuisine. The number of tourists arriving by plane has risen by 6% a year in recent years, while cruise-passenger numbers are rising at 11%. Last year, 2.9 million foreigners overnighted.
Just 74,000 citizens of China visited Portugal last year. But that has tripled in four years and is still climbing, prompting local businesses to adapt. Lisbon's tourism boom dates back to football's Euro 2004. The earlier Expo 98 World Fair turned a wasteland into the modern Parque das Nações – a magnet for foreign home-buyers where offices are also in great demand.
Downtown, lovers of luxury brands head for the Avenida da Liberdade, which is lined with the likes of Prada, Cartier and Michael Kors; those after cutting-edge fashion and jewellery will love the ateliers in the Bairro Alto and Príncipe Real neighbourhoods.
Foreigners' preference for prime locations when buying is also helping give the centre a facelift. In June, companies working in buildings rehabilitation had five months' work in hand. Lisbon is Portugal's best calling card. "A Chinese who visits Spain could wonder whether he should invest in Madrid, Barcelona, or Seville" says Nuno Durão of broker Fine & Country. "In Portugal his main focus will be Lisbon."
The city is also home to a vibrant creative sector that embraces alternative forms. The Portuguese street artist Vhils has found international fame with his work, and his first solo exhibition now at Electricity Museum in Lisbon has been packed for weeks. Portugal's capital looks sure to retain both an edge and its power of attraction.