Jordan uniquely qualified to become hub for region's reconstruction
Host to millions of refugees, Jordan is today preparing to ensure their countries get rebuilt, with investment demand estimated to be $200bn in Syria and at least $138bn in Iraq.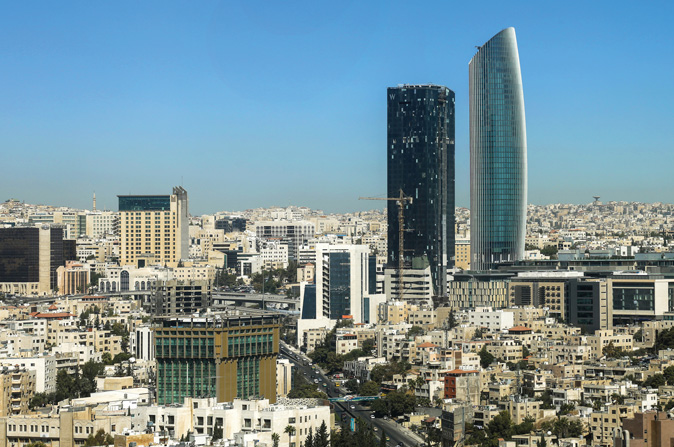 Amman, Jordan's capital, is poised to host rebuilding efforts. Credit: Shutterstock
While conflicts continue in Syria and parts of Iraq, the Hashemite Kingdom of Jordan is already poised to act as a hub for reconstructing the region. This role falls naturally to the Kingdom, which shares a common language and historic commercial ties with both Syria and Iraq, and occupies a strategic location between some of the region's most war-torn cities, such as Damascus and Ramadi, and investors in the Gulf.
Calculating the price tag for reconstruction is a sizeable task in and of itself. The restoration of Iraq's Anbar province, which includes Ramadi, the provincial capital that has today been bombed into ruins, will cost an estimated $22 billion, the Iraqi government projects. Rebuilding Mosul,a former stronghold of Daesh (Islamic State), will soar into the tens of billions, but no concrete figure exists. For sure, given that the US spent $138 billion on military and reconstruction costs following the end of the Iraq War in 2011, an even larger effort will be needed today considering the devastation left in the wake of retreating Daesh insurgents.
"Let's prepare Syrian refugees for the task of rebuilding their country." – Hani Al-Mulki, Primer Minister of the Hashemite Kingdom of Jordan
Investment needs in Syria are unsurprisingly far higher than Iraq. The restoration of post-civil war Syria represents an industry worth $200 billion, the World Bank has estimated, with about $80 billion in capital stock being wiped out to date. The estimates also suggest that only one out of three hospitals in Syria are operational, and that 42 per cent of the population lack access to healthcare, with children being the most affected.
For certain, numerous free trade agreements, a highly educated population and a upper-middle income, service-orientated economy (see Inside Data) are expected to give Jordan a competitive advantage over other countries in the region. "Investors could capitalize from available trade and investment opportunities, including those embodied within the network of free trade agreements that Jordan has signed with Arab League members, European Free Trade Association states, the US, Canada and Turkey, as well as within the decision on relaxed rules of origin signed between Jordan and the EU," says Minister of Industry, Trade and Supply Yarub Qudah.
"Jordan also offers a conducive business environment supported by modern and well-connected infrastructure, a highly trained and competitive work force, an efficient and solid banking sector and robust telecommunication networks," he adds.
To date, the Kingdom has proved itself to be a compassionate and competent ally, having absorbed 1.4 million Syrian refugees, while maintaining moderate economic growth despite closures to integral export markets. Indeed, in 2015 borders between Jordan and Iraq shuttered following intermittent blockages, including the Treibil crossing, where the lion's share of trade between Amman and Baghdad flowed. The impact was felt almost immediately: Jordan's exports to Iraq crashed from $1.16 billion in 2014 compared to $690 million in 2015. Today, trade between the nations has shrunk further to more than half the volume posted in 2014.
"Iraq has been set back in time 50 years. Everything needs to be rebuilt." – Yarub Qudah, Minister of Trade, Industry and Supply
Yet, the darkest days may have passed for Jordan. In January, Prime Minister Hani Al-Mulki led a high-level envoy to Baghdad to discuss the reopening of borders with his Iraqi counter part, Prime Minister Haider Al-Abadi. The revival of Trebil would be a moment of celebration, portending the rapid return of over half a billion in trade, as well as ushering in a wealth of opportunities to collaborate with Iraq to rebuild a nation crippled by conflict. "Iraq has been set back in time 50 years," says Qudah, who accompanied Prime Minister Al-Mulki to Baghdad along with other ministers of the Jordanian cabinet. "Everything needs to be rebuilt, from hospitals to roads to schools."
Having fought in the trenches alongside its Arab neighbours, Jordan has an intimate understanding of the scale of devastation, as well as experience in rallying the international community to gather for collective action. Indeed, Amman has already hosted fundraisers for Iraq's reconstruction under the UN's aegis as early as April 2016, and international development banks have also stepped in to drum up financiers. According to an Iraqi government spokesperson, "The World Bank and the Islamic Development Bank will encourage international organizations and donors to attend conferences to support Iraq in the reconstruction of liberated areas."
Jordan plans to enable this investment into the region through special development zones, which can provide platforms to securely develop and export goods and services for reconstruction needs in Iraq and Syria. Trade deals have been struck while being mindful of job creation for refugees by providing incentives for Jordanian-based businesses to set up in these new zones. "We want new investments that will create jobs for Jordanians and initiatives that can create jobs for Syrian refugees also," says Minister of Planning and International Cooperation Imad Fakhoury. For example, the agreement to allow Jordan-made products greater access to the EU, seen as a landmark deal for Jordan, will only be applicable if no less than 15 per cent of the manpower in any exporting factory is Syrian. Moreover, once Jordan provides 200,000 jobs for Syrian refugees, the "relaxed rules of origin" will be applied to other industries, creating not just steam to the Jordanian manufacturing base, but also job opportunities for Syrians.
"Let's prepare Syrian refugees for the task of rebuilding their country, when the canons fall silent and peace prevails again," Prime Minister Mulki urges, adding: "Let us also work collectively and with the international community for the safe return of all refugees to their home as soon as conditions allow for it."