Hellenic Petroleum ups investment in oil exploration
Greece's largest refiner, Hellenic Petroleum, is diversifying its activities and focusing on hydrocarbon exploration in partnership with Total.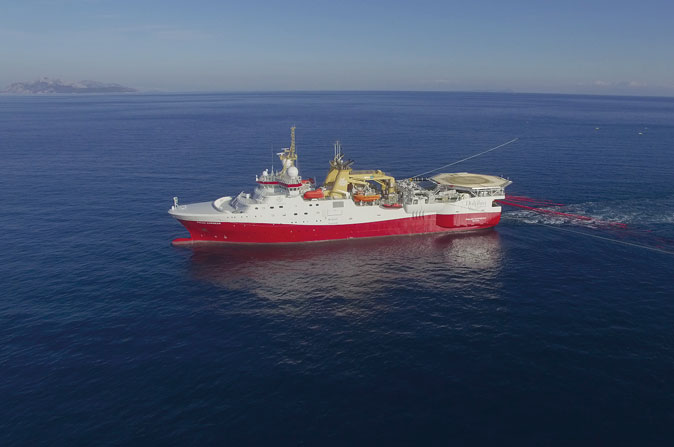 High-tech 3D geophysical surveys of the Ionian Sea

On October 31, the Greek government signed a contract with the Franco-Italian-Greek consortium of Total, Edison and Hellenic Petroleum (HELPE) for oil and gas exploration in the Ionian Sea.
Total will hold a 50% interest in the block and HELPE and Edison will each have 25%. For Greek Energy Minister Giorgos Stathakis, present at the signing of the agreement, "Greece is trying to build the necessary infrastructure to become a regional energy hub. This contract will be a major step towards this direction and undeniably constitutes a vote of confidence in the Greek economy ".
For HELPE, the first refiner in Greece, this is the second oil exploration contract in a few months, thus demonstrating the group's desire to diversify its activities. Following a request by the HELPE, Total and ExxonMobil consortium to participate in exploring a large area around Crete, the Greek government recently published an international tender with a submission deadline on March 2, 2018. "According to recent research published, the geological subsoil south of Crete holds a significant hydrocarbon potential. That is why in May 2016, we started discussing the joint venture with Total and ExxonMobil. Both companies are bringing in their own technology and financial means. HELPE contributes with its vast knowledge of the regional geology of Greece, its important reputation and its know-how in the Greek industrial field," commented Yannis Grigoriou, General Manager of Exploration and Production of Hydrocarbons at Hellenic Petroleum.
" Increasing exploration and production reached record numbers this year " Yannis Grigoriou – General Manager, Exploration and Production of Hydrocarbons, Hellenic Petroleum
In the last few years, the company has explored 26 blocks across Greece and has compiled important geophysical and seismic data and also carried out a significant number of exploratory drilling.
During the same period, HELPE had cooperated with other international oil companies in Libya, Egypt, Montenegro and Albania for more than 14 blocks.
All these research activities have brought considerable experience to its scientific and technical staff, reinforced by the arrival of new scientists specialized in research and production as well as in the field of environmental protection.
Reference refiner margins remained high and operational performance improved in all of the group's segments, largely thanks to a successful 3 billion euro investment plan, which includes the upgrade of the Elefsina refinery. The refinery remains HELPE's core business, accounting for approximately 75% of its total assets. The company registered a 6.679 billion euro turnover in 2016 and is pushing up the stakes with a diversification plan.
In addition, HELPE is the only producer of petrochemicals in Greece, with a domestic market share of over 50%.
HELPE also aims to establish itself as an energy company by playing a key role in power generation. This ambition translated into the creation of a consortium with Edison, named Elpedison. HELPE also created a subsidiary dedicated to renewable energies in 2006 that has already installed solar farms.
HELPE is also active in the gas market, holding 35% of DEPA, the national natural gas supplier, 65% of which is owned by the Greek State.
In the coming years, HELPE will maintain momentum, notes Grigoriou, saying that "increasing exports and production reached record numbers this year thanks to the technology, but especially to the efficiency of our staff."