Egypt looks forward to more Chinese tourism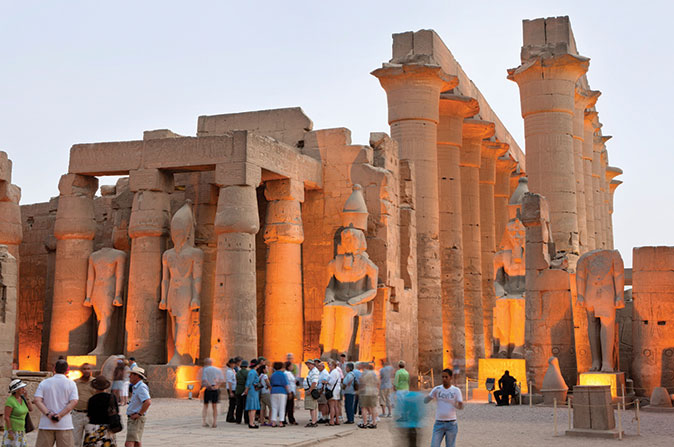 Tourists at the Columned Hall inside Luxor Temple.
Ever since Herodotus, the Greek historian, some 450 years before Christ, set his eyes on the Great Pyramid of Giza, the largest ancient structure of the world, generations of discerning travellers have visited Egypt. Enchanted by the mysteries, the legends and the architectural treasures, visitors today continue to marvel at antiquity's most prized possessions. From Luxor's ancient city of Thebes to the Valley of the Kings and Queens, Egypt's cultural heritage remains well preserved along the rivers of the Nile.
Trips peaked in 2010, a year before the revolution when Egypt hosted 14.7 million visitors. However, the events of the Arab Spring contributed to a fall in European holidaymakers, and so Egypt has begun to look to Asia's tourists to fill its sailboats cruising along the world's longest river.
With around 100 million trips made by Chinese tourists abroad each year, Egyptian companies are increasingly focusing on its tourism market. Chairman and CEO of tourism company Galaxia Tours, Mohammed El Hassanein, said, "In 2010, China represented 15 per cent of our sales. We are now aiming to reach 30 per cent in the next two years."
According to Egypt's Tourism Minister, Hisham Zaazou, the low number of direct flights is constraining any increase. He said, "Egypt Air should talk more with the Chinese civil aviation authorities to increase the national carrier's fights. Our national airline is currently concentrated on Shanghai and Beijing. We need to fly to more areas in China."
Air Leisure, an Egyptian airline also wants air connectivity increased. Chairman and CEO, Khaled Hassanein said, "If the government decides to organize additional regular flights, then we will see a big demand from China."
Businesses are now targeting China's burgeoning upper middle class, a task made easier by recent changes to visa requirements for Chinese tourists, as soon prearranged visas will not be necessary for entry into Egypt. Boutique travel agency, Tropic Travel said, "We are trying to reach another segment of the Chinese market, which is a higher level visitor—or as we say 'la crème de la crème'."
To mark the 60th anniversary of the establishment of diplomatic ties between the two countries, 2016 will host many intercultural activities. Festivities will begin in Luxor as Egypt works to promote its rich cultural history to a new target audience, the Chinese market..