Education & Research / Ireland
Education hub of Ireland reaps dividends
Cork's penchant for investing in education and infrastructure has allured multinationals to Ireland's second city.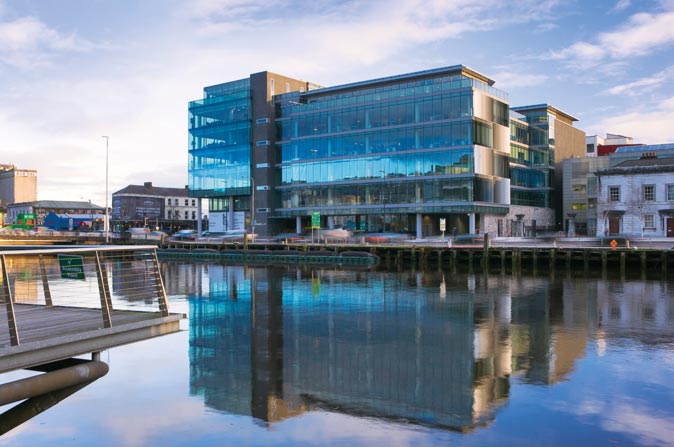 One Albert Quay, Ireland`s "smartest building" is located in Cork. Source: Cork City Council
Dublin may be the household name, but Cork, Ireland's second city, has long been a favorite alternative. The southwestern city today is a thriving business hub, offering more room for budding companies at a discounted rate.
Besides the great value for money, Cork has come to embody a special space in tech lore: It was the city that the late Steve Jobs selected for opening up what remains today Apple's only manufacturing facility outside of the US. The decision by Jobs some 35 years ago to lay down roots in Cork has led the company to employ 5,000 people today.
Jobs' fateful visit to Cork began a domino effect that has yet to stop. "Our track record of leading multinationals selecting Cork for their European headquarters now speaks for itself," attests Ann Doherty, CEO of Cork City Council. "But truly our city's allure derives from our highly skilled graduate pool and a high quality of life that we are continously planning to upgrade with new infrastructure," she adds.
"[We're] central to the nature of the manufacturing base that is Ireland." – Michael Murphy, President of University College Cork
That Cork hosts two of the most prestigious universities in the country is an inextricable ingredient to the city's business-worthy vitality. Both University College Cork and Cork Institute of Technology are distinguished pillars of Irish academia, and perhaps the main enablers to Cork's interest with American industry. "University College Cork (UCC) invests in technology, computer science, software programming and business information systems," says Michael Murphy,the university's president. "This makes us central to the nature of the manufacturing base that is Ireland."
"Around half a million square feet of development is underway in and around Cork." – Ann Doherty, CEO of Cork City Council
Indeed, their investment focus breeds innovation, which is just what many US tech firms are looking for."We make significant contributions in the ICT space in photonics," affirms Murphy. "We also compete in maritime energy research, for example, by just opening one of the world's largest test tank facilities to coordinate all European research in wave energy," he adds. However, Cork is not all about the techies. "We have over 160 overseas companies based in Cork," says Cork Chamber of Commerce CEO Connor Healey. "About 85% of those are of US origin, only one-third of which are tech companies. Other key sectors," he adds, "are pharmaceuticals, biotechnology, financial services and global shared services." To this end, UCC has invested to compete in probiotics, food and health. "The idea is that we have niche portfolios that will grow with time following industry demand," says Murphy.
Right now, the government is realizing a massive blueprint to redesign the city, improving its already high standard of living. "In total, around half a million square feet of development is underway in and around Cork," announces Doherty. "This will further develop our city center, which is a mature, multi-use urban area with a good mixture of homes and offices, as well as cultural, sporting and leisure facilities," she says. "We are a lively city that is just about to get livlier."