Stability locks in future growth
Côte d'Ivoire's economic renaissance is rapidly creating a new golden era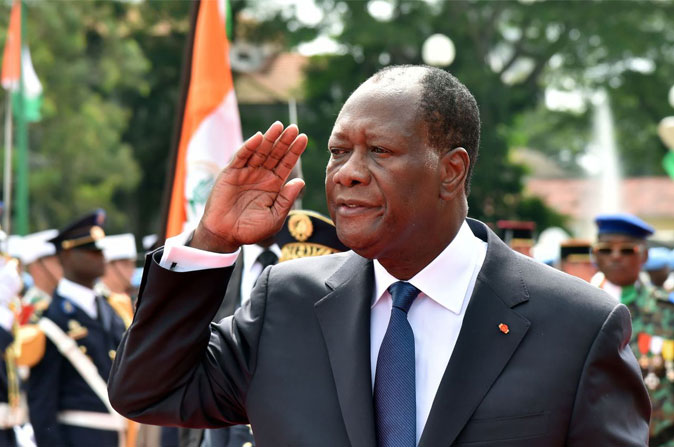 Ivorian President Alassane Ouattara salutes soldiers - PHOTO AFP
It's not often that African nations get praise for advancing political rights, but Côte d'Ivoire is one of those rare examples. The 2015 election that bestowed President Alassane Ouattara a second five-year term was called "arguably the freest, fairest, and most peaceful in the country's history" by Freedom House, a human rights watchdog. The smooth election process has locked in the country's enviable economic vigor for years to come, with President Ouattara taking aim to close the case on lingering social tension leftover from the country's 2011 bloody electoral contest.
Prosperity seems a potent tool to cure national wounds, and Côte d'Ivoire is following a spot-on track. "In a year when many countries faced decelerating growth rates, Côte d'Ivoire grew by 8.4% in 2015," said Akinwumi Adesina, the head of the African Development Bank, which is located in the Ivorian commercial capital Abidjan. "This is not at all surprising to me: the government of Côte d'Ivoire is doing the right things to support economic growth – large investments in infrastructure and real estate, reforms to improve the business environment – all key ingredients for strong growth."
Sizeable advancement of infrastructure promises to ascertain Côte d'Ivoire's prowess, turning the francophone West African nation into not just a region leader, but also an African one. The sub-region already depends on Ivorian electricity to support their economies, and the Port of Abidjan's China-backed upgrade will make the harbor an African freight capital. Agricultural industrialization will come easily for Côte d'Ivoire as well, since the country is the leader of a major global commodity, the cocoa crop.
President Ouattara is seizing the moment of the so-called second "Ivorian miracle," an allusion to the country's former economic boom in the 1980s. In June, he invited all refugees and military deserters that fled in the fallout of the 2011 conflict to return home. The UNHCR estimates that thousands of supporters of former President Laurent Gbagbo are living in exile in neighboring nations, where they have remained since they were defeated in a UN- and France-backed intervention after Gbago refused to cede power.
Ouattara's invitation may be answered soon. The UN says that the challenge of issuing documentation to refugees could be solved by the end of this year. Reconciliation with political foes would, if anything, seal Côte d'Ivoire's renaissance.