A hub for tech and culture by the beach, just next to Lisbon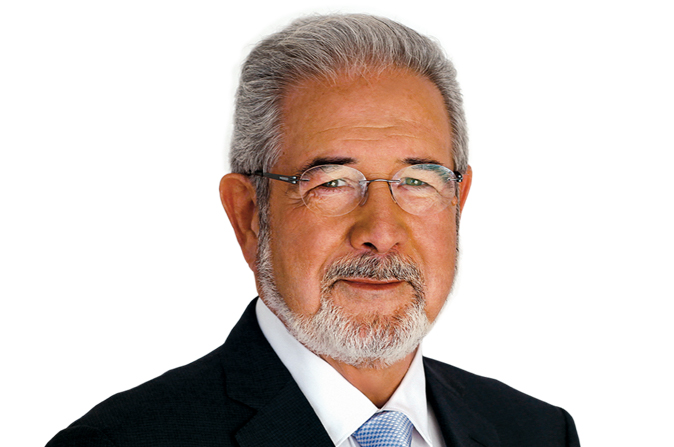 Long gone are the days when Oeiras was a sleepy suburb of Portugal's capital, Lisbon. Through solid planning and a bold vision, the municipality turned into the favored base for multinational technology and research-driven companies in Portugal, while living standards for the population improved across the board. Isaltino Morais, who has been elected mayor of Oeiras repeatedly over the last decades, now lauds the beginning of a new development cycle. The initiatives Oeiras Valley, Agenda for Science and Technology, and Oeiras 27 create new synergies within the city for high-tech companies, world class research and development activities, and excellent living conditions for locals, expats, and visitors alike.
Can you trace the municipality's route towards the creation of Oeiras Valley and the € 400 million investment pipeline for the next few years?
Oeiras can be considered a case study in Portugal. 30 years ago, Oeiras was a city without an identity and life of its own. It was a suburb of Lisbon, where most residents worked.
In 1989/90, a strategy was designed to establish Oeiras as an alternative hub to Lisbon. Not in the sense of replacing the capital, but rather in the sense of complementarity. We must remember that Lisbon, 30 years ago, was a gray city with a low quality of life. It was not very attractive to multinational companies whose DNA included concerns with the environment, quality of life, comfort, significant green areas, quality equipment, crèches and kindergartens, schools, sports facilities, etc.
At that time Oeiras was also a very depressed municipality, because it had 5,000 families who lived in shacks, similar to the bidonvilles of France. My first goal was to implement a social intervention that involved the eradication of shacks and to solve the problem of those families. We were obviously solving a social, humanitarian and basic dignity problem for those families.
I do not mean to say that everything was premeditated and that we had a strict forecast that we would reach our current position. We had a vision of what we wanted, but even I had some doubts about whether we could achieve that goal. Everything went very well because there was planning.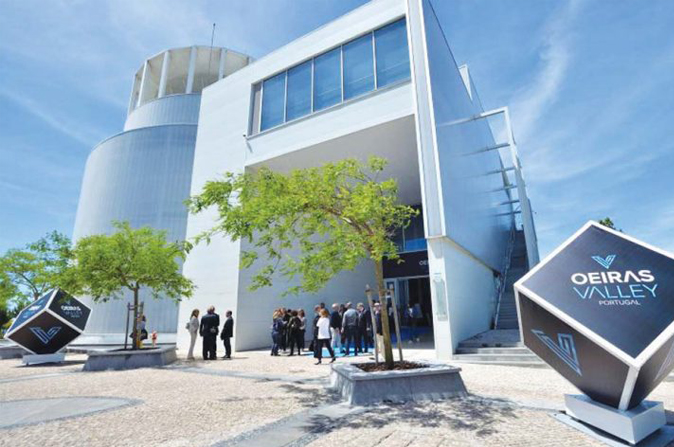 Solving the problem of the families created conditions for better urban planning, which was accompanied by a first generation of public facilities such as fire stations, health centers, police stations, sports pavilions, gardens, parks, etc. This radically changed the face of the area occupied by Oeiras.
I used to say that I wanted to have the sirloin steak, which are the companies. We no longer wanted heavy industries, which gradually discontinued their activity in Oeiras. We wanted to attract companies from the services sector, offices, and applied research. The term "technology-based companies" did not yet exist, but we intended to attract companies that generate added value and qualified jobs and that could develop applied research.
"Nowadays Oeiras represents 30 percent of the technological capacity in Portugal."
Our goal was to attract, in particular, multinationals in the fields of information technology, biotechnology and pharmaceuticals. Nowadays Oeiras represents 30 percent of the technological capacity in Portugal, split between basic and applied research performed by entities such as the Gulbenkian Institute of Science (IGC), the Institute of Chemical and Biological Technology (ITQB NOVA), the Institute of Experimental and Technological Biology (iBET), the National Institute for Agricultural and Veterinary Research (INIAV), and the Portuguese Institute for the Sea and the Atmosphere (IPMA).
Many of the large multinationals are present in Oeiras, from pharmaceuticals to information technologies, which led to Oeiras' transformation from a peripheral municipality in Lisbon to a municipality with its own center of gravity. We say that Oeiras is a polynucleated city because it has several poles.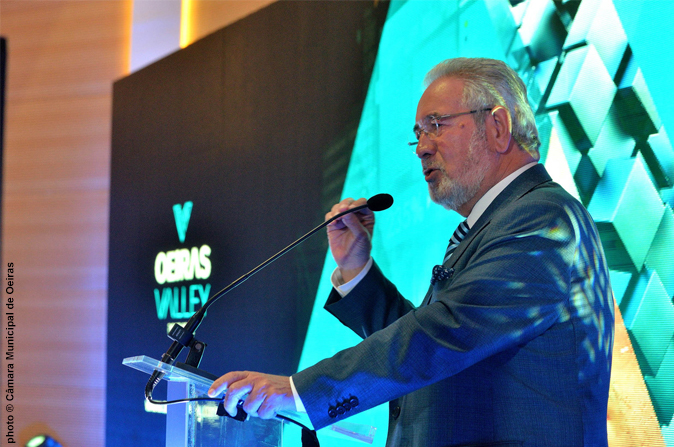 From the point of view of urban planning, in the 1990s and the first decade of this century, we bet on business parks geared to host multinational tech companies. These are Taguspark, Quinta da Fonte, Lagoas Park, and Arquiparque.
Now we entered a different phase, according to world trends in places like Silicon Valley, Sophia Antipolis, or the technological hubs in the United Kingdom. For 30 years, quiet high-quality environments were sought after essentially to work, as opposed to residing. Thus, Oeiras stopped being a dormitory and became an area that hosted companies.
"Oeiras has experienced a qualitative evolution that allows it to host multinational companies in any part of its area."
What we see today is that these business areas offer high quality infrastructure which is only used during the day. It is a pity that they are not enjoyed by the population at night. As we are speaking about non-polluting activities, it is perfectly possible to combine working with living. Therefore, the new developments are no longer monolithic parks in the sense of hosting only companies, because Oeiras has experienced a qualitative evolution that allows it to host multinational companies in any part of its area.
Three more mixed-use parks are under development with areas for business, housing and also trade and services.
Do you believe this is a widespread trend?
It is a trend in Oeiras. In parallel with our urban planning, we are investing in diversified public infrastructure, such as our schools. This is probably the largest investment of its kind in Portugal. We intend to have the best schools and students in the country. Oeiras already occupies the highest position in Portugal in terms of literacy, as well as the largest number of graduates, doctors and researchers. Betting on education is our highest priority right now. We want to make a qualitative leap in terms of education and that is why we are somewhat replacing the Government. In the next four years, we will make an investment of 10 million euros just in technological equipment for schools. During the pandemic, we delivered computers to all students who needed them, without waiting for the Government.
Therefore, the growth of companies in Oeiras brought tangible results such as the largest number of graduates, doctorates and researchers in the country, the highest per capita income, the highest tax collection, and being the second municipality in Portugal to generate wealth. First is Lisbon with around € 65 billion, then Oeiras with € 25 billion and Porto is the third with € 14 billion. We are talking about 10 percent of the Gross Domestic Product generated in Oeiras, a territory of 50 square kilometers and 177 thousand inhabitants.
So, what is the framework for Oeiras Valley?
Oeiras Valley is a concept and a brand. It is not a matter of copying Silicon Valley or Sophia Antipolis in France, but if there is one city that can claim to have this designation, it is Oeiras because it is extraordinarily robust in the Portuguese context. Oeiras has indicators at the highest level in Europe. While Portugal lags behind as a whole, Oeiras is ahead of many European cities.
"We decided to develop the Oeiras Valley brand because we believe that we already have conditions that allow us to take a new qualitative leap in terms of attracting investment."
We decided to develop the Oeiras Valley brand because we believe that we already have conditions that allow us to take a new qualitative leap in terms of attracting investment.
Associated with the Oeiras Valley brand is another dimension that has to do with investment in the field of Innovation, Science and Technology. To give an example, Moderna's vaccine (against COVID-19) was supported by iBET in Oeiras, which was the only Portuguese entity involved. The City Council of Oeiras itself sponsored the development of serological tests with 100 thousand euros, within the scope of the Institute of Chemical and Biological Technology, and we contribute to the research projects of the Gulbenkian Institute of Science.
A residence for scientists was recently awarded for three million euros, and Oeiras also contributes to scholarships with hundreds of thousands of euros each year. The idea is that researchers from any part of the world can come to Oeiras, and vice versa. We are the only municipality in Portugal that allocates one percent of its budget to science and technology. We are talking about almost two million euros a year.
"Oeiras Valley represents technology and companies, but at the same time innovation in the area of science and technology through the involvement of the City Council with institutions and companies."
Oeiras Valley represents technology and companies, but at the same time innovation in the area of science and technology through the involvement of the City Council with institutions and companies. This is the new development cycle of the municipality to which 400 million euros are allocated.
What is the operational strategy for Oeiras Valley?
We are creating two agencies. One is precisely Oeiras Valley, which is essentially a development and investment agency to foster the creation of start-ups and small and medium-sized companies in the technological field. It doesn't matter if they are foreign or national. It serves professionals who are in Portugal, connected to research institutions and who want to create a new company.
On the other hand, we are creating another agency in the fields of Research, Science and Technology exclusively constituted by the City Council and the research institutes based here, which will be called 'Agenda for Science and Technology of Oeiras'. Both will be formed throughout this year and will have their own capital and independent management. Of course, the municipality will have a participation because it grants funding through subsidies to the ITQB or the Instituto Gulbenkian da Ciência, and they manage these funds.
The creation of Oeiras Valley and the Agenda for Science and Technology of Oeiras are the two institutional support systems for the qualitative leap that we intend to take and that involves the development of new business parks with the profile I mentioned.
Prestigious companies like to be close to each other because they benefit from synergies. The role of the municipality also consists of establishing the necessary links so that companies, scientific research institutions and higher learning institutions get closer to each other, and we need to make investments that go beyond the municipality.
It is in this context that the candidacy for European Capital of Culture and "Oeiras 27" emerges. These are two distinct concepts, although "Oeiras 27" is an instrument for the European Capital of Culture. But I also need to stress the following: whether or not Oeiras is selected for the European Capital of Culture, we will do everything we have to do, anyway.
Does the City Council have the resources to carry out that plan with or without the award of this prize?
Exactly. I like to say that Oeiras has already won, whether it becomes European Capital of Culture or not. We have a program that runs until 2027 and that we will implement in the context of the candidacy for European Capital of Culture.
Oeiras has already won, whether it becomes European Capital of Culture or not.
None of the other Portuguese municipalities in the running for European Capital of Culture have the financial strength of Oeiras. The 30 million that the Government grants to the European Capital of Culture are not so relevant for us. If we win, that money will be invested in cultural programming, not infrastructure. The infrastructure will be built anyway.
The construction of a new building to accommodate the administrative services of the City Council will start. This is an investment of 50 million euros for the benefit of the citizens, because the employees will be more satisfied, and the citizens will be better served.
We are also making major investments in the field of urban comfort through an intervention in terms of streets, green areas, gardens, etc., in order to make the pedestrian circulation more comfortable. There will be more bike lanes, car parks, streets and car-free zones. Therefore, it is an investment that aims at better mobility conditions in the municipality. Millennials want good public transport, which is why it is important that the new business parks are for mixed-use and that there is a cultural offering. It is essential that those who work in the business parks of Oeiras do not need to go to Lisbon to attend a show or do a cultural visit.
We will resume with the construction of a congress center with capacity for 2,500 people or shows for up to 7 thousand people. We have what will probably be one of the best auditoriums for opera, ballet, performances, etc. in the country, in Linda-a-Velha, with capacity for 1,300 people.
We also have a plan for the construction of new city squares, because in the last decades the urban model abandoned this concept. A project for a square in Porto Salvo will soon be completed, which is called Rossio de Porto Salvo, and which represents an investment of around 15 million euros. There will be car parks, a health center, facilities for the city parish and a commercial area with terraces, etc.
"Oeiras has an extraordinary cultural patrimony (…)."
There are those who are surprised by the fact that Oeiras is applying for European Capital of Culture and ask: "But what is the patrimony of Oeiras?". Oeiras has an extraordinary cultural patrimony that often goes unnoticed because it was in the possession of the State. When this is the case, it either goes unnoticed, or is degraded. For example, Parque dos Poetas is the largest public art park in Europe. It's as simple as that. There is no public art park in Europe that is a repository of the aesthetic currents of public art from the end of the 20th century, the beginning of the 21st century. About 40 sculptors and 60 poets are represented there.
We also received two important properties: the old National Agronomic Station and the Quinta de Cima do Marquês de Pombal, which is known for having some valuable patrimony.
The entire space covers almost 150 hectares, which will allow us to make one of the largest parks in Europe, in a "U" shape, from Oeiras to Praia de Caxias.
We also own the Convent of Cartuxa, identical to that of Évora. There is the church, the convent and another 12 hectares of land. We are going to recover the Church and give it to the parish, and in the old structures of Convento da Cartuxa, the first Contemporary Art Center in Portugal will be born.
What is the timeline for completing these projects?
All of this has to be recovered by 2026. Of course, the 400 million euros also cover transport infrastructure, but we are talking about an investment of around 100 million per year. The more we invest in terms of the European Capital of Culture and "Oeiras 27", the more we are promoting Oeiras Valley. The more we qualify the territory, the better conditions we have to receive more and more scientific research institutions, companies and academic institutions and international schools. We already have two international schools, namely the Oeiras International School and the International Sharing School, which operates at Taguspark. We are preparing the ground for two more schools of this kind.
When interacting with foreign stakeholders who do not yet know Oeiras, what are the aspects that most surprise them?
They are especially surprised by the quality of our business parks. Some time ago I had the visit of the Mayor of Cambridge (next to Boston, USA), who said the following: "In the United States, in Cambridge, we have projects like these, but they are not better". Indeed, our business parks are of excellent quality.
What is also surprising is the potential of the City Council itself. For example, with the pandemic, we have already invested 11 million euros. There are municipalities in Portugal that have practically no such budget, at all. We invest because we are able to do so and because, thanks to the investment made over the decades, Oeiras has acquired robust finances that allow us to do what is our responsibility, naturally, but at the same time to intervene in areas that fall within the competence of the State. This is the case of health centers, for example.
Our logic is the following: everything that concerns our citizens, concerns us. If we consider something to be a priority, even if it is the responsibility of the State, we do it.
Until now, Oeiras has never proactively bet on tourism. Is this going to change?
Our core has never been tourism. It has always been business and we have really been successful. Although tourism is not the core of Oeiras, it is indisputable that it was also already developing, and this will become more pronounced in the near future. We have always had concerns about enhancing the overall quality standards, which is why four beaches in Oeiras boast the blue flag, for instance.
On the other hand, some hotels started to appear. When I was elected for the first time to the City Council there was no hotel in this municipality, whereas today there are about nine. There is another one already built that has not yet opened yet due to the pandemic, and another one under construction. Several hotel projects are already approved or in the process for approval for the next five years.
Are those hotels devoted to leisure, business, or a mix?
For tourism, essentially. The first hotels emerged through business, close to business parks or even within them. The first leisure hotel was Vila Galé, in Paço de Arcos.
If tourism used to be residual in Oeiras, it no longer is and will stop being so more and more. With our patrimony, investment, business tourism, the new congress center, the Linda-a-Velha auditorium, the recovery of cultural patrimony, the clean beaches, the marina (possibly another marina will be born in Cruz Quebrada), Oeiras will gain more and more weight as a tourist hub.
What can you tell us about the weight of the French community in Oeiras?
The French are the fourth foreign community. Currently, the first are Brazilians, while Oeiras hosts more than 100 nationalities, especially Cape Verde, China, Angola, Germany and Switzerland, among others.
There are many companies from the United States, United Kingdom, Germany, and also from France, such as Thales which, from a technological point of view, is the most prominent. But the determining criterion is not the country of origin, and rather the segment.
Companies in the area of Information Technology, Biotechnology and Pharmaceuticals are the most relevant, whether from the United States, United Kingdom, France, Switzerland, Italy or Belgium.
What are some of the universal qualities that you believe make an excellent Mayor?
When I was first elected, I was a public prosecutor and had an overly positivist view of the Law. At that time, there was already much talk of corruption. In fact, my first electoral program was very focused on corruption because it was a problem at that time. I came to the City Council of Oeiras to put everything on track and to work with all rigor, and for a long time I had the idea that the ideal Mayor should have a law degree.
Today I have a completely different opinion and I believe that a good Mayor does not need to have any degree, at all. It is not relevant to have a degree in Law or Engineering, Architecture, Philosophy or whatever.
There are three fundamental qualities: the first is to like people. The other is to have the patience to listen to them. The third is the ability to perceive what people lack.
There are three fundamental qualities: the first is to like people. The other is to have the patience to listen to them. The third is the ability to perceive what people lack. Not necessarily what they want, but to generally perceive what they really need.
It is necessary to follow through with the program presented to the electorate. The Mayor does not exist to implement the program of minorities, nor to implement the program of those who were not elected, let alone those who did not even run for office. This does not mean that we only implement our own program, and I always try to follow a comprehensive approach. If the Socialist Party or the Communist Party comes up with good ideas, I take advantage of them and I have no problem saying it.
One cannot be afraid of losing the next election. In fact, this is the reason why many politicians actually lose elections. A quality that a mayor needs to have is to know how to govern for 10, 15, or 20 years, and like that he does not lose elections. You only lose elections if you govern with a short-term view, for four years. But as many politicians are afraid of losing elections, they try to be nice with certain fringes of the electorate that will never vote for them and, in parallel, lose those who did vote for them.